Friends, Let's just call this a Casual Saturday post because "DIY Kitchen Remodel" is a little off-topic from my typical chatter here. Back in 2015, when this blog was just starting out, my husband and I renovated our completely disgusting, embarrassing kitchen. I didn't blog about it then for two reasons: 1) because this blog was too new to deviate from my niche topic of GoPro tips and tricks and I thought DIY kitchen renovation post would confuse my readers (or Google!) and 2) because I really didn't want people to see the "before" pictures!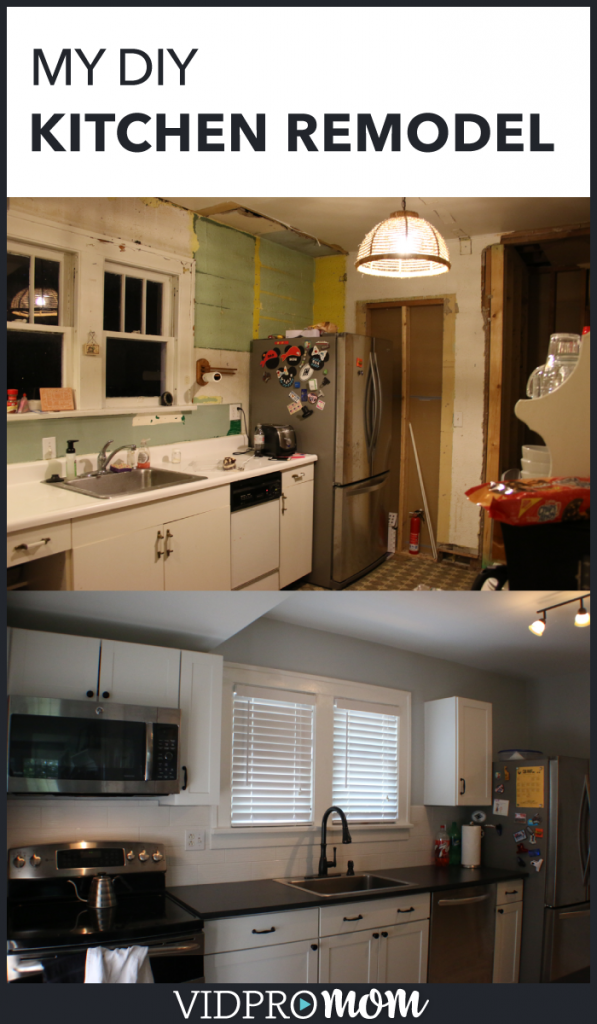 Now that we've almost sold our home (kitchen included), I feel like it's now or never. Who would post a before and after from a home they used to own?! That's just as weird as a tech and video blogger/YouTuber writing about a kitchen remodel. Wait. Nevermind.
The "Before" Phase
We purchased this home knowing that it was a fixer-upper (before that was even a show), but I never–EVER –thought it would be SEVEN YEARS before we would begin to make improvements to our kitchen.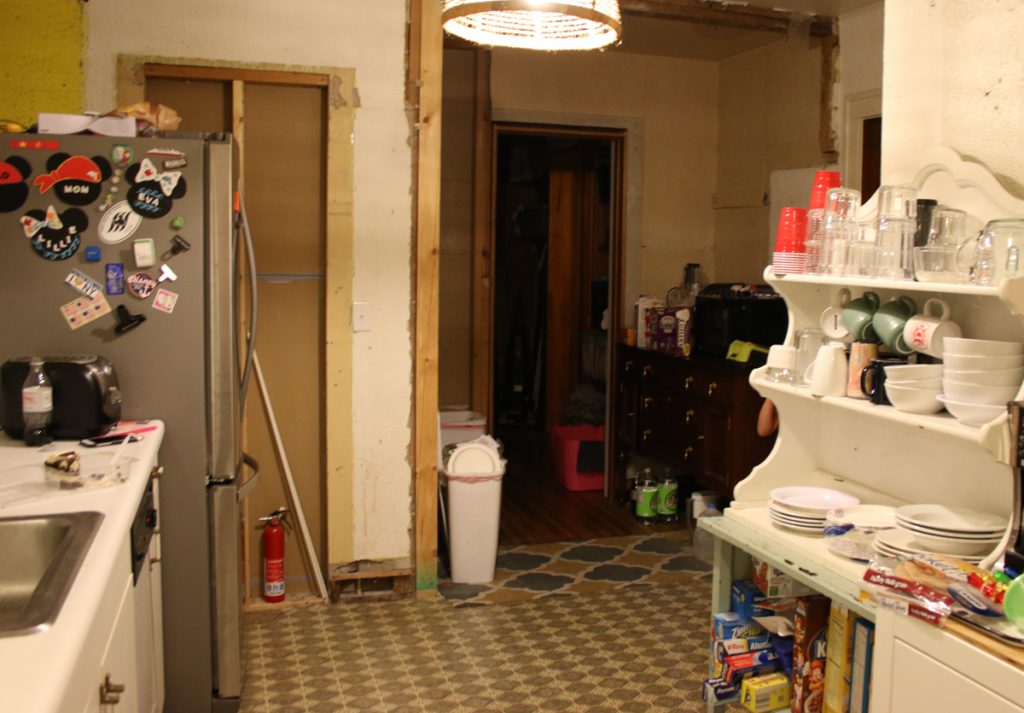 Actually, the kitchen itself only degraded during those seven years–we had knocked down a couple walls, ripped off some cabinets, had some electrical work done that created holes in the ceiling, and cut a big hole in the ceiling to investigate some water leaking from the second-floor bathroom.
To say that our kitchen was in rough shape by the time we demolished it… would be a lie. It was horrible and embarrassing.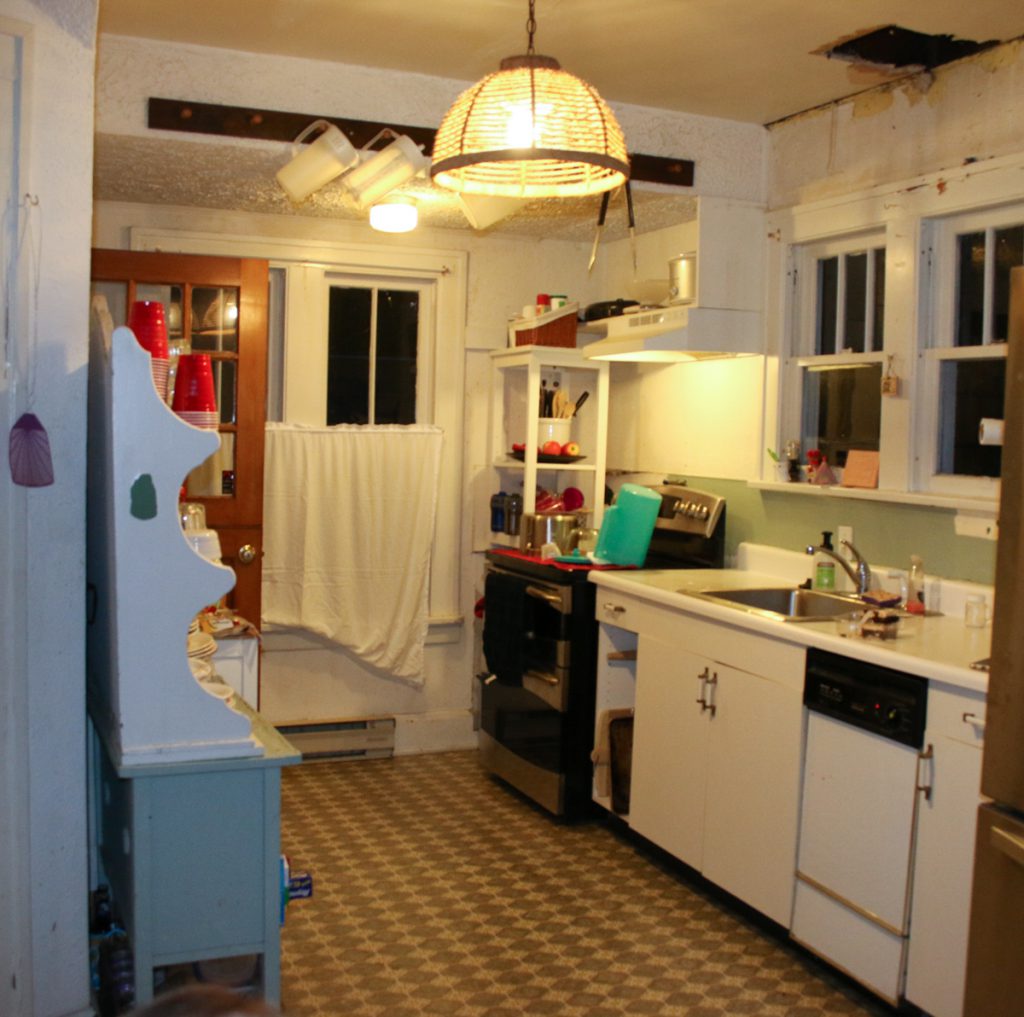 Textured walls, an apartment-sized dishwasher (who knew that was a thing?!), and apartment-sized range (again… this is a thing?), almost zero cabinet space, horrible lighting… there was even a stackable washer and dryer in the kitchen for a while when we first moved in.
Here's a grainy pic from the appraisal before we moved in to give you an idea (this was before smart phones had cameras, guys!):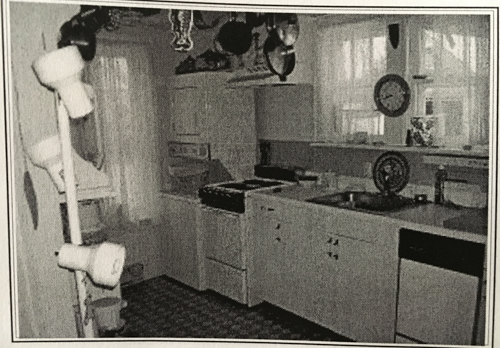 We did upgrade our fridge and range because, for a while, those were the only things we could really improve upon without starting a demo project.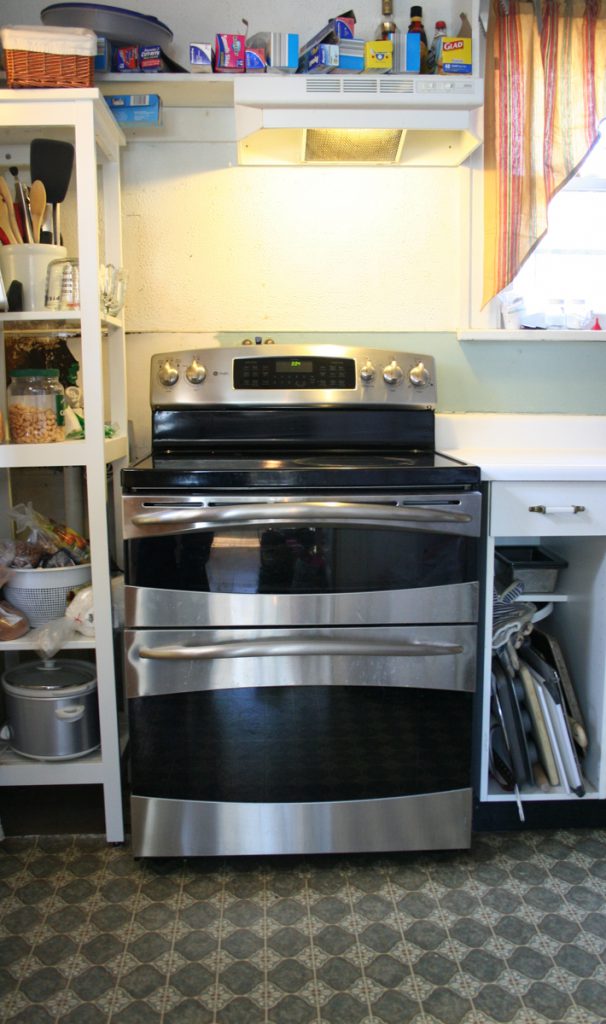 Hey look, it's a cupboard designed for cookie sheets and cutting boards! No it's not, it's just a cupboard whose door had fallen off, guys.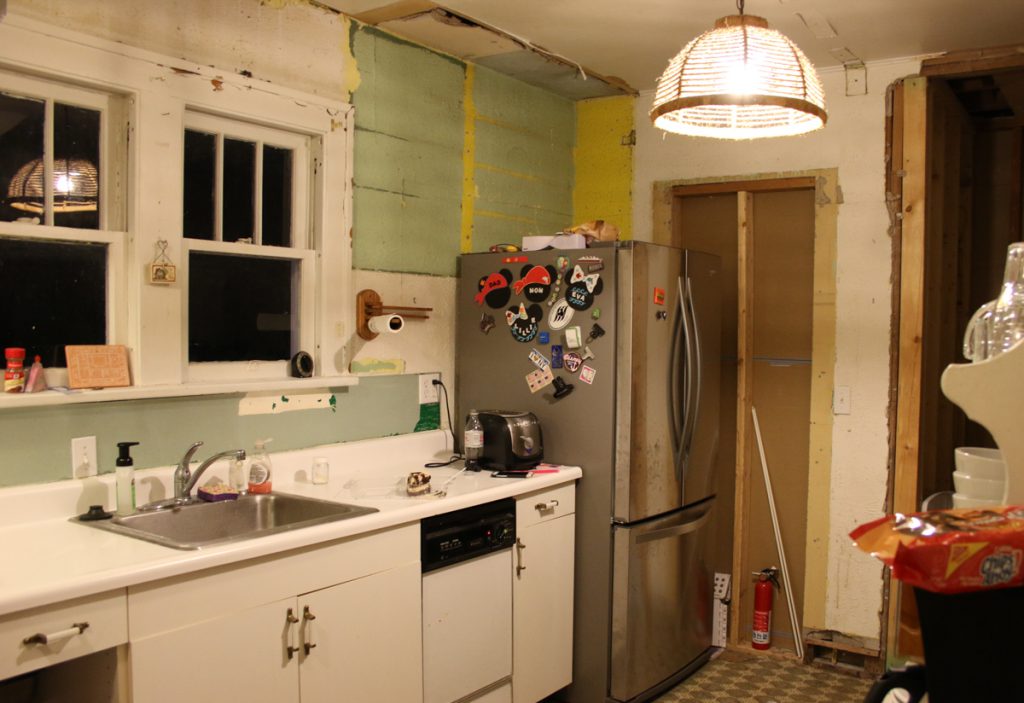 The DIY Kitchen Remodel Phase
When it came time to finally remodel the kitchen, we decided to do as much of it ourselves as we could, and only hire out what was absolutely necessary.
The first thing we DIYed was the demolition. And it was BRUTAL. Our walls were not made of plaster and lathe, but not drywall either. It was like some kind of drywall 1.0 from back in the 1930s.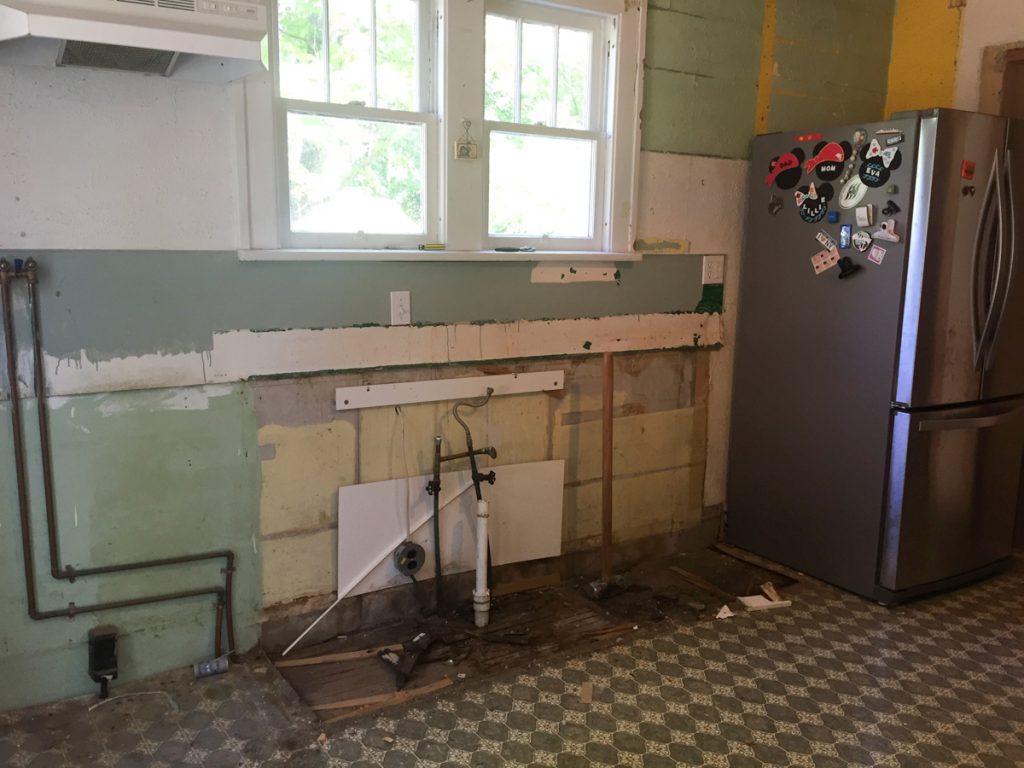 So tearing it out was messy, and it was heavy. I wish I had more pictures of this phase.
We hired out some electrical work, as well as all new sheetrock (including mud & sanding). Those were two jobs I just didn't want to learn, to be honest with you 🙂 I did paint though, and I have to say–it is an absolute pleasure to paint freshly built walls compared to other walls in our house. I know some people hate painting, but I kinda like it.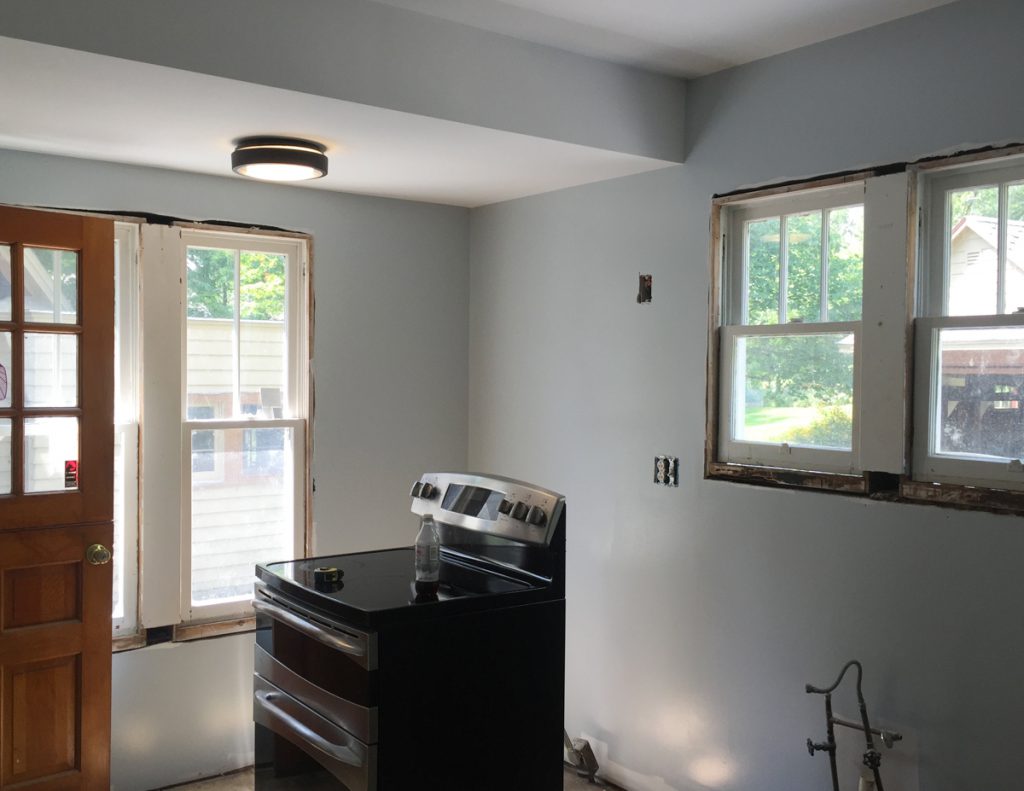 I also installed that there light fixture. 🙂
For the flooring, I picked out the lightest, neutralist, cheapest linoleum I could find. I chose to go the cheap route because we were on a budget, and the floor is pretty uneven in places (thanks, old house charm). So tile, laminate, or real hardwood floors were going to get finicky real quick. We had the floor installed professionally.
And after the floors went down, I started to install the base cabinets.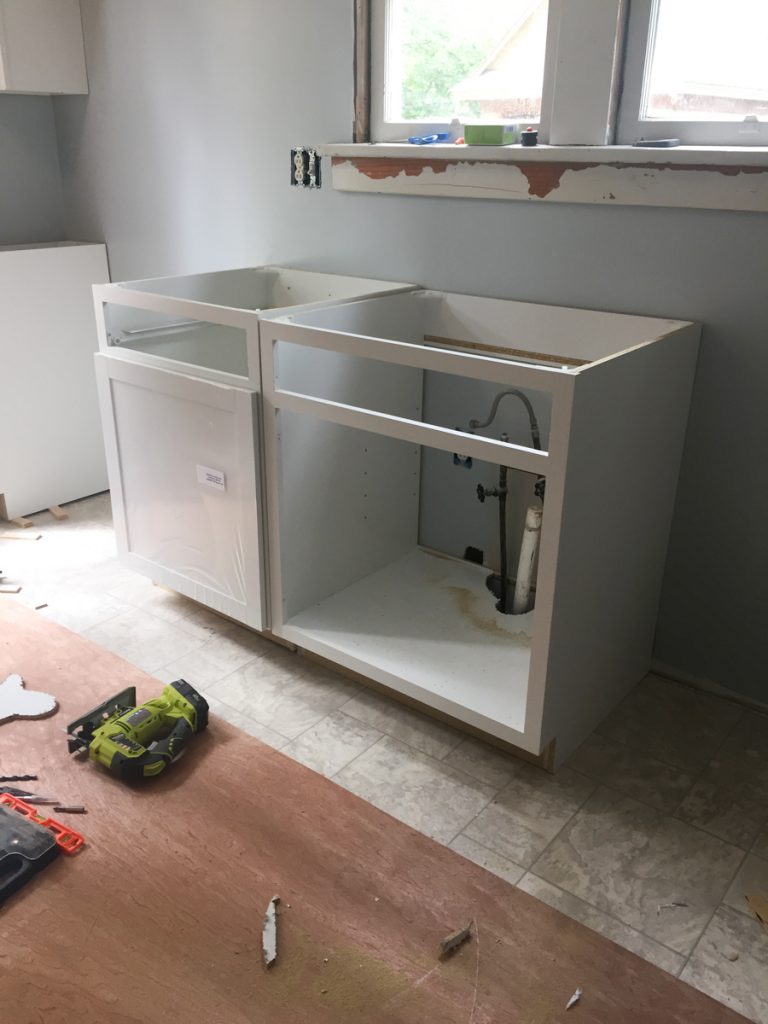 We ordered our cabinets from Lowes, and they're the least expensive shaker style cabinets I could find.
Funny story: I was going to order them from Home Depot, but when I went there to actually order and pay for them, they told me there was no one available for that department to take my order! That's about the quickest way to lose a sale! Off to Lowes I went…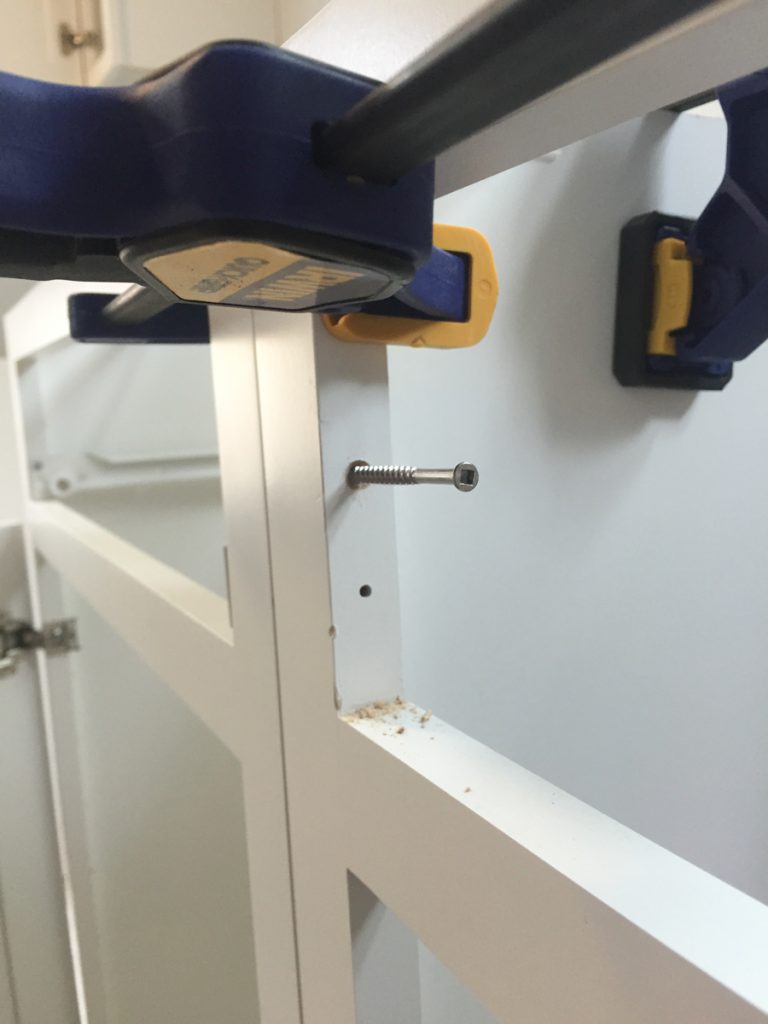 Anyway, we didn't have a ton of wall space for cabinets, so installing them on our own wasn't a huge task.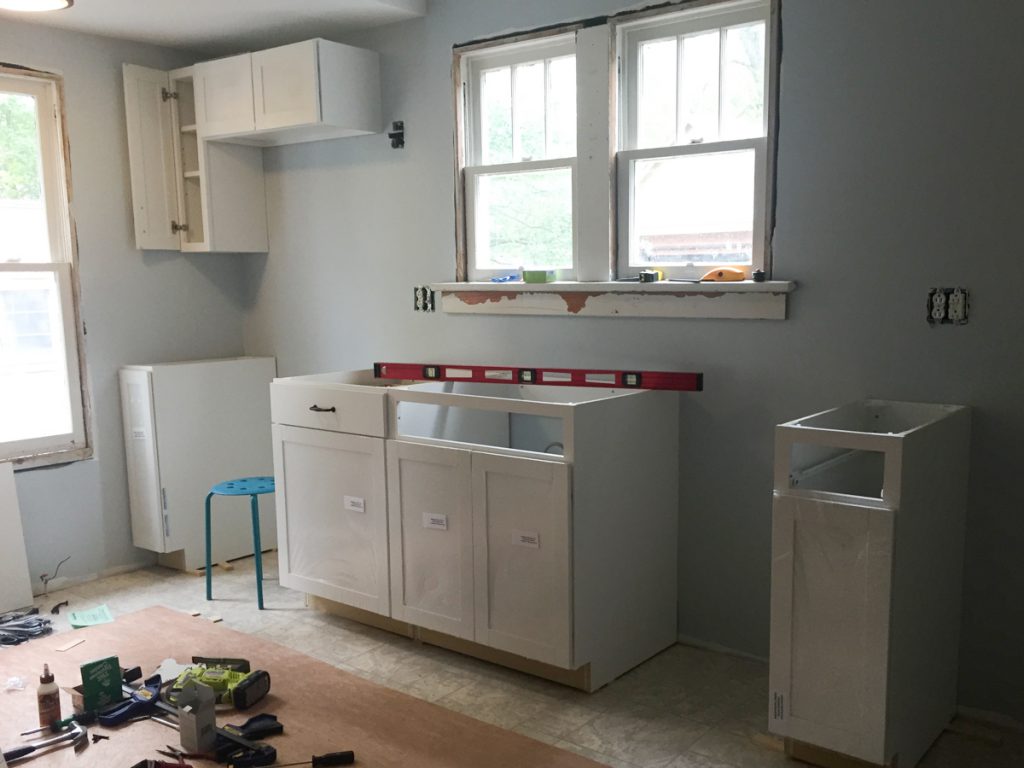 I watched a LOT of YouTube videos to make sure I did this right, and the flooring guy actually gave me some pointers about installing them level on an uneven floor. They are shimmed out like you wouldn't believe! 🙂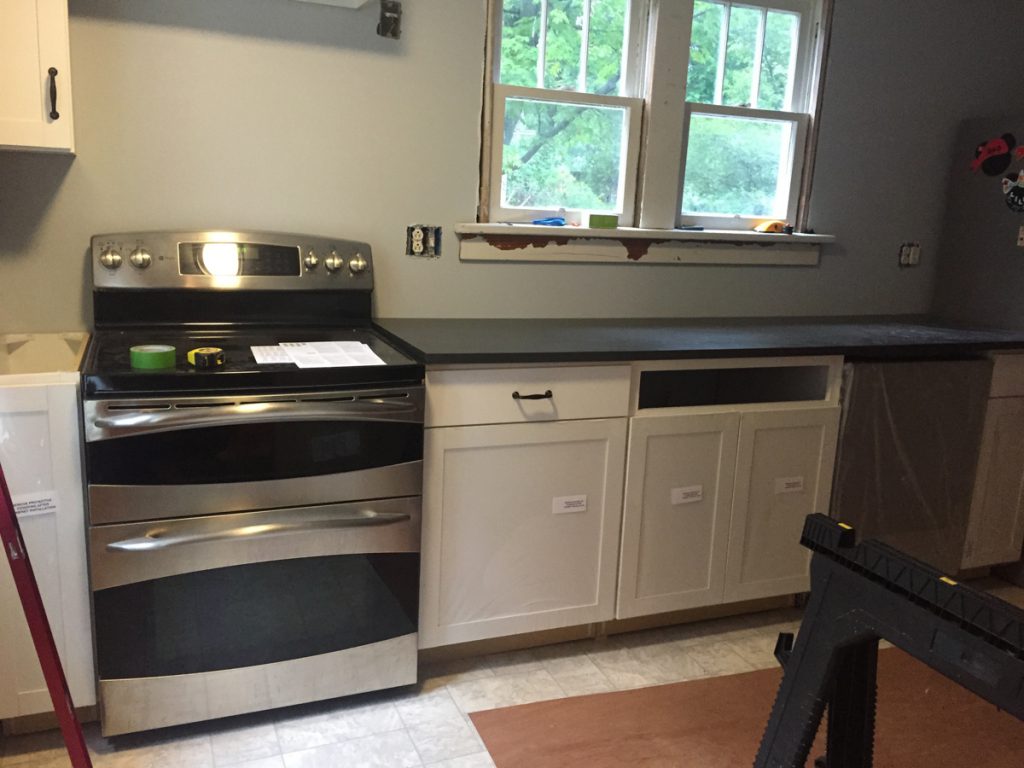 The counters came from Ikea. The lady at Home Depot told me, "OH YOU DON'T WANT BLACK COUNTERTOPS, THAT'S A REALLY BAD IDEA."
Another way to lose a sale.
Again, without much wall space, we didn't need much counter material, so I could have bought what was available in stock at Home Depot at Lowes, but, that stuff is SOOOOO ugly. SO. UGLY.
It cost me just as much to buy what I wanted from Ikea and pay to have it shipped than it would have to buy butt ugly countertops and bring them home myself.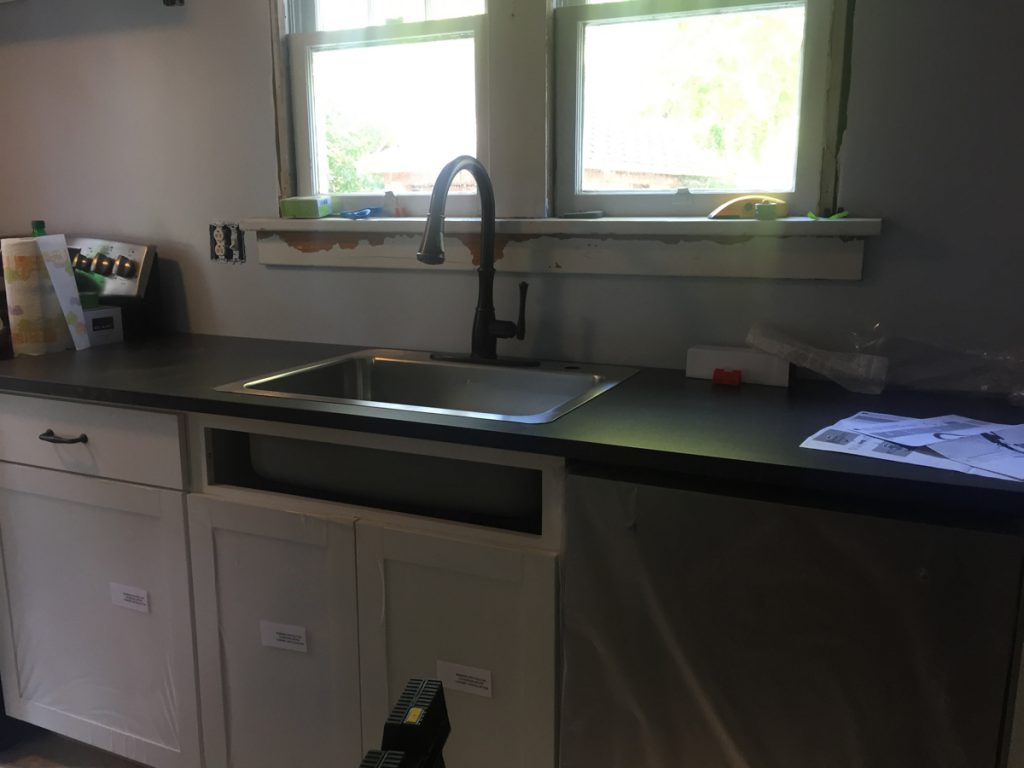 I cut a hole in the counter for the sink with a battery powered jig saw. I love it when DIY projects require me to buy a new tool 🙂 Don't you?!
The sink was hooked up by my husband and my dad. I didn't cut the hole in the counter totally center to the window though :/ It's off by like an inch. No one notices but me.
They also helped install the Microwave and the last upper cabinets. We could have done them before the base cabinets, which would have made installation a LOT easier, but I had been living in a house without a working kitchen for 7 weeks at that point, and really wanted the base cabinets installed so I could install the sink and have running water.
Because our kitchen is a little too narrow and awkwardly shaped for more than one wall of base cabinets, I built a "coffee bar" out of pine boards and 2x4s. It looks better in photos than it does in person, to be honest.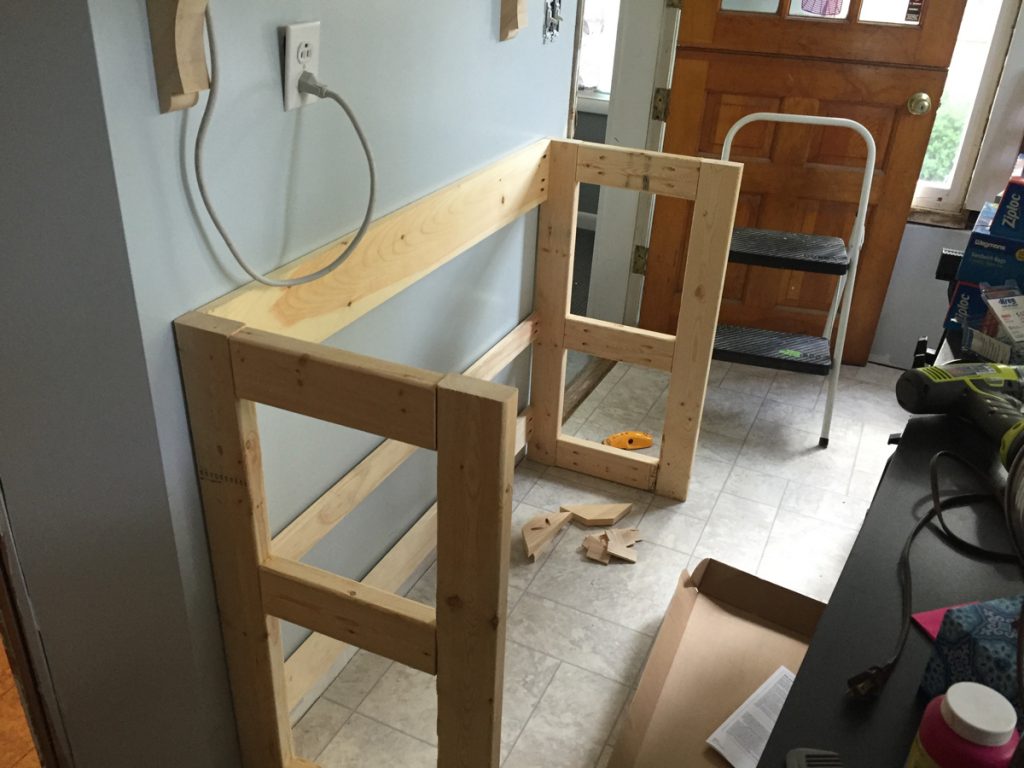 We cut the Ikea counter to the right depth to fit the coffee bar once I was done building it.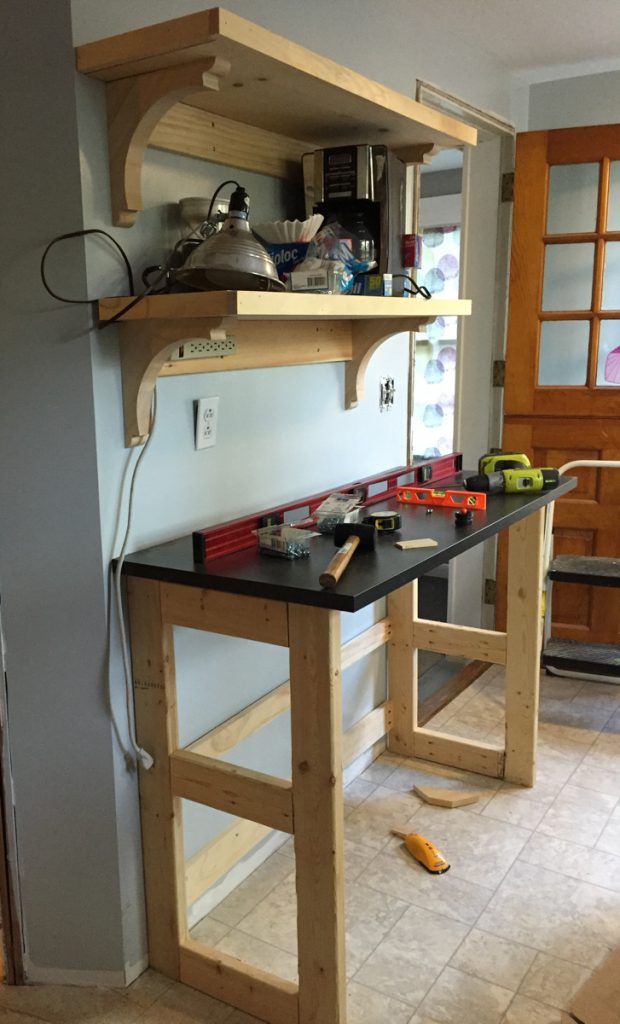 I built the open shelves, but never really finished them. The new owners can figure out if they want to paint or stain them, or dismantle them! The brackets came from Home Depot and I built them loosely like the tutorial here on Young House Love.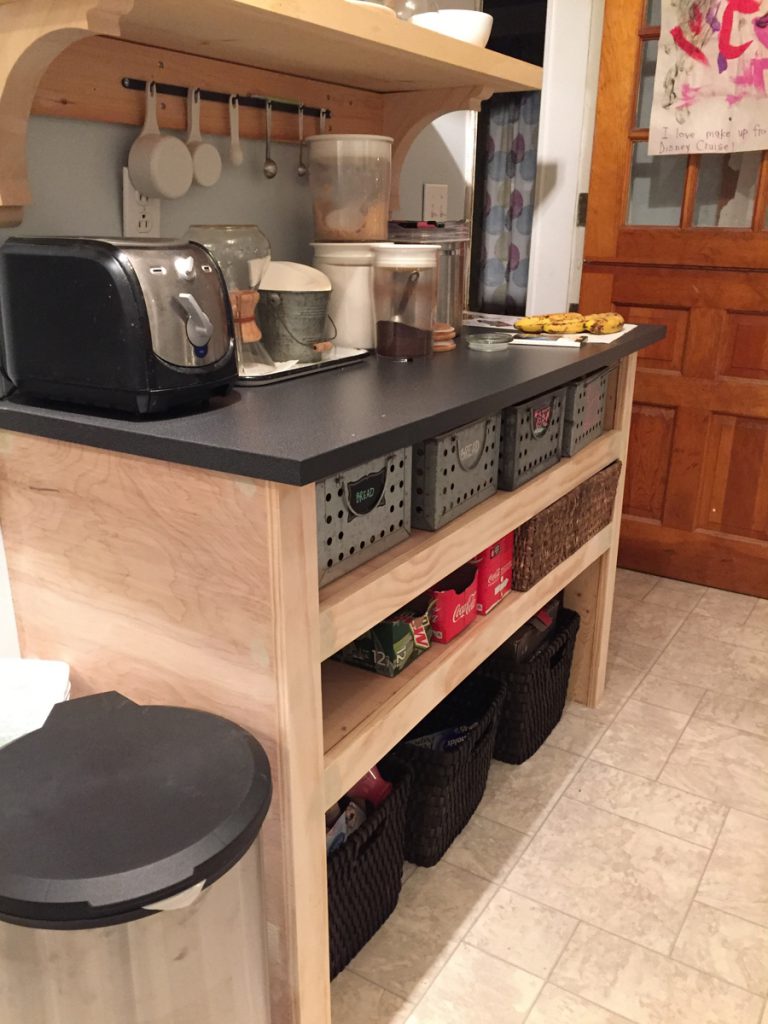 It was a while before I had enough confidence to attempt to tile the backsplash, but eventually, I did. Again, YouTube saved the day with that and tiling is a lot easier than it looks. It's fun actually!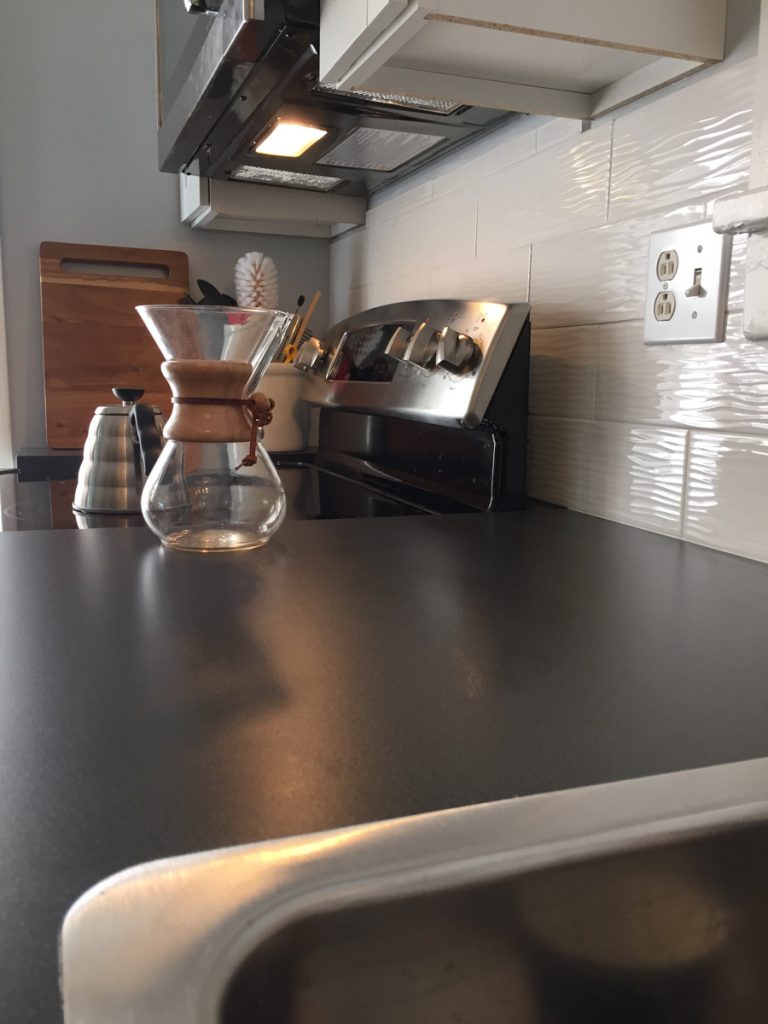 Don't ask about that little row of tiles below the microwave. It was my first tiling job and I didn't know what I was doing. 😉
The After Phase
These are the photos I took when we put the house on the market, so these are definitely the "done and lived in" type after photos!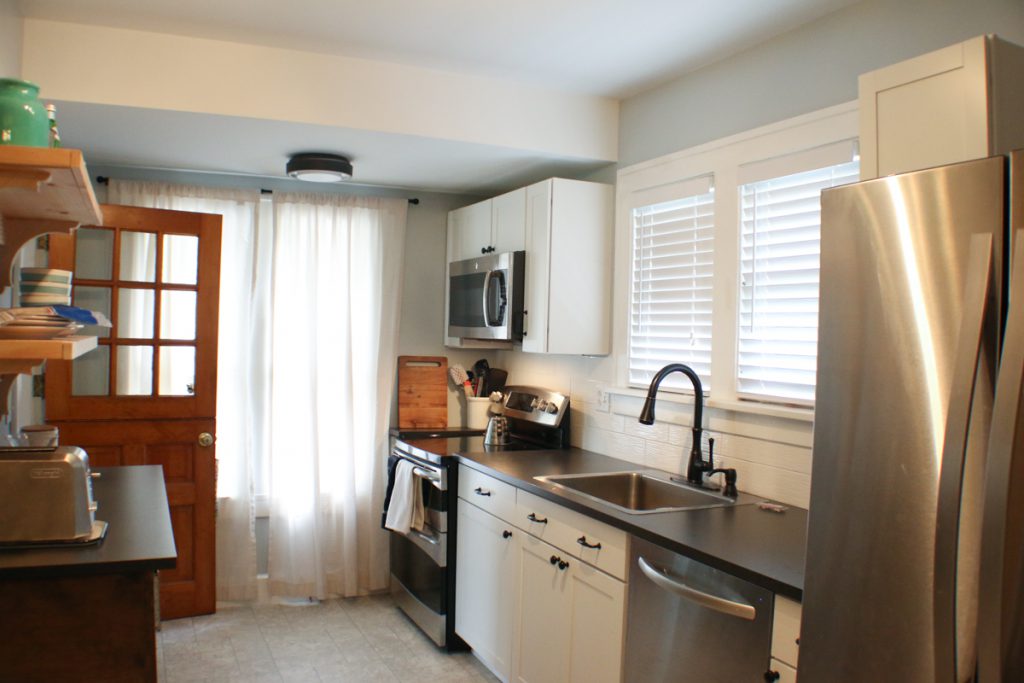 It's nowhere near perfect at all. It needs blinds where the curtains are.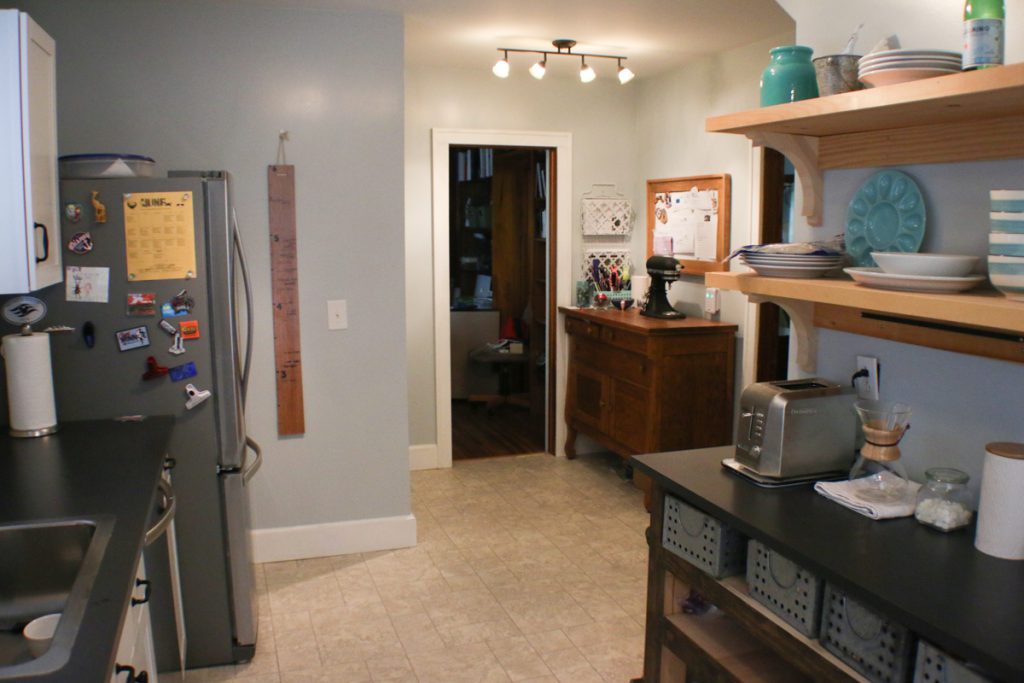 It needs a coat of paint on all the trim again.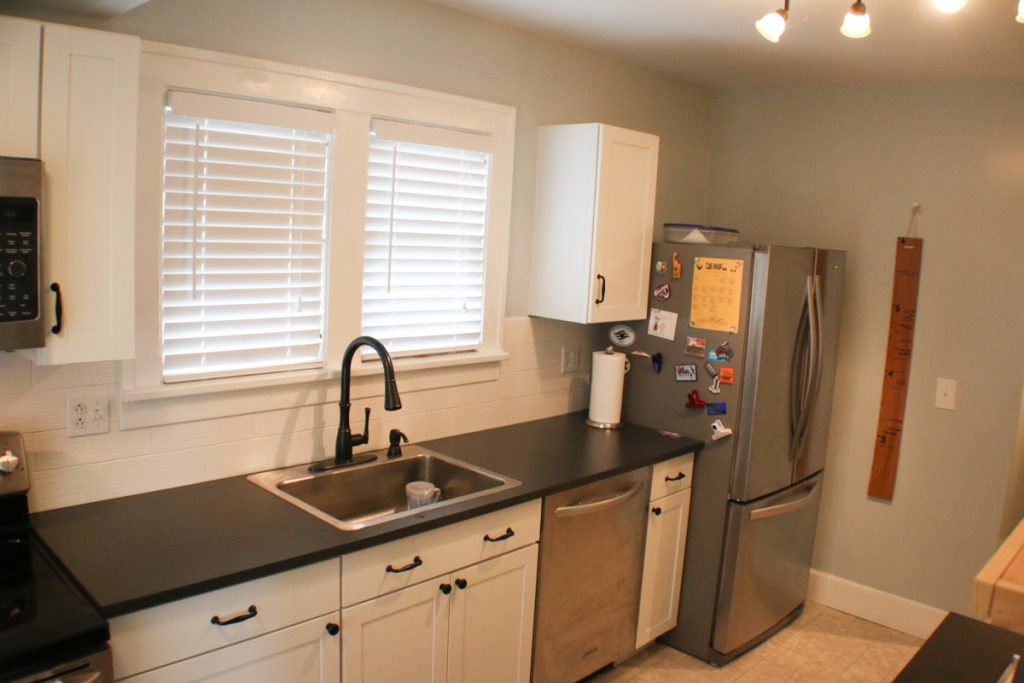 It needs the fingerprints cleaned off the dishwasher (OMG!! How did I not see how gross that looks!). But it sure as flying frick looks better than it did before!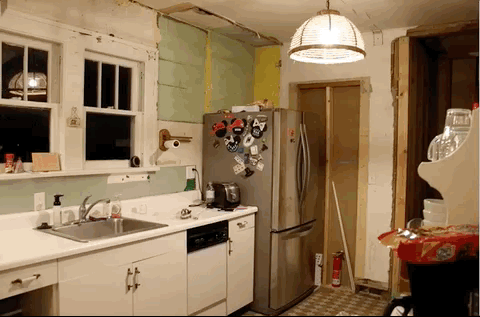 I tried my best to find and crop different before and after angles so it's easier to see the difference between this DIY kitchen remodel before and after.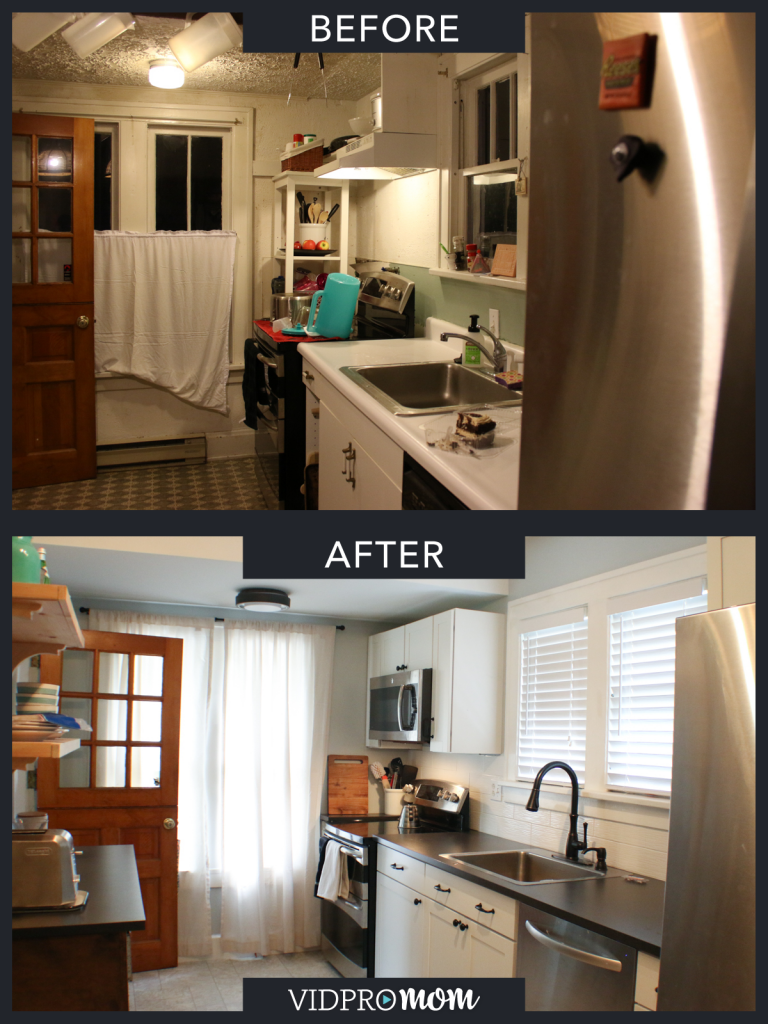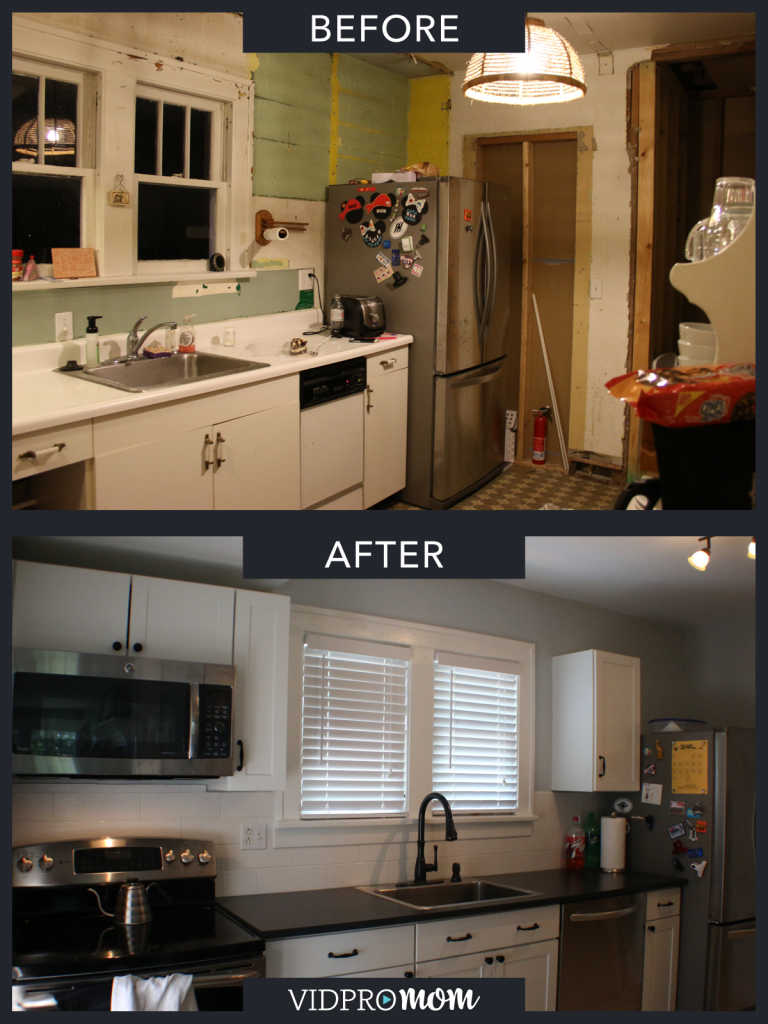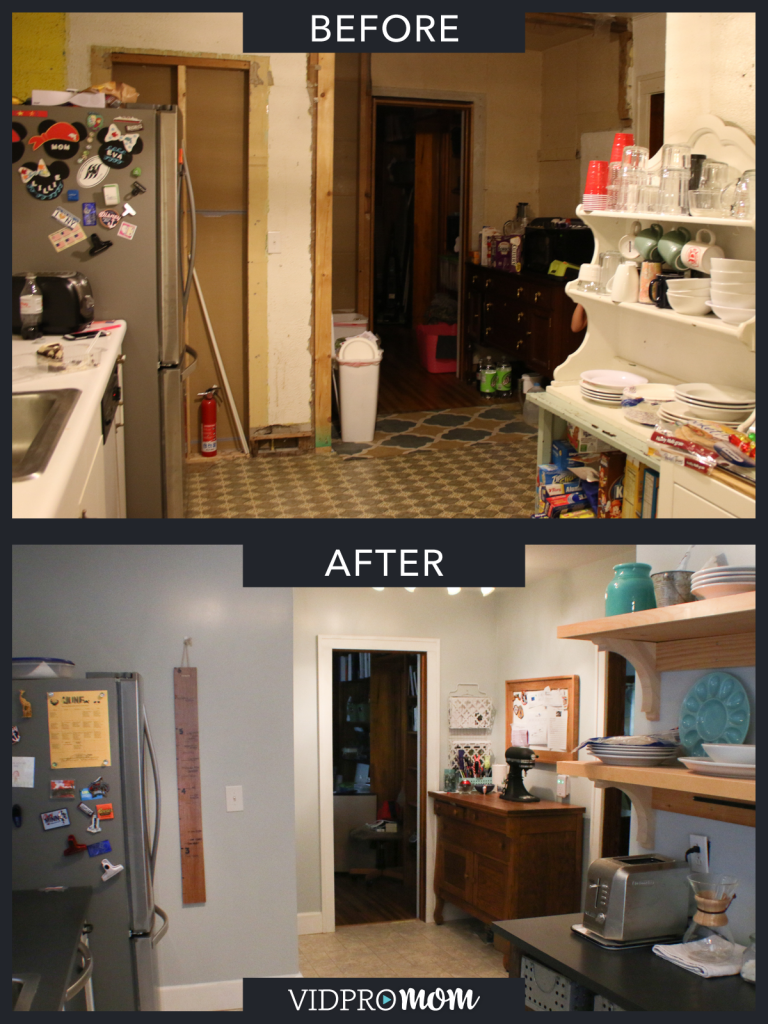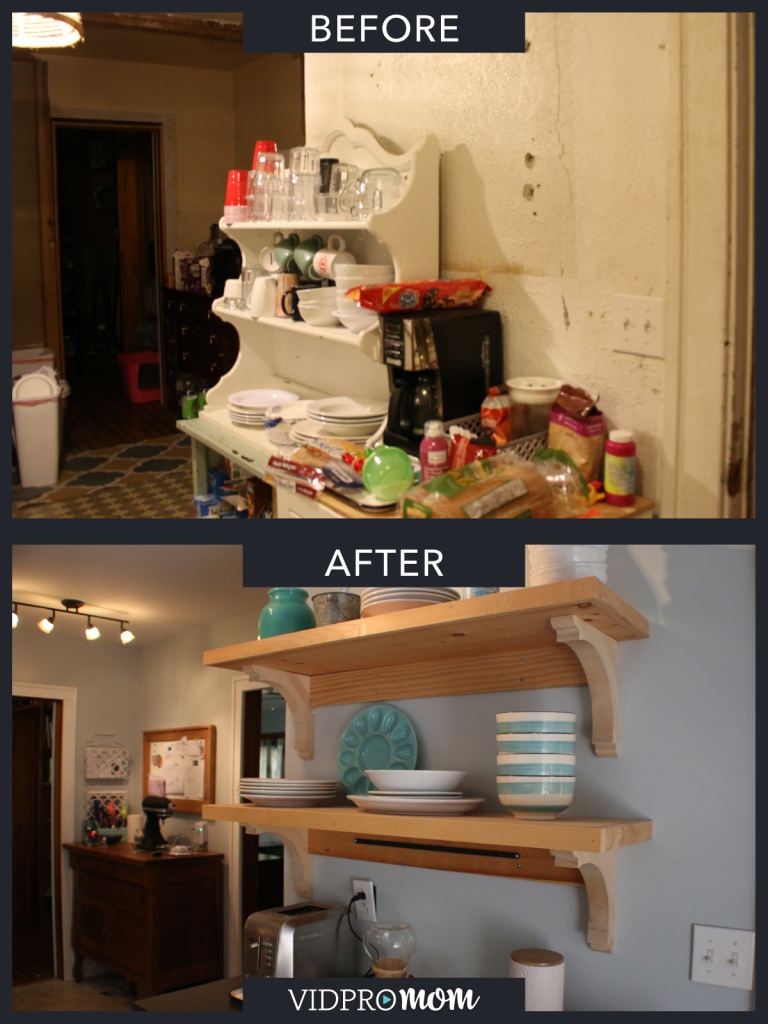 If you're interested in what products I used in this post or have any questions at all, let me know in the comments and I'd be happy to provide you with details. If you're thinking about doing a DIY kitchen remodel, I believe you TOTALLY CAN!