Earlier in 2018, GoPro promised 3 new cameras to be released later in the year. Like many GoPro Enthusiasts, I wondered if GoPro Hero 7 was on the horizon! Typically, new GoPro Hero models are announced and/or released around September/October… and if rumors are true, we should expect a new GoPro Hero7 to be officially unveiled in the next couple of weeks. 
Featured Image: Austin Mittelstadt on Imgur
Ahead of the official release from GoPro, there are a handful of interesting leaks in the common places like Reddit and The Verge. Additional details have been listed here, but I don't see a source listed for the info.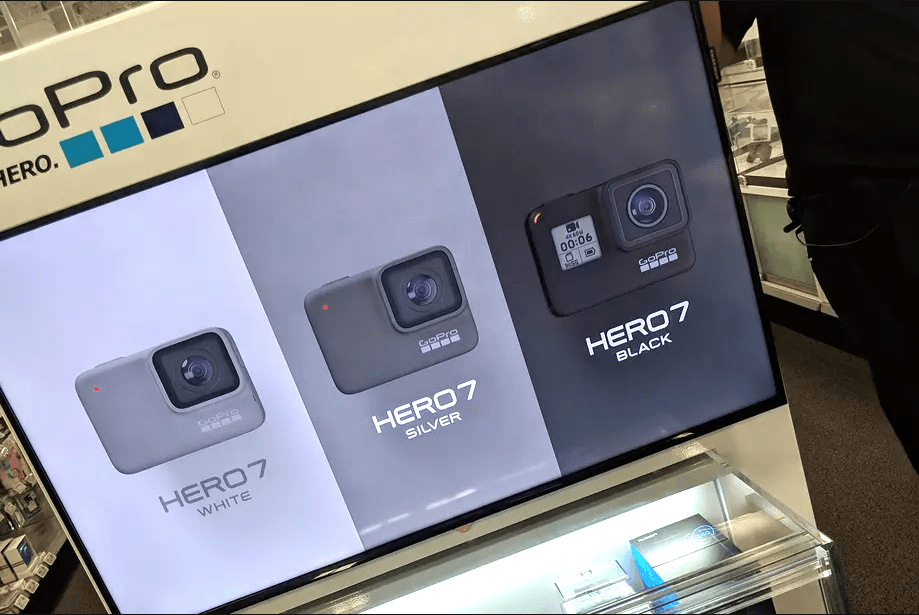 The information linked above is rumor only. The store display photos you see above were supposedly taken inside of a BestBuy in the US. I don't like to spread misinformation, but I do like to keep my audience informed. I do think these Hero7 Store Display photos are legit.
Let's break down what we do know about the new GoPro Hero7 lineup!
To stay on top of GoPro's latest models and other GoPro Tips & Tricks, subscribe to the VidProMom YouTube Channel. I will post a Hero7 unboxing, Hero7 review, and Hero7 comparison on my channel and here on my blog, as soon as I have a GoPro Hero7 in my hands! 
GoPro Hero7 Specs
At this time, I think it's too soon to really know the new GoPro Hero 7 specs. I have read a lot of rumors that are based on assumptions… but one thing I think we do know for sure is there are three new Hero 7 models: Black, White, and Silver. 
Back to the good ole' days!
Hero7 Black, Hero7 Silver, Hero7 White
GoPro is apparently going back to it's "Good/Better/Best" model lineup. I think we already knew this, but what does this mean for the Hero7? We should expect to see a Hero 7 White at the lowest (most affordable) end. In the middle we should see the Hero 7 Silver, and in the "best" spot, the Hero 7 Black will be the model with the most specs (and the highest price tag of the Hero lineup).
As it appears in the photo above, maybe–just maybe–the actual color of the camera body will match the actual name of the camera. A Hero 7 White that is actually white in color?? A Hero 7 Black that is actually black in color?? My guess is the Hero7 Silver will be more gray, than silver, but the color scheme is progress toward less consumer confusion.
GoPro Hero 7 Release Date
I have seen a pre-order release date listed as September 20th, 2018 with an availability date of September 28th, 2018 in a couple places (like here) but I can't track down a source for that information.
To stay up to date with the latest GoPro models, Hero 7 Specs and the Hero7 Release date, be sure to join my GoPro Enthusiasts Facebook group and subscribe to the VidProMom YouTube channel! Check back soon for updates.
GoPro Hero 7 Price
We have not seen any concrete information on the GoPro Hero7 Price, but I hope we'll see the GoPro Hero 7 Black at $399, the GoPro Hero 7 Silver at $299, and the GoPro Hero 7 White at $199. That would be logical, given the current pricing on Hero 5, Hero 6, and Hero 2018. 
GoPro Hero 7 Leaks are all we have to go on
We could speculate all day long about what Hero 7 Specs we'll see, and GoPro Hero 7 pricing, but almost everything we know about the new GoPro is based on leaked information. 
And trust me! I have scoured the internet for as much real info as I could find. Most people are saying the same thing, which the WORTH IT OR NOT channel sums up nicely.  
GoPro Hero7 Accessories
Judging from the leaked photos, it appears the Hero 7 has the same body as the Hero5 and Hero6 models. Because of this, it should be compatible with your GoPro accessories. 
Related: 5 Accessories EVERY GoPro Newbie Needs
Sometimes GoPro announces new accessories when new cameras are released, so we can look forward to more information about that. However, they did release the "Sleeve + Lanyard" earlier this year (in 3 colors!).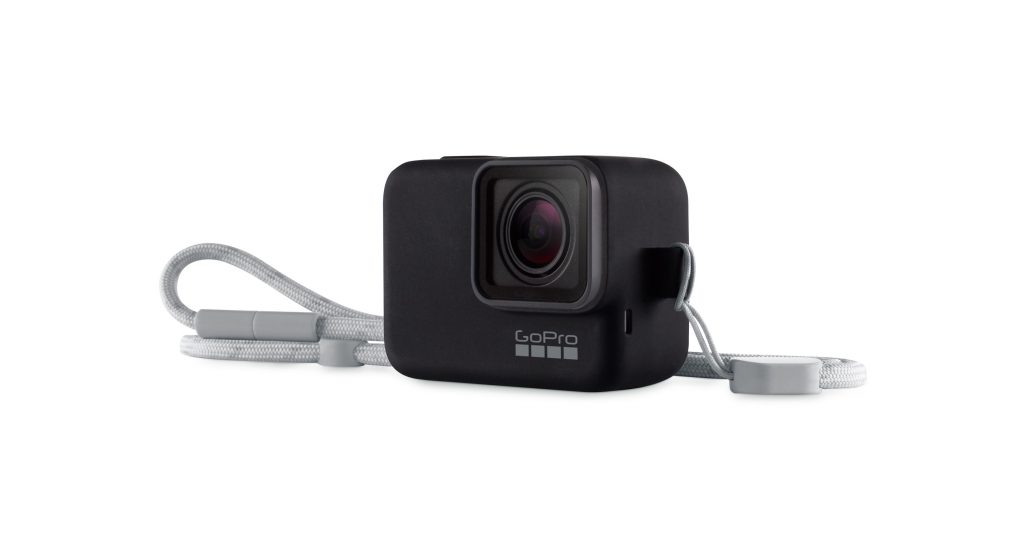 The Sleeve + Lanyard comes in black, blue, and white. I received a black sleeve from GoPro when I attended the GoPro Mountain Games in Vail, Colorado this past June. 
And you know what? I love it the Sleeve + Lanyard! It's affordable, useful, and compatible with Hero5, Hero6, and (presumably) Hero7. 
Will I Buy a GoPro Hero 7?
Without knowing the Hero 7 specs, I can't say for sure. I do own a Hero 2018, which GoPro gave me at the Mountain Games, but the Hero5 Black is the last model I purchased myself. 
I didn't buy the Hero6 Black because it didn't seem like that much of an upgrade from the Hero 5. 
As a member of the GoPro Family, sometimes GoPro sends me new cameras and gear to show off to you. I hope they do send me the Hero 7 Black, so I can compare it to the Hero 5 and keep up with the latest and greatest from GoPro! 
What do you think? Are you planning to by the new Gopro Hero 7? Would you get a Hero7 Black, Hero7 Silver, or Hero7 White? Let me know in the comments!