Magnolia Market is one of those places I've seen on TV but never really expected to see in person. We made a stop to the Magnolia Market Silos in Waco, TX in January 2018 and this is my review of the experience.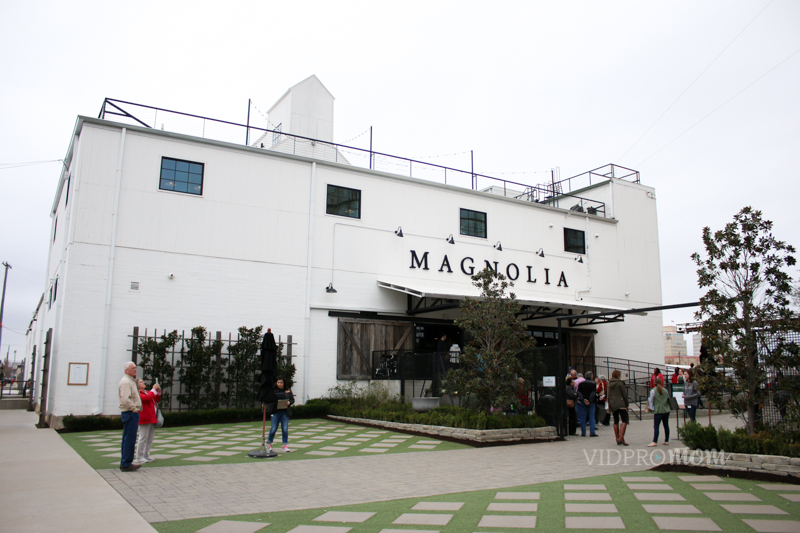 I will be honest with y'all: I am not a die-hard fan of HGTV's Fixer Upper show. I'm not obsessed with Chip and Joanna Gaines; I don't live for farmhouse decor; I don't feel like my life would be complete if I owned a piece of decor with the Magnolia Market branding prominently displayed. I say that right off the bat because I want to be clear that I'm not a fangirl, but I'm not a hater either. I don't have anything against farmhouse decor or shiplap–I love black and white and a mix of antiques… moderation is key, right?
But Magnolia Market at the Silos in Waco, TX is not about moderation. Be warned: Farmhouse decor and unexplained quaintness ahead.
To give you a feel for what this place is like in person, it reeeeally gives off the Fixer Upper vibe. Everything is perfectly branded, right down to the "lawn" which is more like a well-groomed blanket of turf. The staff is very friendly (as you'd expect them to be) and grounds are kept very clean–there is staff continuously picking up any stray trash. There is Christian music playing on the speakers, and there were lots of people taking selfies with the actual Silos–struggling to get JUST the right angle to include the silos, the Magnolia sign, and themselves in one shot.
On a recent family trip to Dallas, TX, we had some time to kill one day, so we headed to the Magnolia Market Silos in Waco to see this place in person. We spent about an hour there–just enough time to grab some lunch at one of the Magnolia Market food trucks and explore the Magnolia Market itself. If you're thinking about making a trip to Magnolia Market at the Silos in Waco, TX or you'll be in the area and want to stop by, here are some tips and observations (with tons of pictures sprinkled in)!
By the way, for anyone curious, I shot most of these photos with my Canon 70D (DSLR camera), and some on my iPhone X. If you're curious about what this place looks like on video, check out the video I'll be posting on the VidProMom YouTube channel tomorrow.
Magnolia Market Food Trucks
There were several food trucks available with all different types of food. I'm glad that the food trucks are described in detail on the Magnolia blog because we knew ahead of time which one we wanted to order from. Honestly, I would have liked to spend all day and try a little from each one but I don't think my family would have enjoyed that as much as I would have.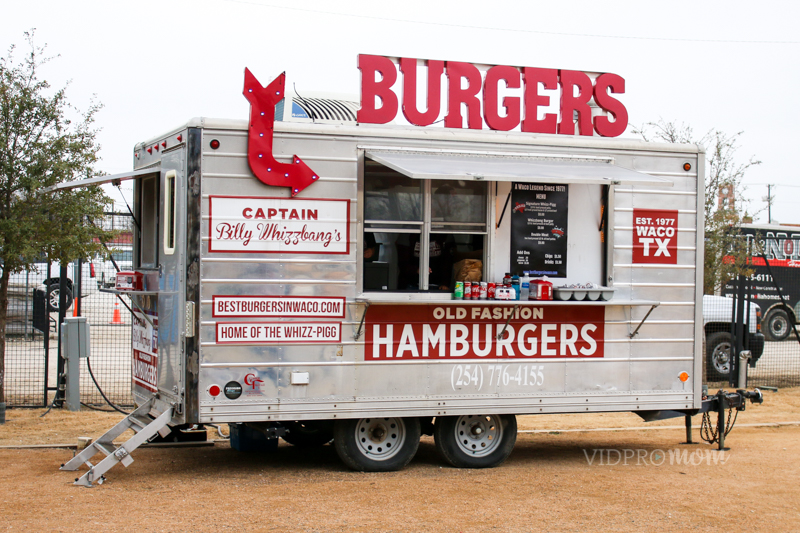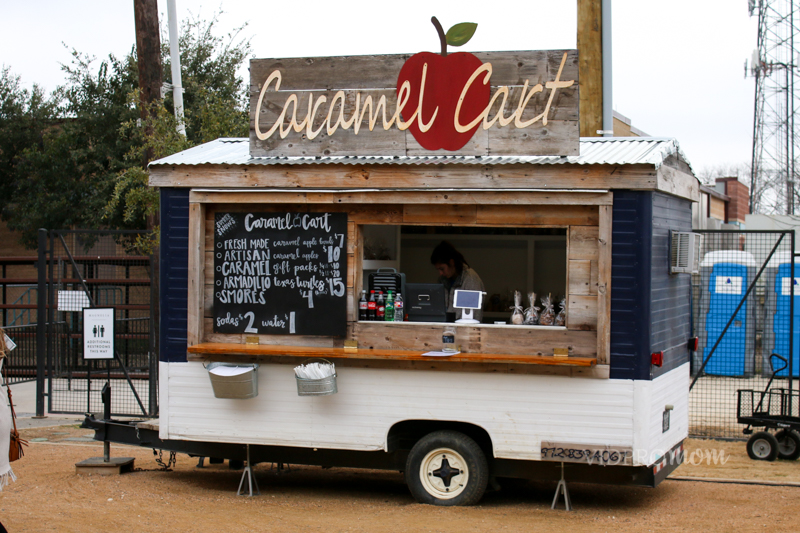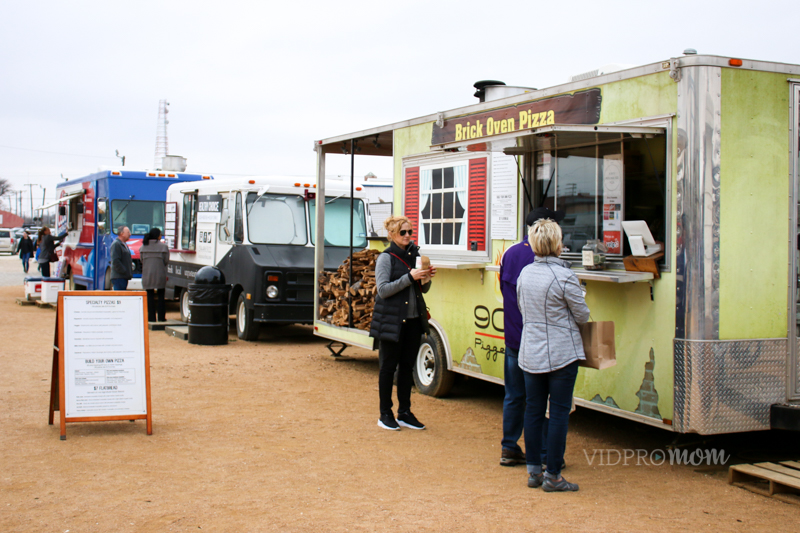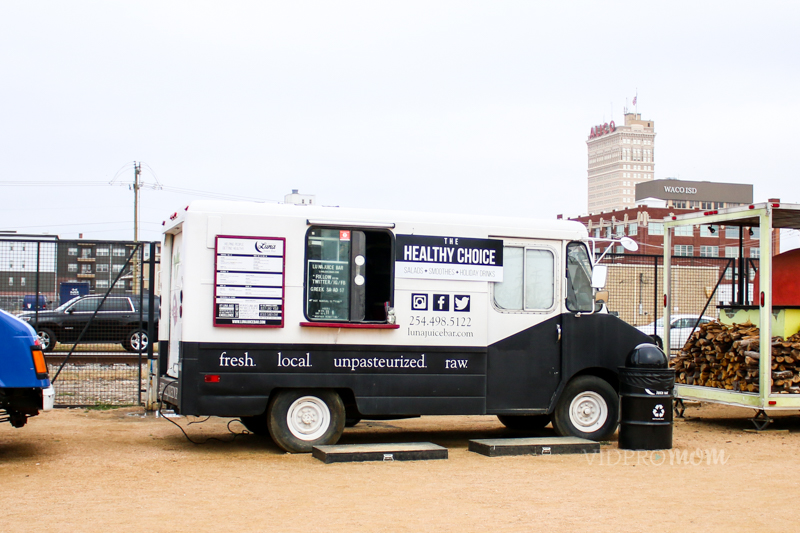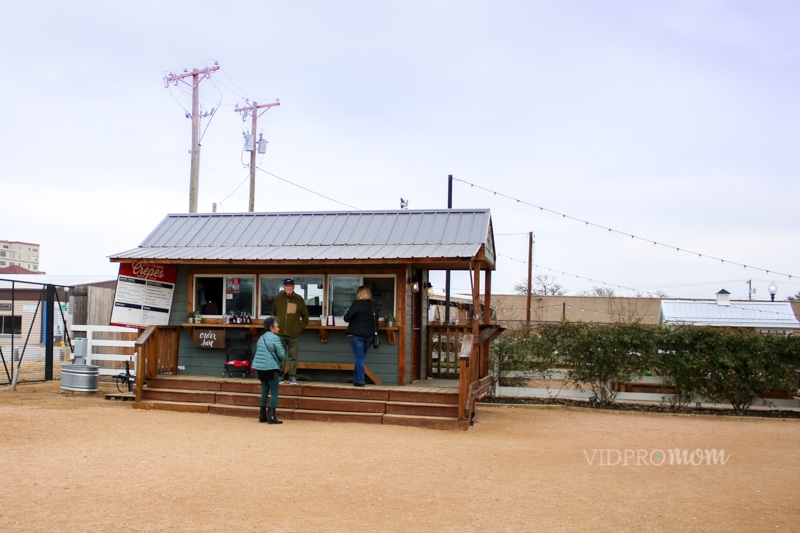 The only long line we saw was at the Cheddar Box food truck. Of course, that's the one we wanted to hit up for lunch! But the line moved pretty quick.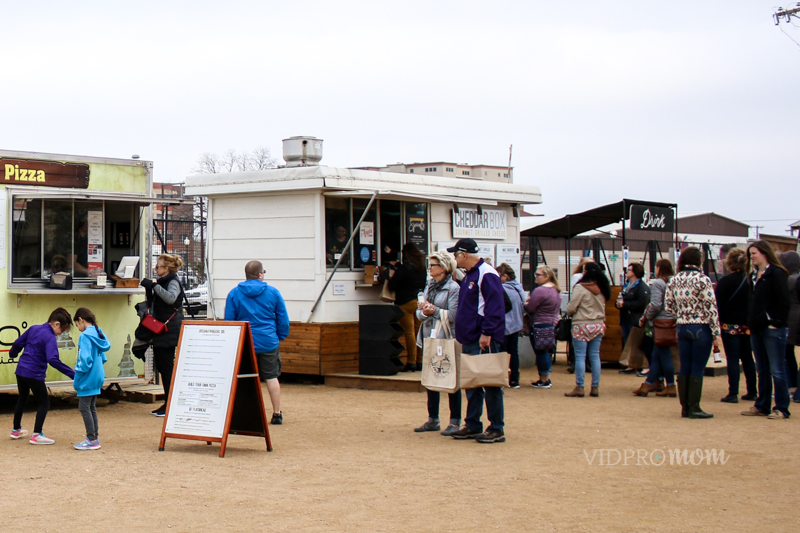 The food from Cheddar Box was good, but not extraordinary. I had the "Mr T"–lemon rosemary and white cheddar Mac & Cheese. My daughter ordered a regular kid's grilled cheese which was mild cheddar on sourdough.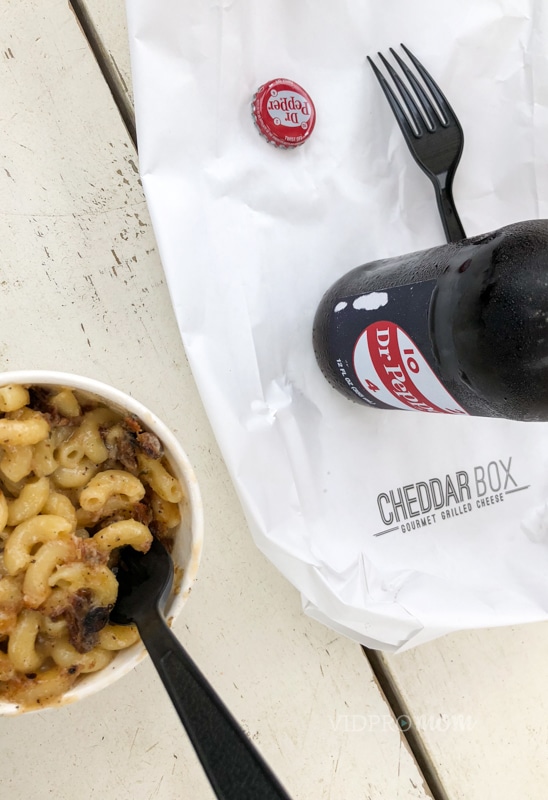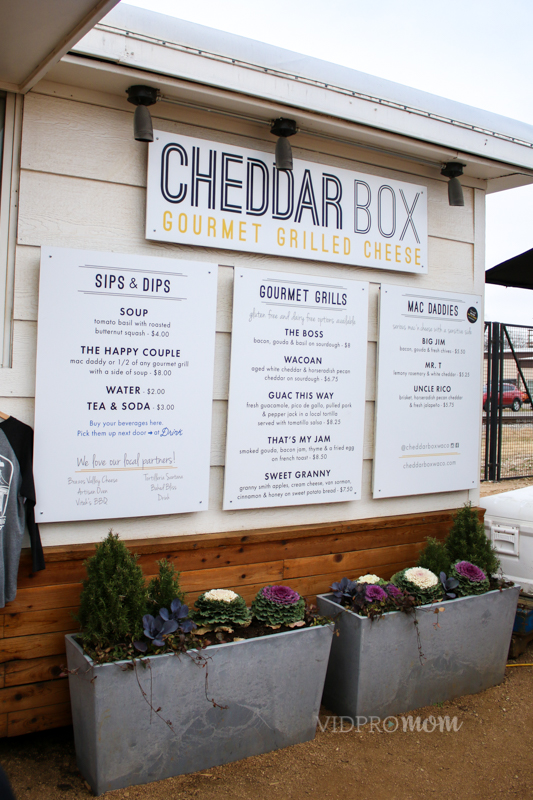 Honestly? The menu was a little bit frou-frou. I say that with love. I guess I'm a Mac & cheese purist: Sharp cheddar is all the flavor mac and cheese really needs.
Like I said, good, but not extraordinary. The drink selection was pretty strange though: Diet Coke, Rootbeer in a glass bottle, or different flavors of sweet tea. Including Unsweetened sweet tea. Figure that one out.
There are TONS of places to sit and eat, either at a picnic table with a striped umbrella (my choice) or under the large pavilion.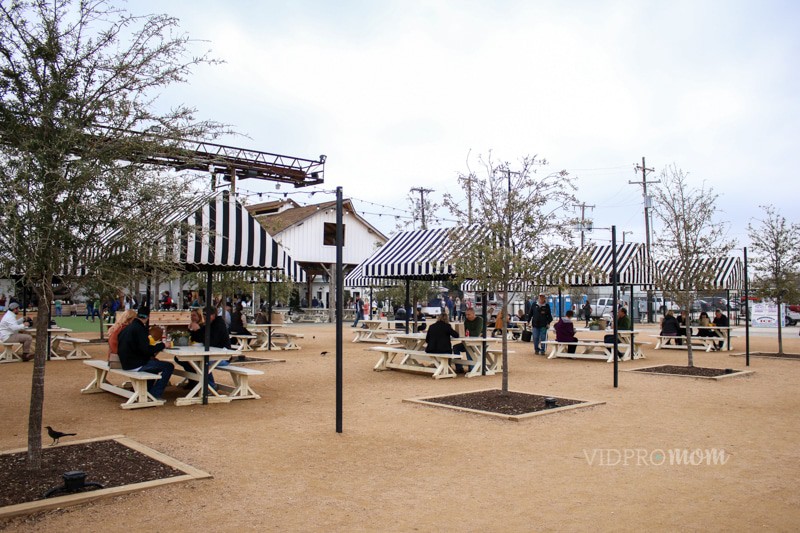 Inside Magnolia Market
This place was packed. It's kind of a split level warehouse, and both levels were packed.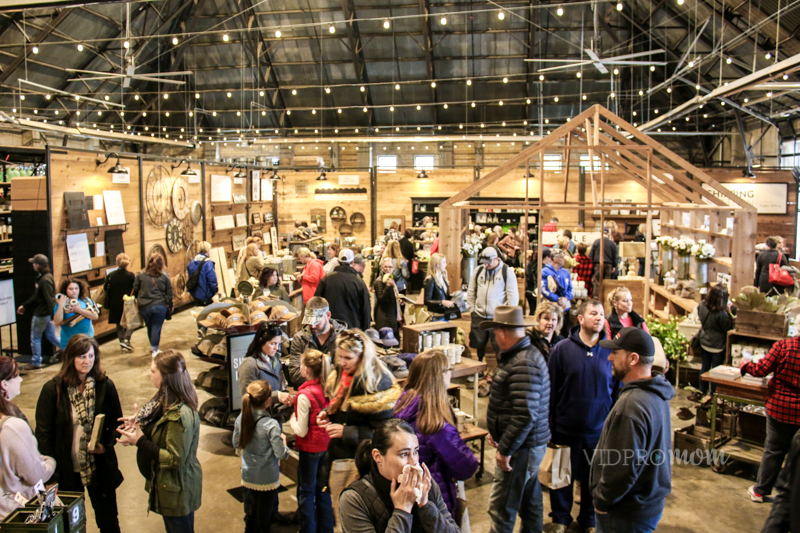 Everything was displayed so nice, which is exactly as I'd expect. I don't know if there are things you can get there that you can't buy from their store online, but I do think the decor is a bit overpriced. Considering that the farmhouse/Fixer Upper style has spread like wildfire across America, I don't think you must travel to the mecca of Magnolia to purchase large metal vases and faux wreathes. You can buy that stuff anywhere.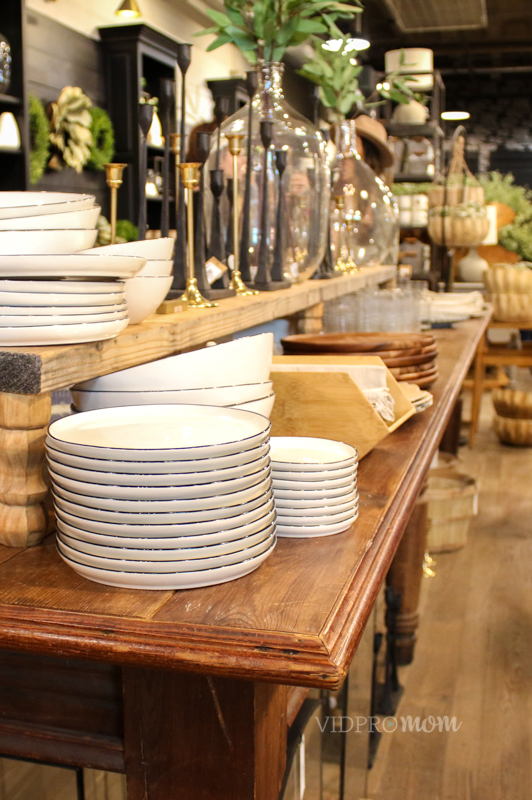 If you watch Fixer Upper at all, or follow some of the recent products and designs from Joanna Gaines, there is an obvious shift away from the farmhouse style to a more modern style, incorporating more of a mid-century feel. I didn't get a "new Joanna" vibe at Magnolia Market at all. Honestly, I like their stuff from their Target line better than what I saw at the actual Magnolia Market. I did buy a Magnolia Market T-shirt though! Nothing else in the shop really jumped out at me as something I NEEDED to have (and haul back home to New York 🙂 ).
The Silos Baking Company – Bakery at Magnolia Market
We made an attempt to visit the bakery, which is in the most adorable building. But the line was long, and appeared to be slow-moving. I don't know what the deal was, but the Waco police officer nearby said it's like that every day. I would have liked to go inside, but we weren't really in the mood to stand in line.
Magnolia Seed & Supply
So this is weird… before heading to Magnolia Market, I read this post on 7 Tips For Enjoying Your Visit to Magnolia Market saying, "Don't miss the garden or Magnolia Seed + Supply. It may be in the back corner of our property, but trust us – you don't want to miss it!" And guess what we did? We missed it. I saw it back there and then forgot all about it. Honestly, I'm not sure if it was even open. I didn't even take a picture of it!
Actually, that 7 Tips For Enjoying Your Visit page on the Magnolia Market Silos website is one of the most helpful I found before visiting, so be sure to take a peek if you're headed to Waco.
Magnolia Market Parking
If you take a look at their website, you'll see that Magnolia Market gives you some hints about parking. There is a free parking lot right on the grounds of the Silos, off of 8th street. The website suggests if that if the lot is full, park downtown and use the (free) Silo District Trolley to hitch a ride to the Silos.
We were lucky and found a spot in the free parking lot. This was on a Friday around noon, near the end of January. It was busy and the parking lot was quite packed. Lots of cars looking for parking spots, but people were coming and going from the Silos so it wasn't too hard to get lucky.
But here are a couple of parking observations to keep in mind if you're headed to Magnolia Market. If you're coming from the highway, you'll probably drive by the Silos property itself before you get to 8th street. Nearby, there is a church that offers $10 parking. You will be tempted to pull in there because it's literally RIGHT across the street from the Silos. But don't fall for that! Head down the street a little bit and try for the parking lot on 8th street first, then look around for street parking if you don't find a spot.
To be honest, I'm not even sure where we would have gone to look for a place to park and catch the Silo District Trolley, so I'm glad we didn't have to do that.
The parking lot is dirt and stone (mostly dirt). Luckily, it was dry when we were there but I wouldn't want to walk through there after a rainstorm. There are no parking spaces with lines so the rows aren't exactly straight and people park weird, often taking up two spaces. I'd say a good 80% of the vehicles in the parking lot were large pickup trucks, and Texas-sized SUVs (uh, including ours).
Overall, I think it's always kinda fun to be someplace that you see on TV! It wouldn't be THE most amazing thing ever unless you're obsessed with the show.
It would have been nice if there was more to do or see right there at the Silos. We drove 90 minutes from Dallas to Waco, a trip where there is really nothing to see except for the occasional longhorn cow, and then we spent only about an hour at the Silos. Certainly, we could have explored the immediate area a bit more, but, we weren't really sure where to head. I'd recommend you commit to a day (or a half day) and explore more of Waco if you're going go be there, and definitely read up on some other places to visit before you go.
Was it worth the trip? I'd say it was a tentative "yes, maybe?" I mean, it wasn't a bust. I do think it will be interesting to observe how Magnolia Market and the Silos will change and evolve once the Fixer Upper craze dies down. Will it evolve? That's my main question. I look forward to checking it out again in the future, but I'm going to need more than a handful of food trucks, a store, and an impenetrable bakery to entice me to visit.