Looking for GoPro gift ideas for yourself or a GoPro Enthusiast in your life… or maybe for yourself!?
This Wishlist is for you!
Whether you're shopping for the Holidays, birthdays, or "just because," I keep this Wishlist up to date with direct links to the lowest prices. I only recommend products that I have personally used and/or recommend based on trusted feedback.
Although some products have been provided to me, I only provide 100% honest feedback. (Note: The links in this post are affiliate links, and we will be compensated when you make a purchase by clicking our links. Read my disclosure policy here.)
GoPro Memory Cards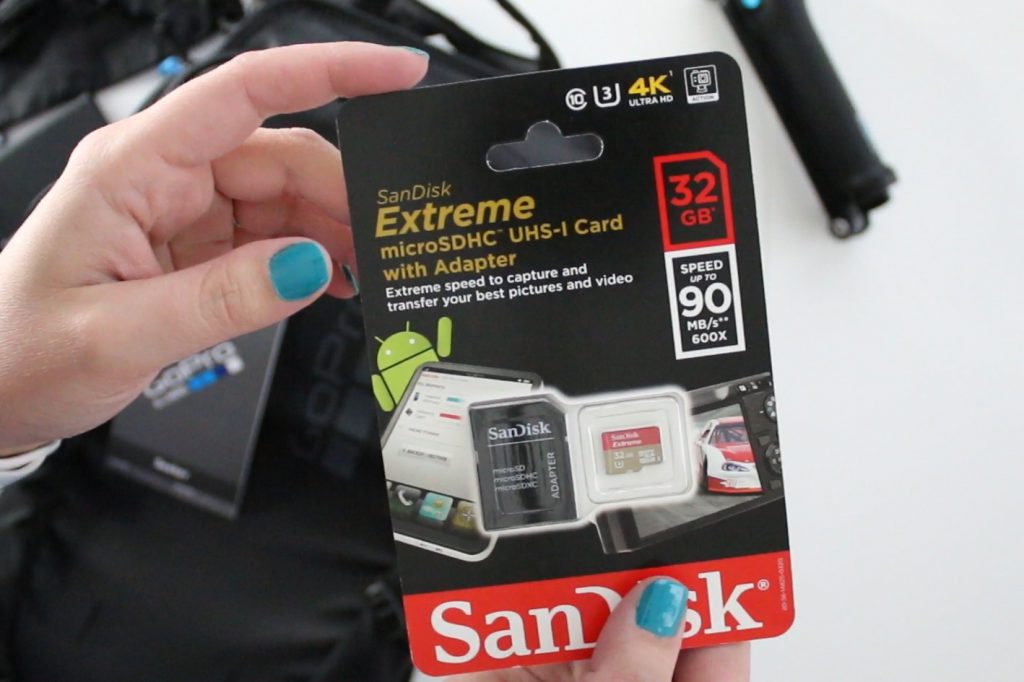 Get The Card GoPro Recommends for ALL GoPros:
SanDisk Extreme PLUS 32GB –
Amazon: http://amzn.to/2zsdDlY
Target: http://rstyle.me/n/ctkfmgcdbvp
Best Buy: http://bit.ly/2yKcN0p
Walmart: http://bit.ly/2z7JQ1I
SanDisk Extreme PLUS 64GB –
Amazon: http://amzn.to/2hxJfvx
Target: http://rstyle.me/n/ctkfn9cdbvp
Best Buy: http://bit.ly/2y3NdGO
Walmart: http://bit.ly/2xn4TbM
GoPro Batteries & Portable Chargers
GoPro Portable Power Pack –
Amazon: http://amzn.to/2xR80cl
Target: http://rstyle.me/n/ctkgcfcdbvp
Best Buy: http://bit.ly/2yQoaGi
Walmart: http://bit.ly/2y3oxye
Anker Portable Charger: http://amzn.to/2xRy47n
Water Spot Repellant
XClear: https://getxclear.com/ (used to be called GoClear)
GoSpot on Amazon: http://amzn.to/2Aa2Dqd
RainX on Amazon: http://amzn.to/2zeqoj9
GoPro Handles & Grips
GoPole Bobber –
Amazon: http://amzn.to/2zai41M
Target: http://rstyle.me/n/ctkgf9cdbvp
Best Buy: http://bit.ly/2z6UUvU
GoPro Handler with Quick Release Base –
Amazon: http://amzn.to/2xSg0tK
Target: http://rstyle.me/n/ctkgrncdbvp
GoPro 3-Way Grip-Arm-Tripod –
Amazon: http://amzn.to/2zrtUYd
Target: http://rstyle.me/n/ctkgx3cdbvp
Best Buy: http://bit.ly/2i4EYz9
Walmart: http://bit.ly/2y5yRpd
Jaws Clip & Flexible Tripods
GoPro Jaws Clamp
Amazon: http://amzn.to/2zeFlS3
Best Buy: http://bit.ly/2yMzWze
Walmart: http://bit.ly/2gDddNZ
Joby GarillaPod for with GoPro Adapter –
Amazon: http://amzn.to/2zac7BZ
Best Buy: http://bit.ly/2yP8BPa
Walmart: http://bit.ly/2yLVWKS
Bower Xtreme with GoPro Adapter –
Target: http://rstyle.me/n/ctkg8ccdbvp
Backpacks & Gear Bags
GoPro Seeker Backpack –
Amazon: http://amzn.to/2zDzgLZ
Best Buy: http://bit.ly/2zEW7Hc
Walmart: http://bit.ly/2zENo7K
Tenba Shootout Actionpack 14L – $170 from Amazon: http://amzn.to/2zEMB6M
Tenba Cable Duo 4 Cable Pouch – $20 from Amazon: http://amzn.to/2zErt0z
DeKaSi Brand backpack for GoPro – $70 from Amazon: http://amzn.to/2z8xmnv
Thule Legend GoPro Backpack – $200 from Amazon: http://amzn.to/2zfYt2b