How to Add Background Music on YouTube (Without Getting In Trouble)
Before you add background music on YouTube videos, you should know what the do's and don'ts are so that you don't get into trouble. Ignoring some of these aspects of adding background music to YouTube videos could lead to demonetization, and even get you into trouble with your audience.
Some product links in this post are affiliate links, and I will be compensated when you purchase by clicking our links. Read my disclosure policy here.
This post is sponsored by Epidemic Sound.
How background music works on YouTube and Social Media
Most of the time, deciding whether to include music in your videos and what music to include, and where to find it is an after-thought for content creators. This is understandable because there is a lot of confusion around what you do and do not have permission to use. What is "free" background music? Is that "copyright-free" or "royalty-free" or free in a "money" sense?
However, if you're using music in your videos that you downloaded to your music library, ripped from a CD, or borrowed from a "free music" channel on YouTube, you risk being in hot water.
You could be in trouble with the copyright holder of that music and the platform you posted it on. So whether you have some videos already created or you're just getting started, in this post, you're going to learn the do's and don't of background music for YouTube videos and social media.
VIDEO: Add Background Music on YouTube (without getting in trouble)
👉 Try Epidemic Sound free for 30 days (and the music you use is covered in the future even if you don't proceed with a paid plan!) Click Here for Epidemic Sound Free Trial
Why You Should Use Royalty-Free Background Music
If you use music that you're not supposed to use in your content, you risk possible copyright claims or strike on your YouTube channel. YouTube could even mute your entire video! Worse, you could be demonetized, and it can happen at any point in the future.
Without going too deep down a rabbit hole here, let me remind you I am not an attorney… haha!
In college, I had a media law professor who was VERY passionate about copyright law and how it relates to freedom of speech and why protecting our own and others' copyright is too important to ignore.. especially as a content creator!
That's because everything you create is protected by copyright. Even if it's publicly available to be viewed online, you own it. And it's completely up to you what other people are allowed to do with it. So when it comes to something like background music, we as creators should have that same respect for the artists whose music we use to enhance our content.
The question is: how do we do it the right way so that we respect copyright and we don't get into hot water in the future? There's a really simple solution. Other than creating your own music, you can use music that someone else created has given you a license (permission) to use.
This is known as "royalty-free" music.
Royalty-Free Music for YouTube
Royalty-free music is what you should use for your YouTube videos and all social media. It's not the same thing as copyright-free music.
"Copyright-free" doesn't really make any sense, honestly. If you see music that says it's "Copyright-free", you should read the fine print.
Royalty-free music is music that someone else owns the music and retains the copyright. That means they ALONE literally have the "right to copy". The copyright holder has granted permission for others to use the music without having to pay a royalty or fee every time it gets used.
Does that mean it's free, monetarily? Not necessarily…
For example, I use Epidemic Sound for the background music in my videos. I've done that since 2016, with the exception of a few videos here and there. So by paying a low monthly fee, Epidemic Sound manages the whole royalty-free aspect of my YouTube (and social media) background music. And we'll talk more about that in a moment since they are the sponsor of this post.
Why Pay for Royalty-free Background Music?
When I asked this in the Video Pursuit Society the other day, "for those of you who use paid background music, what are the main reasons?" I got some interesting responses!
Jennifer mentioned, "you can literally spend hours sorting through the dated cheesy music on YouTube's audio library, and still not find something you are 100% happy with… ", which is so true!

Dave said, "I use Epidemic Sound, I like their choices and they matched me up with some good tunes".
Darren uses Epidemic Sound too "because there is a better choice, better actual music, create playlists and also not have to worry about copyright" and Bill agreed, "Copyright and good variety" is why it's worth paying for background music.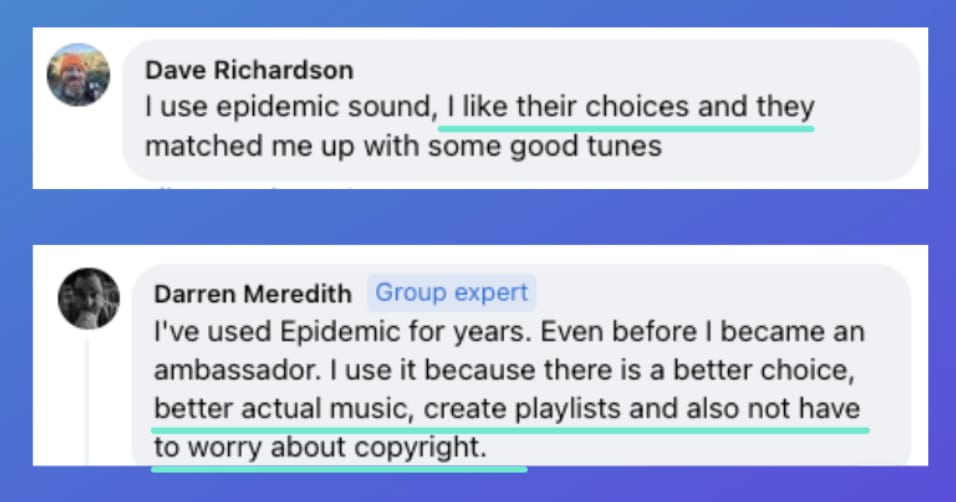 Using Epidemic Sound to Find Music
You know that bringing new ideas and tools to you that I know will save you time and headaches is really the reason that this blog exists. So, thank you to Epidemic Sound for partnering with me to help you. The big reason why Epidemic Sound is my choice for background music is that the music is great, the selection is HUGE, plus there are sound effects!
With Epidemic Sound, I never have to worry about copyright claims or issues.
Pretty much all video editing platforms allow you to import music tracks to use. Using Epidemic Sound to find the background music you want, you will import it to your project just like you could a video clip.
BUT… you don't want to just drop your background music in there, export, then walk away. This is what I meant by getting into trouble with your audience.
If your background music is too loud or too distracting, your video is going to get on the nerves of your viewer and you don't want that. You don't want people to have to strain to hear what you're saying in a video. They would be annoyed, and then go watch something else.
Here are a few tips for making sure your music doesn't miss the mark with your YouTube videos…
Background Music Volume
Make sure you get the volume right when you're editing. I almost always bring the volume of background tracks down to less than 10%. Your editing software might let you adjust the actual decibels so it might be -25 or -30 decibels. It really depends on the volume of the track and the volume of your audio. So you'll have to play with it.
If you're not sure whether the volume is good for your video, here are a few things you can try:
Edit with headphones or earbuds. To me, background music is a lot more prominent when I'm listening through earbuds.
Take a break and walk away, then come back to your edit with fresh ears
This is weird, but close your eyes and just LISTEN to your video. When you can't see what's going on or read lips, does it sound like the music is at a natural level that makes sense for the viewer?
If you do all 3 of those things you should be good but find a content creator friend to listen to if you need an outside opinion.
Selecting the right background music "vibe"
When it comes to selecting songs for your background music, think of it like you're enhancing your own content by reinforcing some emotion or feeling.
The music can help make a video feel long and sad or useful and informative. Personally, I re-use a lot of the same music in the same ways in my videos. Often near the beginning with a title screen, and sometimes between sections with a title screen.
One of the best time-saving tips for finding background music is to use Epidemic Sound's "Find Similar" function which allows you to easily find more tracks with a similar sound, style, or overall vibe.
👉 Try Epidemic Sound free for 30 days (and the music you use is covered in the future even if you don't proceed with a paid plan!) Click Here for Epidemic Sound Free Trial
Conclusion
Now you know how to add background music to YouTube videos without getting into trouble. Don't forget to use the link here to try Epidemic Sound out free for 30 days. And once you dive into Epidemic Sound's library, you'll probably find TONS of background music options for your next videos. So let's get them out there!