If you're a parent of a tween or school-age child, you've likely had several discussions around your child(ren) wanting his or her first cell phone. We recently decided that getting our 12-year-old a phone is necessary for many reasons, but setting boundaries and managing our daughter and her first cell phone took some compromise. In this post, I share the reasons why we decided to get our 12-year-old her first cell phone, and how we manage her safety and cell phone use.
*Disclaimer: This post is sponsored by Verizon. I am provided with compensation for advertisements on this blog, and all thoughts and opinions are my own and are not influenced by Verizon or its affiliates.
What Age Should a Child Get a Cell Phone
At around 9 or 10 years old, my daughter started talking about wanting her first cell phone. Personally, I wanted to wait as long as possible before buying her a phone for many reasons:
The expense of the phone itself
The added expense of another plan on Verizon
The added headache of another piece of "tech" in the house for me to manage
The risk of my child using the cell phone in ways they'll later regret
Plus, I've heard stories about lost and stolen phones, overage charges with cell phone carriers, social media addiction, online bullying… the list could go on and on!
On the flip side, our school has removed pay phones and more parents are ditching their home phone lines altogether (us too). So I started to wonder if not having a phone was setting my daughter up to be stranded or unable to communicate with me. Without promising my daughter an exact age in which she would get her own phone, we simply put it off until making that decision seemed like a no-brainer.
Earlier this year, our 12-year-old started playing school sports. With out-of-town games and a practice schedule to keep track of, the ability to communicate via cell phone became a necessity. I don't know if there is a "right" age for a child to get a cell phone, but I believe that if you're wondering about getting a cell phone for your child, consider the necessity rather than the novelty of it.
What Cell Phone to Get for Your Child
Without a doubt, we are an Apple family. I am not against other operating systems, but as designated "IT" person in the family, I have found that it's helpful when all family members are in the same tech ecosystem. So I knew right away that when it was time to get my child a cell phone, I would get her an iPhone.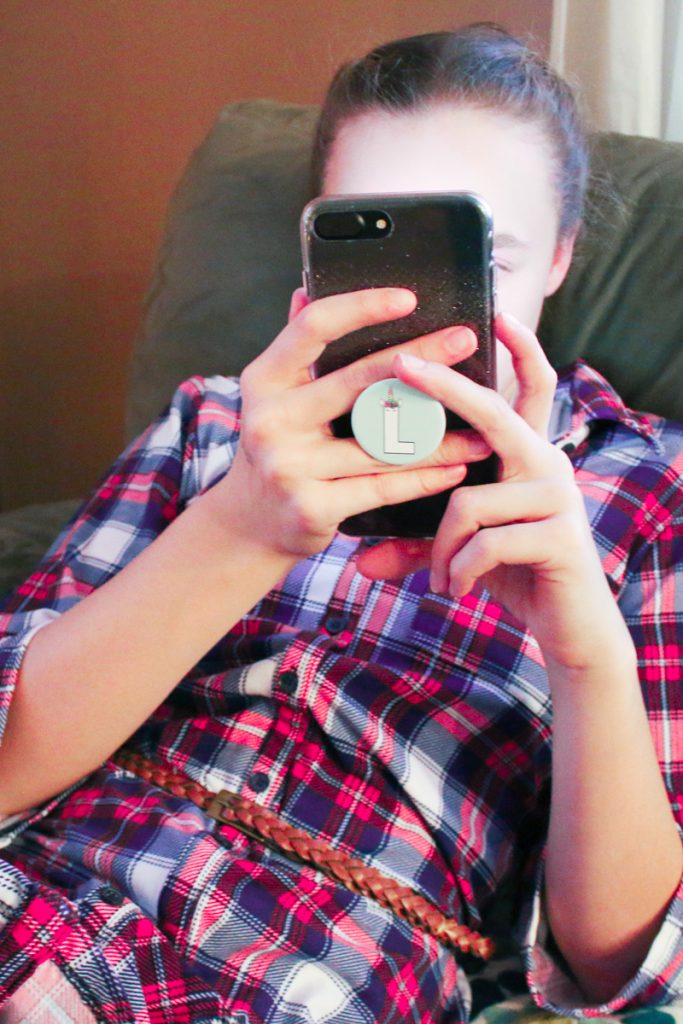 I had a friend who was selling their used iPhone 7 Plus, so I bought their phone for $450. It was in great condition and hardly had a scratch or smudge on it. Since we are longtime customers of Verizon, I double checked that the phone was compatible with Verizon before making the purchase. Since my friend was a Verizon customer too, I knew that it would be compatible.

Putting Your Child on Your Verizon Plan
Once I purchased the iPhone 7 Plus from a friend, I took the phone to my local Verizon Store, where the associates were able to put the iPhone on our Verizon Unlimted plan. My husband and I switched to Verizon Unlimited several months ago (as soon as that plan was available!) and we haven't looked back since! It made the process of adding my daughter's phone to our plan really easy. While we were there, we picked up a case, screen protector, and Pop Socket!
Having a tween with an iPhone makes the Verizon Unlimited plan a no-brainer! No more checking our usage, adjusting our plan, or being stressed about when our billing cycle will reset.
Verizon works hard to keep kids safe online through the Verizon Family Tech initiative. Verizon offers a number of ways to balance your kids and their tech, from devices and screen protectors to services like Family Locator. With Family Locator, you can keep tabs on where your family members are from your own phone, tablet, or computer.
Rules for Your Kid and Their First Cell Phone
I highly recommend you have a set of rules for your child and their first cell phone. It's completely up to you to decide what you think is appropriate when it comes to time, content, apps, and communication, but here are some of the rules my 12-year-old has agreed to with regard to cell phone use:

She cannot use it after 10 pm
She cannot accept social media friend requests from anyone she doesn't personally know
She cannot change passwords without permission from us
She is responsible for charging the phone every night
Our daughter has had her iPhone 7 Plus for about 3 months, and she has been very responsible with it. To be honest, this is not a surprise, since she is a responsible, sensible kid! There have been several times that not being able to communicate with her would have been a huge inconvenience, so I don't regret letting my 12-year-old have a phone at all!