How to Repurpose Instagram Stories for YouTube
Instagram Stories are now one of my favorite ways to create (and consume, let's be real) social media, but they're gone in 24 hours! As a YouTuber, I like my content to stick around for a while. I collaborated with Jessica Stansberry on her channel with a tutorial on how to repurpose Instagram stories for YouTube.
Are you into Instagram Stories as much as I am? It's like micro-vlogging… it's easier, faster, and a lot more fun than regular vlogging, to be honest! Since I have a YouTube channel, of course, I don't love the idea of Instagram Stories video content (in the form of Stories) disappearing after 24 hours. I have a romantic idea that I could create planned out Instagram stories and repurpose them as YouTube videos regularly, but I think I've done it only one time (see: Instagram Stories)!
So, I asked Jessica Stansberry if she wanted to do a YouTube collab with me, and when giving her a few ideas for topics I could do on her YouTube channel, she asked me to do a video editing tutorial on how to repurpose Instagram stories for YouTube.
Repurpose Instagram Stories for YouTube
If you're looking for the exact steps for this, it will depend on your video editing software. You need to use software that allows you to have multiple video tracks. Those tracks act as layers.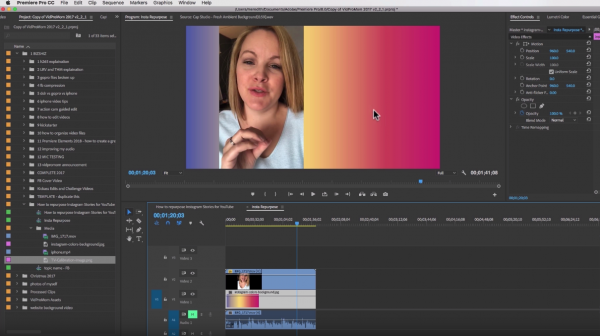 You can see in the screenshot, I have a colorful Instagram-inspired background image below my Instagram Story video clip (which I downloaded from the Instagram app and AirDropped to myself). You could use anything as a background image. Here are some ideas:
A still photo that goes along with what your Story is about
Multiple still photos that would act as a slide show, that go along with your Story
A branded image with your logo and/or a call to action
Or you can use my Instagram-inspired rainbow background image here
Be sure to watch the whole video from Jessica's channel because I explain exactly how to put your Instagram stories into a YouTube-friendly format! Click here to watch now.
One of the things I mentioned in this video is that I created a colorful Instagram-inspired background image that I want to share with anyone who wants it! Right here at vidpromom.com/assets/ you can drop your email and I'll send you a free video asset pack (also includes the "blooper" image, also known as a tv collaboration image).