How to Edit Videos – Video Editing for Beginners
Many people realize they want or need to learn how to edit videos when they notice they have videos or clips they need to combine or merge. While video editing is a really broad topic, this post is strictly for beginners who aren't sure how to edit videos or where to even start!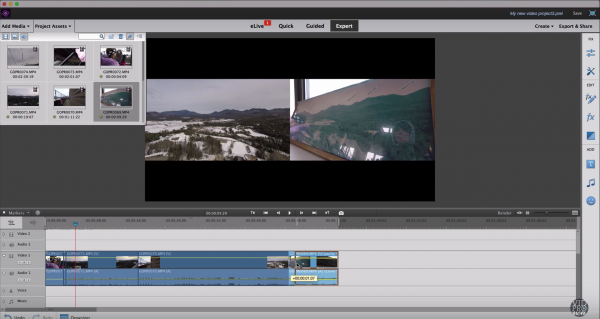 For those of you who shot some family stuff on your iPhone or a bike trip on your GoPro, or maybe you're a blogger and you want to start publishing YouTube videos alongside your blog content and start growing an audience here…
If any of that sounds like you or a close resemblance to you, then you're are in the right place! Because that's what I do here on at VidProMom. But I've never really gone back to the basics for those of you who are completely new to the world of creating videos, and I get a lot of questions about how to edit videos, so I think it's about time!
I admit that "how to edit videos" is a very broad topic, so this video is meant to be a starting point for video editing for beginners (not a complete how-to guide!).
With that said, if you have any questions about how to edit videos, drop them in the comments below and I'll add them to my list of topics to discuss in future videos and blog post. Make sure you subscribe to my channel so you don't miss any of them!
Video Editing Challenge for Beginners
Before we get too far into this, I have a challenge for you! Coming up very soon, I have a beginners video editing challenge. It's free 5-day challenge specifically beginners, to kinda help you get a jumpstart on your video editing.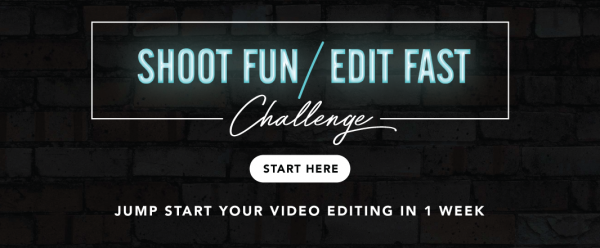 It's called the SHOOT FUN / EDIT FAST CHALLENGE, and it's for anyone who is completely new to creating and editing any kind of video – Family movies, YouTube videos, GoPro Edits… you name it. You can read more about the challenge using the link above, but it's 5 glorious days of online classes with me… it's totally free, and did I mention it's for beginners? So if you're reading THIS post, you should definitely join me 😉
>> The Challenge starts soon, so click here to sign up now! <<
How to Edit Videos
I really enjoy sitting down and editing family videos and YouTube videos, but it wasn't always fun. At first it was pretty intimidating, even using iMovie. I was like "uhhh I don't know what this button does but let's click it find out."
But as overwhelming as it is at first, video editing can be broken down into really two basic things:
You're either combining or merging clips together into one cohesive video that you can upload to Facebook or YouTube.
or…
You're clipping and cutting out bits and pieces or long sections of a video clip that you don't want in a final video.
In most cases though, it's both. You're putting clips together on a timeline, and you're taking out parts of the clips (maybe small parts or big parts) in order to achieve one single, cohesive video file that you can either share with friends an family or post it on YouTube or Instagram.
But in order to get to the place where you can actually work with your video clips and do some video editing, you have to make a couple of decisions about hardware and software.
Computers for Video Editing
So let's start with hardware. You either need a computer or a mobile device.
I published a post recently giving a rundown of what to look for in computers for video editing, or how to tell if your computer is up for the task of editing. So I won't completely rehash that here, but you can check that post out here (opens in a new tab).
Personally, I prefer a computer vs. a phone or tablet, but it's a personal choice. It's faster and easier for me, and more enjoyable on a big screen.
Now if you have just a handful of clips on your phone that you need to merge together, it's probably just as easy to use an app for that. Or if you have one clip that you need to trim off the very beginning or the very end, or extract just one part of the clip, you should be able to use a native photos app on your phone for things like that.
But that leads me to the second decision you need to make, and that's software…
Video Editing Software
For some silly reason making a decision about video editing software is like the most debilitating thing in the world, because there are SO many options and price ranges.
And I think it's hard to make a decision about something and spend your time, energy, and money on something when you don't even really know what you're doing and if that software is ultimately going to be the best option for you.
On my Video Editing Software page, I list (almost) all of the video editing platforms that I have either used and recommend or have seen other people use and recommend.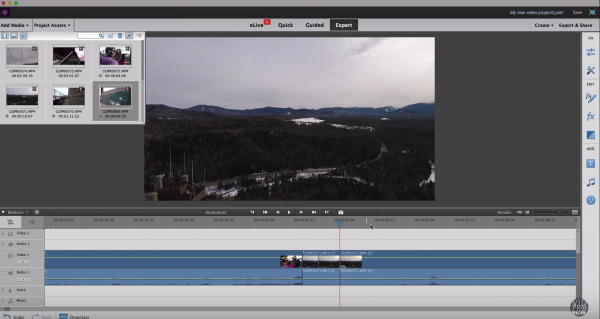 If you are totally brand new to video editing, I highly recommend you stick to the basic software. For example, iMovie and Premiere Elements are great for beginners, but they have more advanced functions so you can "spice things up" a bit once you'd learned the ropes.
But the bottom line is: choosing video editing software or apps is a personal choice, and it's like buying a car. You kinda have to feel it out a little bit and give it a test drive.
So the BEST video editing software is going to be the one that you decide is going to be the best for you.
Video Editing Basics
So once you have a computer or device (if you must) and you have some software (or an app)… now what?
This is where it gets fun!
You need to get your footage off of your memory card and onto your hard drive (don't try to do this with the video files still on your memory card, it's not a good idea).
You can use a USB adapter or you might be able to connect your camera to your computer to do a file transfer. You might be able to use Google Drive, Dropbox, or Airdrop to transfer files from your phone to your computer as well.
Next, start a new project in your software and import your footage. There's probably an import button or "add media" button.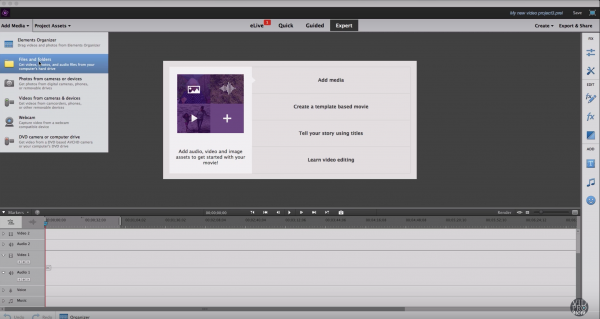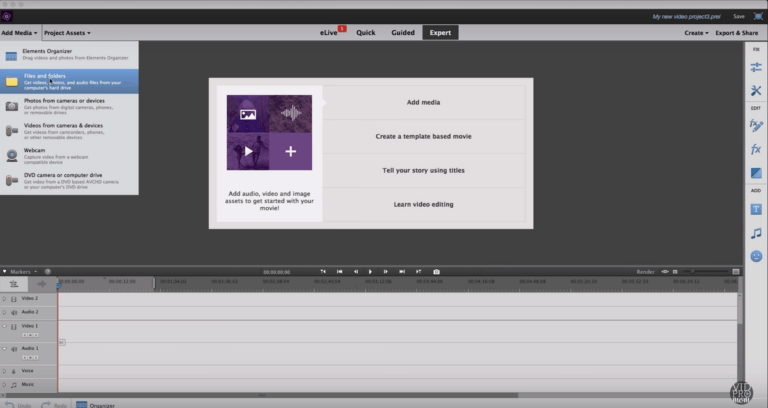 The simplest way to go about the actual video editing where you working with your clips, is to drag your clips to the timeline in the order that you want them in, then go through the timeline, watching your clips in the playback window, and stopping to either cut parts out that you don't want in your final video, or trimming the beginning or ends of your clips.
When you are happy with what you have, you have to export your project in the program puts everything together into one video file–usually an mp4 file–that you can actually do something with. You can watch it, share it, upload it, whatever.
Now obviously there are a LOT of things that you can do with your project and your video clips that I didn't tell you about because I wanted to show how simple video editing really is at the basic level so that you can get started without overwhelming yourself with bells and whistles and special effects.
Now in the 5-day challenge that I told you about at the beginning of this post, you will learn how to get started with video editing (a little more in-depth than what I went over in this post), as well as how to shoot videos to make them easier and faster to edit. We'll also talk about where to find background music, and how to edit your clips in a way that makes your video really fun to watch without spending a whole day at the computer editing!
So if you want to join me for that challenge, you can head over to vidpromom.com/challenge! It's totally free, it's for total newbies, and all you have to do is drop your email address on the signup page and I'll send all of the details to your inbox.
>> click here to sign up now <<
I wish I'd had a resource that filled me in on the basics of video editing before I dove in and figured it out on my own. So, here we are! I hope this post was helpful for you. Be sure to subscribe to the VidProMom YouTube channel so you can catch up on video editing tutorials and other videos that I upload weekly!