Looking for an easy-to-follow Instagram Reels tutorial? You found it! In this blog, you will learn what Instagram Reels is, how to use Instagram Reels, and how to create a Reel on Instagram. It's a brand new feature on IG so if you're not sure how Reels works, that's ok!
Some product links in this post are affiliate links, and I will be compensated when you make a purchase by clicking our links. Read my disclosure policy here.
Instagram Reels Tutorial
Have you heard about Instagram's new Reels feature? Are you wondering how the heck it works? Why should I use it? And what can I do to use Reels to get more visibility on Instagram? Well, I'll give you a step-by-step tutorial for how "Reels" actually work on Instagram. We'll go through every step in the app so you can see how it works.
There are some pros and cons that you should consider before using Reels so that you can start using this new feature and get visibility on Instagram. Even if you aren't super creative, you're not super funny, or you're really not entertaining at all.
What is an Instagram Reel?
So, first of all, what the heck are Reels? Well, if you're not familiar with Tiktok, then this "Reels" feature on Instagram is probably going to feel very different to you. Honestly, it should feel different. It's not like an Instagram story, and it's definitely not like a YouTube video.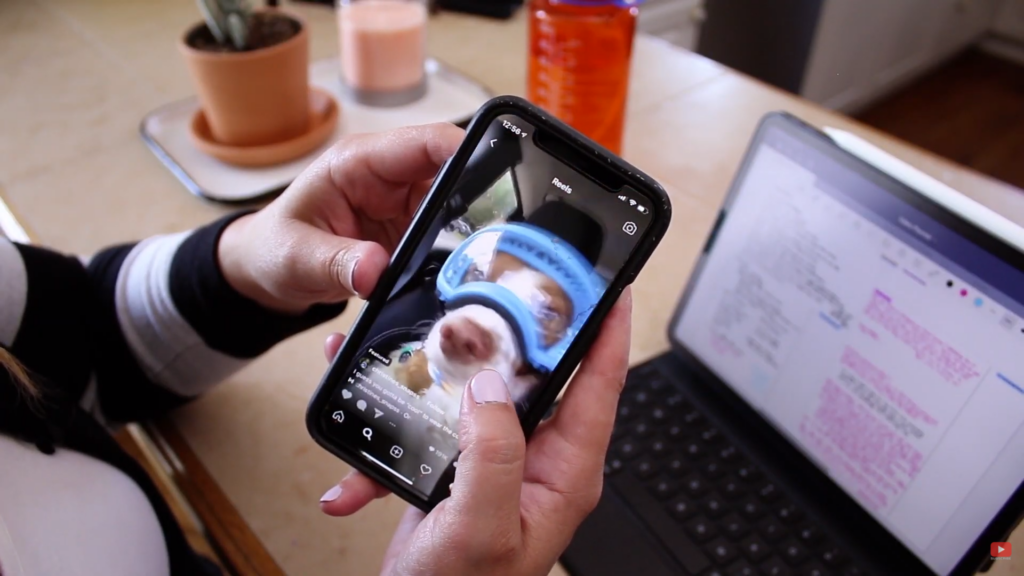 It's really kind of a whole new medium. The simple way to explain it is that it's a way for you to share your tips and tricks, bring out the value in your content, bring your personality, your experience, your expertise, but in a new and more entertaining way. Maybe you're thinking, "Oh, it's so new, I'm just going to wait until other people are using it before I start using it." Or more likely you're thinking, "Oh gosh, not another platform for me to learn, another algorithm for me to figure out."
Just hear me out with this. First of all, if it's on Instagram, it's not exactly new. It's probably quite a bit more mainstream than you think it is. You're probably going to want to jump on the bandwagon sooner rather than later.
How Do Instagram Reels Work?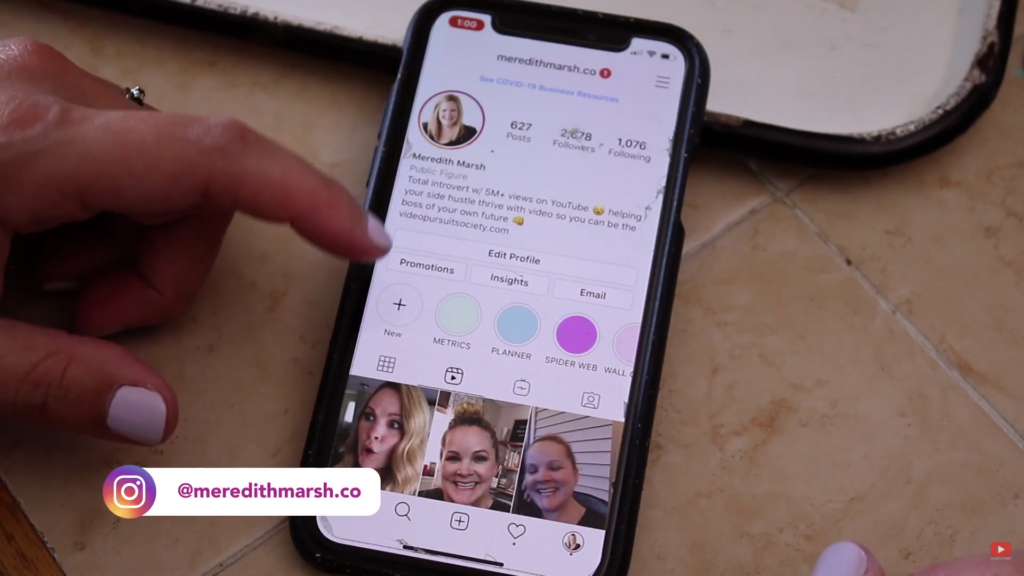 So you can see Reels my over on my Instagram. If you want to go follow me here, then you can check out what I have. So here's my regular feed that you can see here. I only have three up right now. So if you want to look at people's Reels on their actual channel, just go to their profile and then click the Reel menu just beside the Feed menu.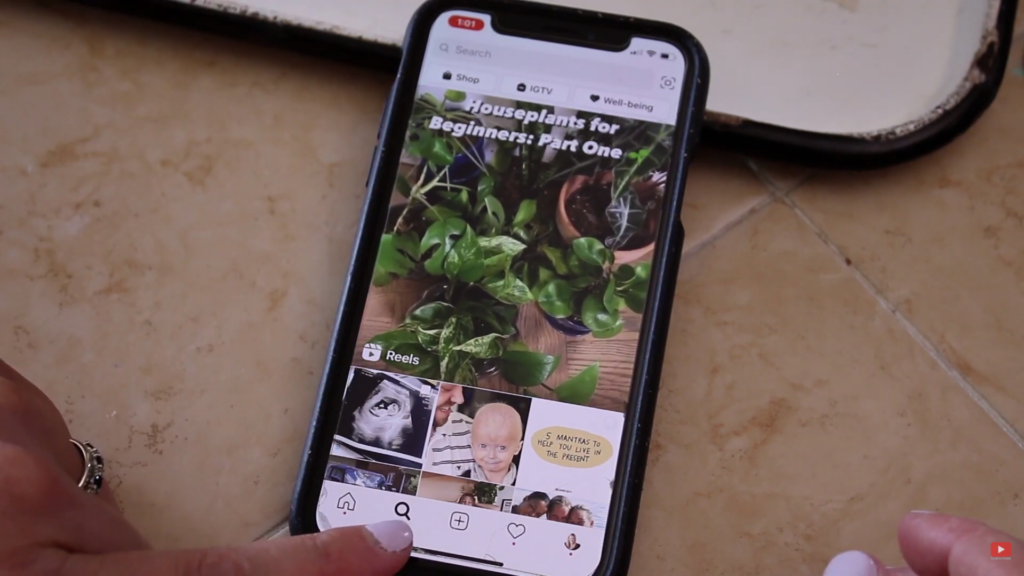 To find Reels for people that you don't follow, or maybe even for people that you do, just come over to the little search icon down at the bottom of the Instagram app. The top square area there is dedicated to Reels. So if you tap that, you're going to see a Reel video, and Instagram is going to choose what it thinks you might want to see.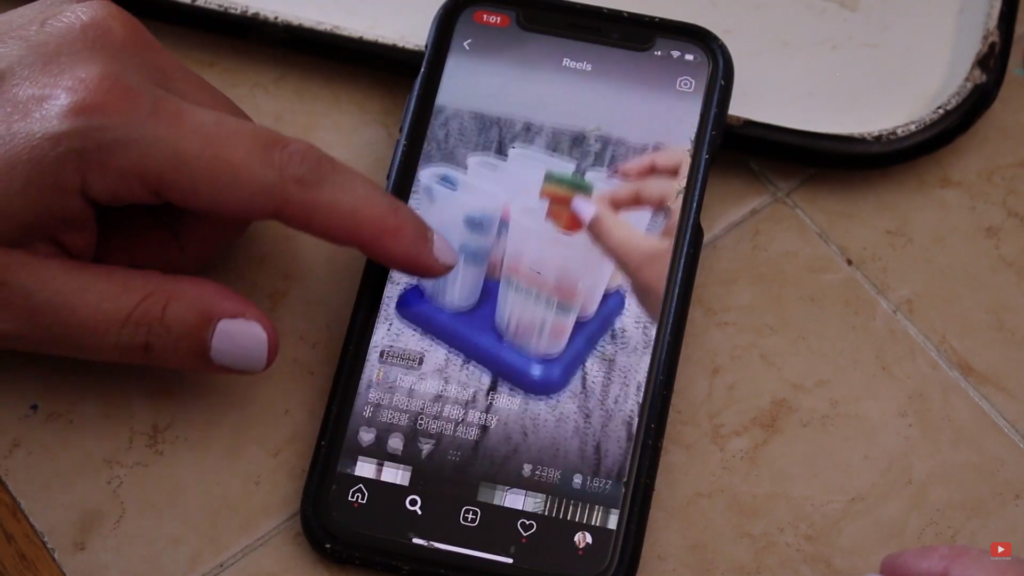 If you scroll up, it's similar to how you would navigate TikTok's "For You" page. This is as close as we have right now to a "For You" page. So you scroll up and whatever Instagram thinks you might want to see, it's going to show you. So you can see those by just scrolling through. These are not like a regular Instagram story. They're kind of funny and entertaining.
Exploring Instagram Reels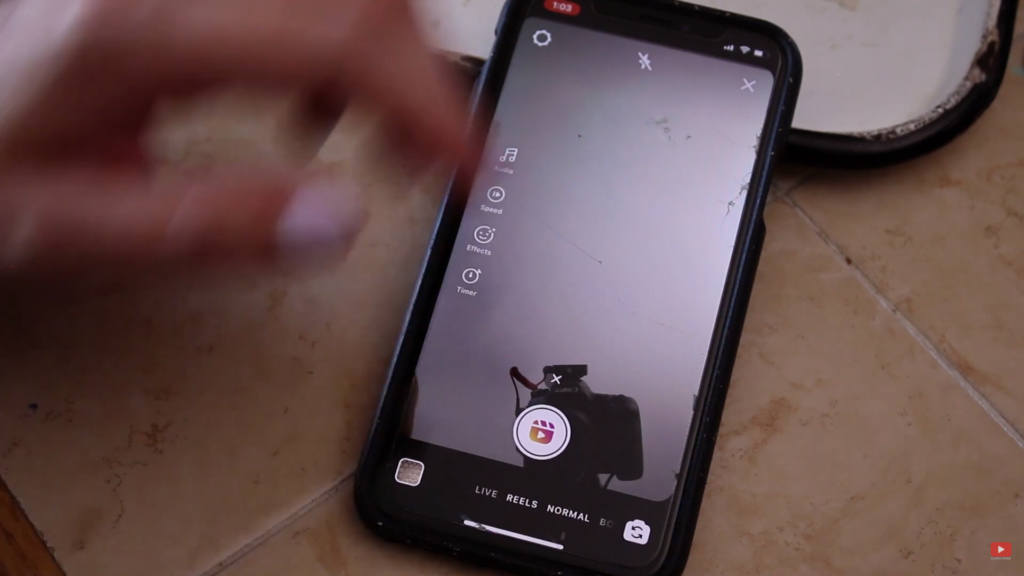 So where would you actually go to create Instagram Reels? Well, just go to the homepage. You can tap the camera icon in the top left, just like you would if you were going to create an Instagram story, and all you have to do is just move the little menu below to "Reels."
The other shortcut is to just swipe over and that will reveal your "stories" camera. So you have Reels, you have a live video, you have your normal story stuff, your boomerang, and all those features. So you want to make sure that you are on "Reels" down in the very bottom.
Now, let's just go through all of these different menu options, and then I'll show you how to actually make one. So down in the bottom-right, you're going to see where you can flip your camera around. So that's just your regular camera flip around. You can also load a pre-recorded video or anything that you have on your camera roll by choosing the option down in the bottom-left corner of the screen.
Then, over on the left-hand side, those are your creation tools to create an actual Reel. In the top-left corner, you have your story settings. You don't really need to do anything with that. At the top of the screen in the middle is where you have your flash setting, so you can turn your flash on. You can turn it off or you can have it on automatic. I usually keep mine off. Then, to exit out of this whole Reels creation, you could just hit the X in the top-right corner.
Creating an Instagram Reel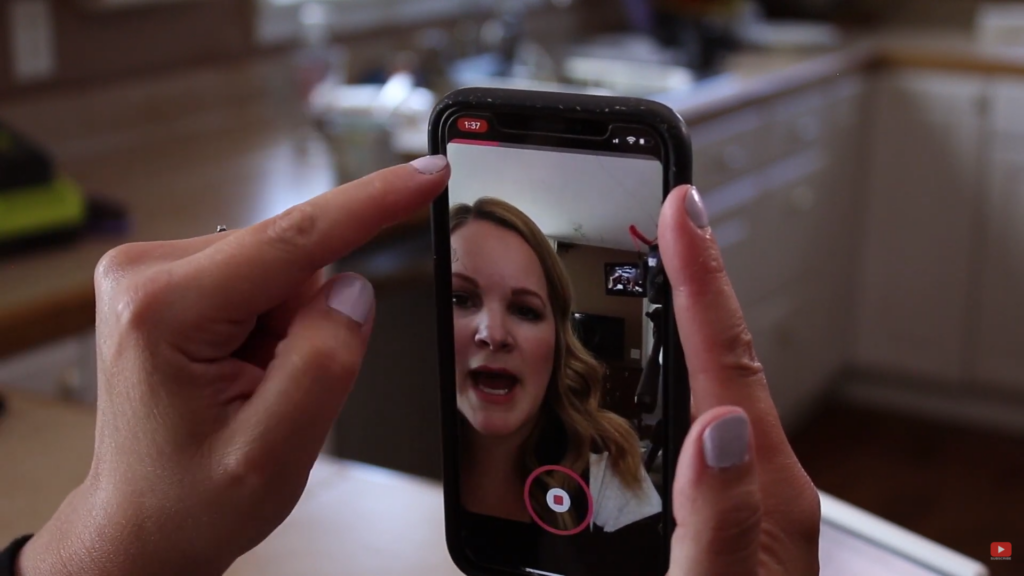 To help you create the Reel, you have a couple of menus on the left side of the screen including audio, speed, effects, and timer.
We could create a Reel like we would do a regular Instagram Story where we just tap the big "Reels" button, and it's going to record. At the top, you have the timer. It's limited to only 15 seconds and it gives you a little bit of an indication of where it's going to cut you off.
Related: Instagram as a Video Platform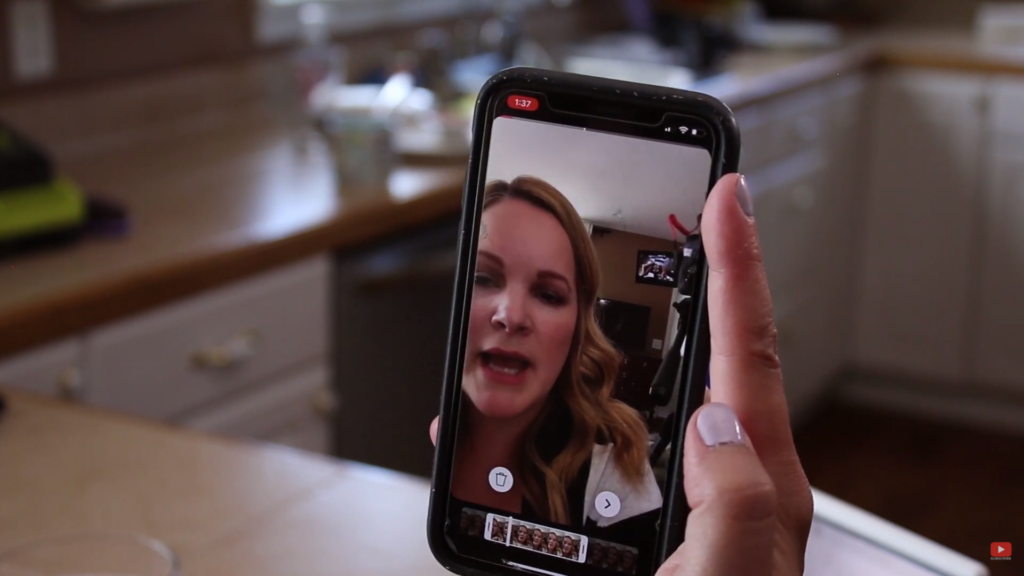 You can hit stop, then you can go back and rewatch what you just recorded. Also, you could edit it just by trimming the ends like in the image above, and then we could hit the "next" button beside the "delete" button.
If you still also haven't fully consumed the 15-second limit of Reels, you could hit "Record" again and just record another one. This is really no different than creating an Instagram Story. But what's really cool about this is the creation tool allows us to go back and edit each little chunk of our Reel or even delete it entirely. That offers a little bit of a different feature than Instagram Stories.
Other Features of Reels
Set Timer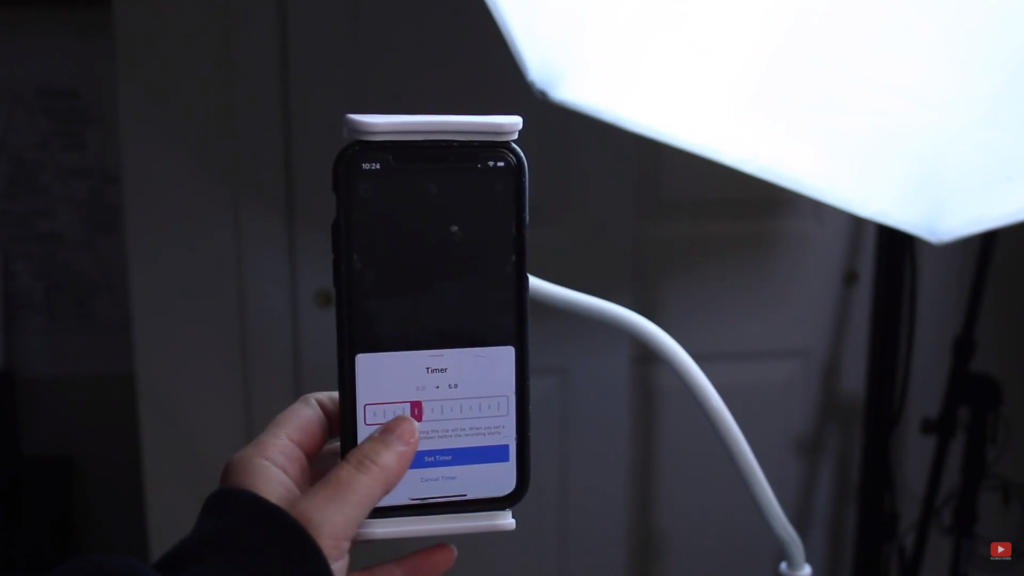 So first of all, we have the timer. So what this is going to do is 2 things. One, it's going to give you a three-second countdown, so that you could set your phone up. For example, let's say you're not holding your phone in your hand and you need to set it up on the tripod and then get into place.
Second, let's say you have a 15-second clip that you're going to do in total, but you want the first part to be four seconds long. So, hit "set timer," and then we hit that record button. It's going to count down and then it's only going to record for four seconds and then stop automatically.
Align
Another cool thing once you have created your first clip within your Reel is if you hit this little align button, it'll show you where you ended up. So you can just align it up and hit record again.
If you're in a different place, or if you have your fingers in a different place and you want to start off from where I left off, just hit "align" and then all you have to do is try and align yourself up as best as you can.
Effects & Speed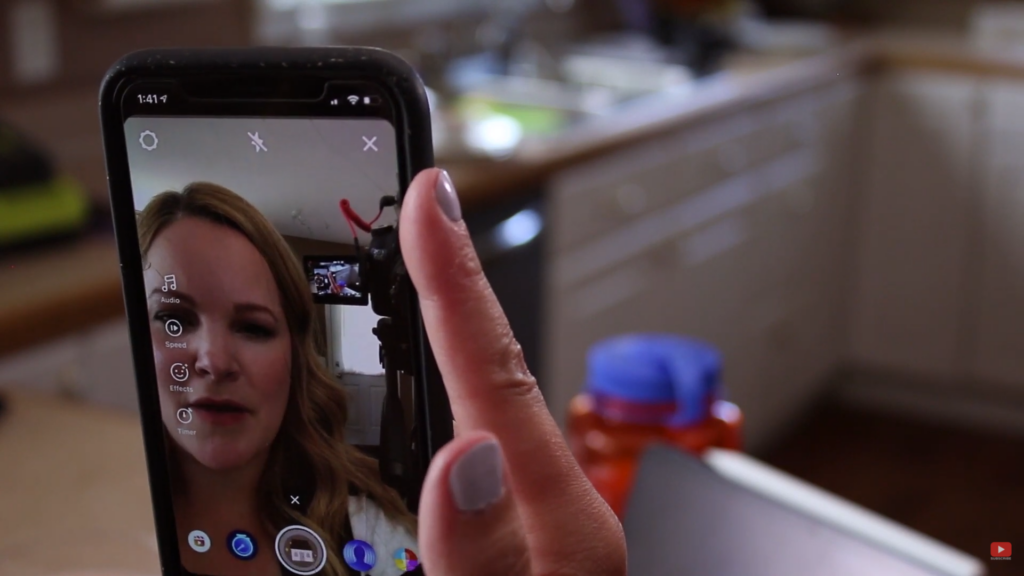 Let's look at the effects. So we have basically a lot of the same effects that we would have with our regular Instagram Stories. So when it comes to speed, 1x is the default speed. If you do half-speed, then everything's going to be in slow motion. So you can record in real-time, but when it plays back, it's going to be slow motion.
You can also type in whatever you want for your caption. You can also just save it as a draft if you're not ready to post it yet. It will be stored on your Reels feed. You could also go in and post it from there.
So don't be afraid and think that you're not creative or you're not entertaining. Just go and look at what other people are doing with their Reels. Also, go check out TikTok, if you haven't done that yet. It's really interesting. I also think you may get some creative juices flowing from that.
You can also go over to my Instagram, @meredithmarsh.co. Make sure you follow me there to see what I'm doing for my Reels. You might also be able to find something that you can pick out and apply to your channel.
Related: How to be Comfortable on Camera
VIDEO: Instagram Reels Tutorial
Did you know…? You can subscribe to the VidProMom YouTube Channel so you can stay up to date with my new How-To Videos & Tutorials! Click here to subscribe now so we can stay in touch and you won't miss out on anything!