iPad Pro Video Editing Apps (2020)
Video editing on iPad Pro has come a LONG way in recent years and in this blog, let me show you my top 3 favorite video editing apps for iPad Pro for 2020!
Click here to subscribe to Meredith Marsh on YouTube.
iPad Pro Video Editing Apps
Some product links in this post are affiliate links, and I will be compensated when you purchase by clicking our links. Read my disclosure policy here.
There are so many great options for editing videos on an iPad today, especially with the Apple Pencil. I just recently got it, and I'm loving it.
What I'm finding is, using the iPad Pro for editing and all sorts of other things in my business, I'm able to still be productive while also being present with my family instead of being holed up in my office.
I'm going to show you some of the best options for editing videos on your iPad or iPad Pro. One, in particular, is really powerful and definitely my favorite.
But one of the best things about being able to edit videos on your iPad is the fact that you can do it from your couch!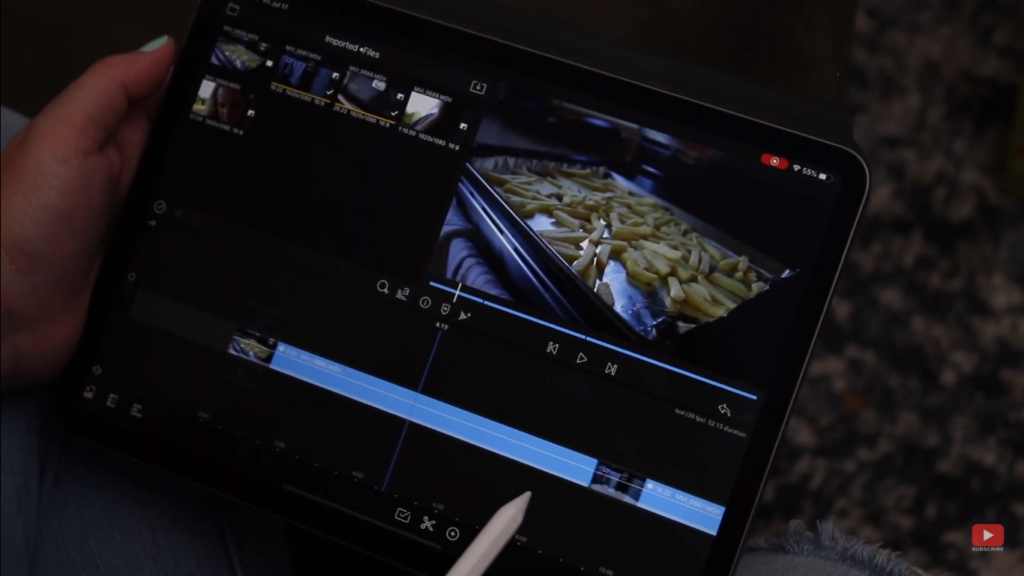 For a long time, computers were really the only way to create and edit videos and run a business. That's not really the case anymore, is it? Of course, you may have the desire to lock yourself away in a room undisturbed to have some really good screen time to create and edit your content.
Related: How to Make Professional Videos for YouTube
However, sometimes that's just not possible with the stage of life that you're in, and that's okay. And in that case, the iPad Pro and some of these video editing apps are the perfect things for you to be able to continue to take action in your side hustle or online business, even when you are in this busy stage.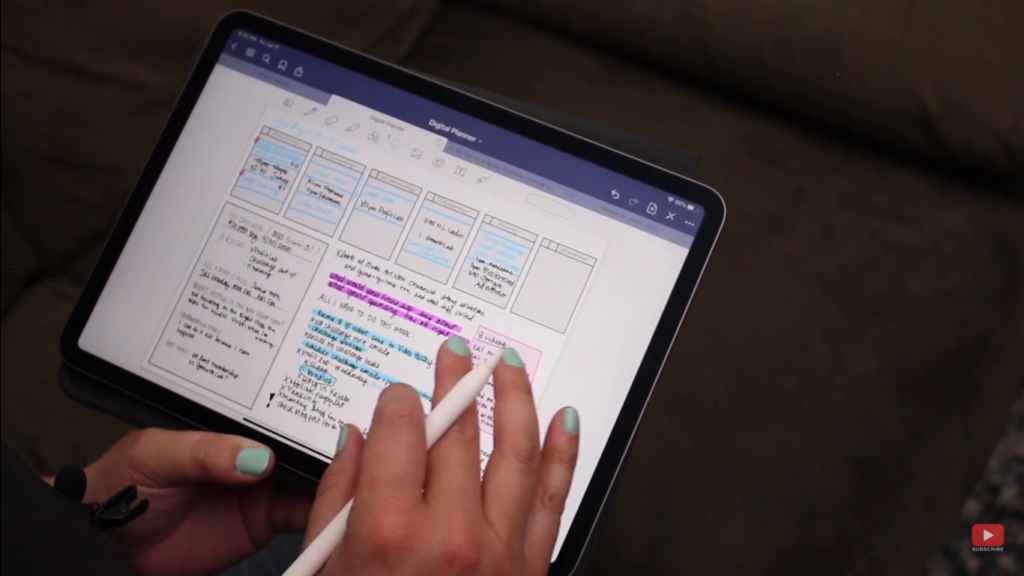 I've been using my iPad Pro for about a month now, and I am totally loving it. I've been planning and scripting my videos with the Notion app and the Good Note Five app, which I also use as a digital planner and bullet journal.
My Top 3 Video Editing Apps for iPad Pro
If you just open up the app store and search "video editing," you're going find a whole bunch of options there, including the three that I have used and would recommend that you check out.
Below, you'll find the top 3 video editing apps for iPad that I recommend you check out, include my top favorite (LumaFusion).
1. iMovie (free)
First, iMovie. iMovie is on your Mac, it's on your phone, it's on your iPad. It's very simple, it's very basic. It gets the job done. And if you're brand new to editing video, that's probably the simplest app that you can start using. So try iMovie if you're totally brand new.
2. Adobe Premiere Rush
If you are in the Adobe Creative Cloud family and you have a subscription, then Rush is a really good option for you. One of the really cool things about Adobe Premiere Rush is that you can start editing videos on your iPad or your phone and then open them up in Premiere Pro on your desktop to finish them up. I think that's really clever.
It's a really great way to have a workflow, where you're maybe out and about with your iPad and you can't get to your computer until later, but you want to start getting those videos edited. The downside is Premiere Rush is not free. You do have to have a subscription either to the full Adobe Creative Cloud suite of programs, or you can pay for a subscription to just use Rush.
And it is very simple to use. It's pretty straightforward. It's really powerful, but there are not so many bells and whistles that it's overly complicated. I really like Rush. I highly recommend it, but it's not my all-time favorite because my favorite is LumaFusion.
3. LumaFusion (favorite!)
LumaFusion is really where it's at with editing videos on your iPad.
I want to give you the basics of how to get started with this and show you how easy and how powerful it is.
I think LumaFusion costs about $20 or so in the app store, but it's so worth it.
One of the cool things about LumaFusion is it's really powerful, but it's also really simple. A lot of the extra bells and whistles are sort of hidden in the toolbar, but the basics functions–like the scissor tool–are easy to find to do a basic cut.
There are no more excuses now if you don't have a powerful enough computer or powerful enough software! Get yourself an iPad Pro, and try any of the 3 iPad video editing apps mentioned here in this post.
Related: LumaFusion Tutorial for Beginners
Be sure to subscribe to the VidProMom YouTube Channel so you don't miss fresh new videos from Meredith! Click here to subscribe now.