How to Pick the Perfect Channel Name with a YouTube Name Generator
Starting a YouTube channel can be exciting, but it can also be overwhelming. With so many channels out there, it can be challenging to come up with a creative and unique name that reflects your content and captures the attention of potential viewers. Fortunately, there are many YouTube name generators available to help you come up with the perfect name for your channel. In this article, we'll explore some of the most popular YouTube name generators, their features, their usefulness in selecting a creative and unique channel name, and tips for optimizing the generated names.
Why Use a YouTube Name Generator?
One of the biggest advantages of using a YouTube name generator is that it saves time and effort. Instead of spending hours brainstorming and researching potential names, a name generator can quickly generate a list of ideas based on your preferences and niche. Additionally, name generators can offer fresh perspectives and insights that you may not have considered on your own.
Some product links in this post are affiliate links, and I will be compensated when you purchase by clicking our links. Read my disclosure policy here.
Features of Popular YouTube Name Generators
There are several popular YouTube name generators available, each with its own unique features. Here are some of the most popular ones:
VidIQ is a popular YouTube marketing and optimization tool that includes a name generator feature. It allows you to generate a list of name ideas based on keywords related to your channel's niche. VidIQ's name generator provides a score for each generated name, indicating how likely it is to rank well in search results.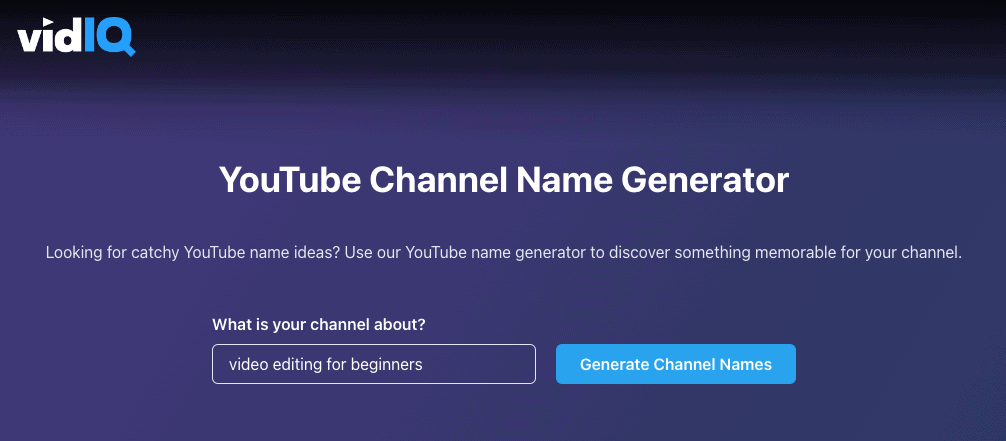 Get Welder is a free YouTube name generator tool that generates short and memorable names. Its user-friendly interface allows you to input keywords related to your channel and filter results based on character count, domain availability, and social media availability.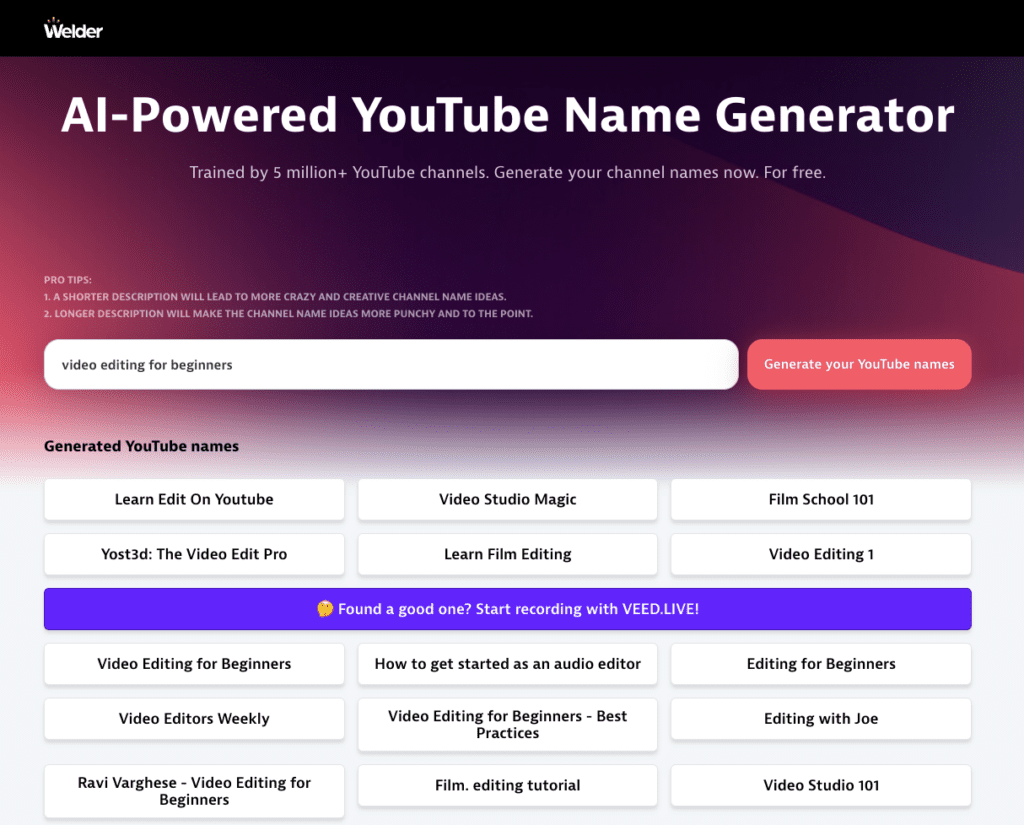 Name Generator Pro is a comprehensive name generator tool that generates unique and creative names for various purposes, including YouTube channels. It provides options for generating names based on specific criteria, such as the length of the name, the language, and the style.
Tips for Optimizing Generated Names
Once you've generated a list of potential names, it's important to optimize them to ensure they're memorable and unique. Here are some tips for optimizing generated names:
Keep it simple and easy to remember. Simplicity is key when it comes to naming your YouTube channel. Avoid using complicated or difficult-to-spell words, and opt for something that's easy to remember and pronounce.
Make it unique. Your channel name should stand out from the crowd and be memorable. Avoid using generic or overused words or phrases and try to come up with something that's unique and reflects your brand.
Check for availability. Before finalizing your channel name, make sure it's available as a domain name and on social media platforms. This will ensure consistency across all your online channels and make it easier for viewers to find you.
Other YouTube Name Generators to Check Out
Here is a list of websites where you can choose a channel title and a brief summary of each:
Using these YouTube name generators can help you come up with creative and unique names that accurately reflect your brand and niche.
Conclusion
A YouTube channel name can make or break your channel's success, so it's important to take the time to come up with a creative and unique name that reflects your brand and niche. YouTube name generators can be a great tool to help you come up with ideas quickly and easily. Remember to keep it simple, make it unique, and check for availability before finalizing your channel name. With the right name, you can attract more viewers and grow your channel into a successful brand.