Affiliate Marketing on YouTube
How does affiliate marketing work on YouTube? This post discusses some legal stuff that you need to consider when it comes to affiliate marketing, plus where to put your affiliate links on YouTube, how to direct your viewers to actually click those links and make a purchase… and a whole lot more.
But first, remember in my previous post, I covered my 6 favorite tips for being comfortable on camera? Well, I asked you on Instagram if you had any additional tips, and the two most common tips I heard were: Practice and Consistency. YES! I could not agree more! 
Some product links in this post are affiliate links, and I will be compensated when you purchase by clicking our links. Read my disclosure policy here.
Listen to Episode 33: Affiliate Marketing on YouTube
I am always surprised to hear that many people don't realize you can do affiliate marketing on YouTube, and you can put clickable affiliate links in your video description. So I want to answer some questions about affiliate marketing and how you can use it on YouTube to make more money in your content creation business.
To answer that question, YES! You can put links and affiliate links in the description of your video. The video description is the box that appears below your YouTube video. You can use that space to describe the video, and it's usually packed with search engine optimization techniques to get your video to show up in the YouTube search results and also in Google search results.
If you're not familiar with search engine optimization for YouTube videos, you should check out the Search & Rescue Strategy.
How to Start Affiliate Marketing on YouTube
So the video description is where a lot of that SEO stuff happens, but it's also where you can put your contact information, info about you, your channel is about and where people can follow you on other social platforms. But it's also a really good place to link to anything that you mentioned in the video, either with a regular link or an affiliate link!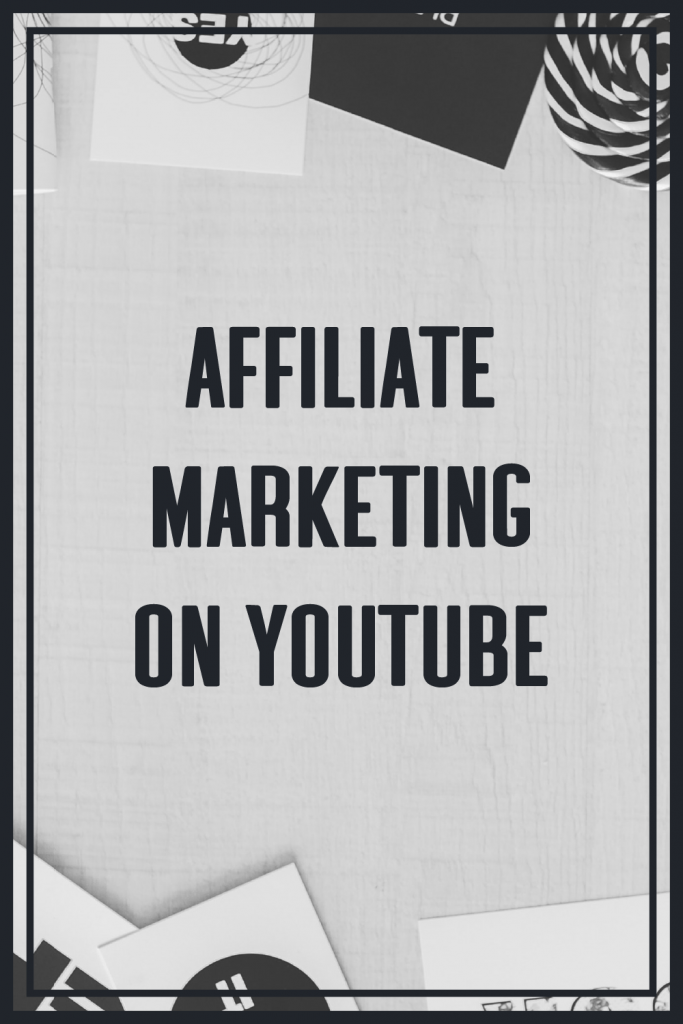 If, in your video, you mention another video, then link to that video in the description. If you mention your blog post, link to your blog post in the description. If you mentioned a product that could be purchased online, (through Amazon, for example) then you could put an affiliate link to that product in the description.
Adding links to your YouTube description is actually really easy. You just copy the link and paste it in the description. For the viewer, when they're watching your video, they can just click it. It's a clickable link!
YouTube Affiliate Marketing Rules
In the United States, the Federal Trade Commission (FTC) is in charge of regulating affiliate marketing. They do that to protect consumers. Sometimes it's easy to be mad at the rules and the laws because they make it harder for us to make money. But we are all consumers! These rules are a good thing. They are there to protect us as well as our audience.
The FTC wants content creators, influencers, etc. to disclose that something we are sharing is something we could potentially be making money from. They want our audience to know that if they click our link, we may get some sort of commission or that we're going to benefit from it. That's a disclosure–it's just like a "heads up". So you're just disclosing that you have this relationship with this company that you're linking to.
Each platform has their own rules too, so you should definitely check with YouTube, Facebook, Instagram, Twitter, LinkedIn, Pinterest… it's your responsibility to check the rules for every platform you use.
YouTube Affiliate Marketing with Amazon
Now, I mentioned Amazon because Amazon is probably the most popular, most widely known, and most widely referred to affiliate program out there for bloggers and YouTube creators. How it works is if you post your affiliate link to a product somewhere online–in a blog post, YouTube description, on social media, etc–if somebody clicks that link and go to the product page and they buy that product, you get a commission from Amazon.
Amazon is going to give you, the content creator, a portion of the revenue from the sale of that product. That's how affiliate marketing works. There are several other platforms that do this. It doesn't have to just be Amazon, but we're going to talk about Amazon today because it's probably the most straight forward, the most accessible to content creators. There are sites like Shareasale and MaxBounty, and some companies manage their own affiliate programs.
Amazon Influencer Program
With a regular Amazon Associates link, you're giving your viewer the exact link to a product, and it only takes one person to click it and make that purchase for you to make money from it. But Amazon has another program called the Amazon Influencer Program. The Amazon Influencer Program is similar to Amazon Associates, but it's set up a little differently. It's designed more for YouTube creators and Instagrammers, and influencers on platforms where there isn't a text link directly in the content.
With the Amazon Influencer program, instead of directing your audience to each individual link for items you mention, you can send them to one storefront where you place everything you have mentioned.
For example, if you go to vidpromom.com/gear, you'll be going to my Amazon Influencer page. See how easy that is?
Learn Affiliate Marketing
There's one more thing that I want to tell you about that really helped me out a lot with affiliate marketing. I wanted to up my game with affiliate marketing and make sure that I was doing everything that I could to capitalize on the traffic that was coming to my blog.

So I enrolled in a course called Making Sense of Affiliate Marketing. You're not going to believe this, but I have an affiliate link to that course if you are interested in learning affiliate marketing!
It's not just learning more about affiliate marketing, but really learning exactly how it works and how you can use it step by step. The creator of this course, Michelle Schroeder Gardner, is a very successful blogger from makingsenseofcents.com. Making Sense of Affiliate Marketing is a great foundational course and it will give you so many ideas and help you to come up with content that is sort of like driven by affiliate marketing.