Business By Design (Honest) Review 2023 – Worth It or not?
BBD costs lot of money, so is it worth it? Good question! I've got you covered with a no BS (honest) Business By Design review (watch the video for a review of James Wedmore's course too!).
Business By Design is an online course created by James Wedmore, designed to teach you how to become a "Digital CEO" and profitable online entrepreneur. If you are curious about James Wedmore's signature course, Business by Design (BBD), but you wanted an honest review from a current student, this post is for you.
Some product links in this post are affiliate links, and I will be compensated when you purchase by clicking our links. Read my disclosure policy here.
What is Business By Design?
Business By Design is a full online course, which takes you from the beginning steps of developing an idea for your own online business to the point where you have a profitable company… completely online and on your own schedule.
✅ James Wedmore's once-a-year (free) training, Rise of the Digital CEO is happening in June 2023! Get on the notification list here so you don't miss James' free training, Rise of the Digital CEO. It gets better every year! Join for free at vidpromom.com/rise.
You will learn how to develop a digital strategy and put together all the pieces needed to create a successful online business. BBD is a video-streaming course, with TONS of resources and guides, which means you can watch the videos from anywhere and at any time. It's also completely self-paced, so you can complete it as quickly or as slowly as you like (in your own time).
You'll also learn to recognize what your audience and your market want. That will help you create online products that they'll love and actually buy. You also get the "done for you" or "fill in the blank" processes for over 10 different styles of launching a digital product or course, from webinars and challenges to video series and just email.
And I have to say, that's worth the price of the course alone!
In a nutshell, Business By Design really is designed to set you on the path to success for your business, on your terms. That's why it's called Business by Design. It's business by YOUR design.
👉 Did you join the BBD Waitlist yet? That's the best way to know everything that you'll get in this year's BBD launch as soon as the doors are open! Join here: http://vidpromom.com/bbd
Business By Design Online Course Overview
BBD is an online course packed full of resources. The Business By Design course is HUGE but it's broken up into clear steps. I've been a student of James Wedmore for over 5 years now and I still find new resources and tips to grow my business every time I log into the BBD online course. Here's an overview of what's inside:
6-Module Course with Core Content
Module 0 – BBD Foundations (The intention of this module is to lay the foundation for how we are going to work together)
Module 1 – YOU By Design (Through a series of exercises, action items, and homework, I help you create a business that fuels your passions and creativity, and generates the revenue you want.)
Module 2 – WORKING By Design (Finally master the habits and strategies of being super-effective in everything you do.)
Module 3 – OFFER By Design (In this module, you will learn the steps and methods to help you craft a HOMERUN, irresistible Offer.)
Module 4 – Your Sales System (Discover the pieces involved to create a sales system that effectively sells your product while creating demand and desire without having to rely on pushy & outdated sales techniques.)
Module 5 – TEAM By Design (Discover how to strategically build a team to grow your business no matter what your budget, or what stage of business you're in. So you can focus on the things you were meant to do.)
Module 6 – SCALE By Design (In this module you'll see how to build momentum in your business. And then ride that momentum to scale your business. To grow it 2x, 5x even 10x or more. All without working 10 times harder.)
And all of these modules include video, transcripts, and step-by-step guides.
PLUS:
The ATTRACTION Module

The Following is a BONUS Training on a few processes and trainings to help you ATTRACT a bigger audience and reach more people!

Your NEXT 90 Days
11 Launch Processes WITH Guides and Checklists
Step-by-Step Business Processes
Members-Only Facebook Group (one of my favorites!)
Live Training & Office Hour Coaching

Your opportunity to join Live Training with James and Office Hour Coaching with our BBD coaches for extra support.

Resources & Business Processes

Essential Resources for making your launches easier and more efficient include additional Tools, Templates, and Processes to maximize your results.

2-Day Live Launch Masterclass
Bonuses like Program Design, Absolute Automation, FB Ads Training, and Course in a Weekend
✅ Join the BBD Waitlist Now so you Don't Miss some of the BEST bonuses ever! (just put in your email)
Honest Review of Business By Design
We're going to do something a little bit different here on my blog, something I've never actually done before, ever. I'm going to do an honest review of a digital program that I invested in to grow my online business.
As you can tell from the title, this is my honest review of Business by Design (BBD). This is James Wedmore's online course. I'm going to go through what it actually is, how does it work, what do you get with BBD, who it is for, and how it has helped me.
In 2017, I wrote a blog post about BBD and how it really helped me earn income in my blog and YouTube channel. A lot has changed since then! So this is an update to that original post, since I've had a few years to implement the teachings inside of Business by Design!
Before I get into my full review of Business by Design, I want to preface this by saying I am an affiliate for Business by Design. So, full transparency… However, I am going to give you my honest opinion. That means the pros AND cons. To be perfectly honest, I highly doubt you will see any BBD affiliate explaining the cons but I think it's fair to be completely honest.
✅ James Wedmore's once-a-year (free) training, Rise of the Digital CEO is happening in June 2023! Get on the notification list here so you don't miss James' free training, Rise of the Digital CEO. It gets better every year! Join for free at vidpromom.com/rise.
I don't want you to just take my word for it because I think the best way for you to learn about who James is, what Business by Design is really all about, and how it might fit into your business journey, is just to sign up for James' annual Rise of the CEO Digital Video series.
You can either watch or get on the waitlist for The Rise of the Digital CEO series here. It's totally free. Even if you're not even interested in BBD, it's still really informational. It's also entertaining, and there are some mind-blowing things about online business in general.
So, I highly recommend that you check that out. Again, it's totally free. If it's not available when you click this link, just put your email into the waitlist and you'll get notified the next time around.
✅ Check out the next Rise of the Digital CEO Series (just put in your email)
I made a TON of online business makes before Business By Design
These are some of the things I know you will relate to if you've ever had an idea and a desire to create an online course or program. You might have even made some of these mistakes yourself! Mistakes are lessons and I'm grateful for them, but at some point, it's time to grow up and learn the right way to do things. Ya feel me?
The "Copy Everyone Else" Mistake
I launched my first course based on what I read in Jeff Walker's book, Product Launch Formula, and "backward engineering" other people's launches. I.e. cobbling multiple plans into one. I also tweaked a bunch of stuff at the very last minute, including… get this… I decided to switch email providers (from Mailchimp to ConvertKit) 3 days before the launch. Three. Days. Before. Launching. My. First. Course.
WHY WHY WHY WHY WHY. I don't know. I really don't.
That first launch was surprisingly successful (by my own measure) despite me being clueless about the process. It was also incredibly stressful.
And I thought all launches were supposed to be that way… Nerve-wracking, late nights working, last-minute tweaking. Uh, no. Launches are not supposed to be stressful, and in the Business By Design program, I learned that having a rock-solid plan handed to you from beginning to end reduces stress by like 95% (come on, you gotta get a little nervous or it's not even any fun!!).
The "Launch and Run" Mistake
After my first course launch, I performed a series of "launch and run" launches. I'd come up with a course idea, create it (or pre-sell it, then create it), and when it was done, I'd run. I said, "ok that was great, what am I going to launch next?"
What's wrong with that, you ask? Well, for starters, I put a LOT of work into the launch itself (not to mention course material), so when I launch ONCE and then give up and move onto something else, I throw away all that hard work.
After joining Business By Design I had a HUUUUGE epiphany… increase traffic, improve conversions, and launch again… DUH!
I have to say that again. Launch again… DUH! I had inadvertently created SO MUCH MORE WORK for myself because I didn't have a process for launching that could be replicated easily. James' first video in his free workshop talks about processes… this is HUGE.
The "Hamster Wheel Method of Content Creation" Mistake
It's really hard to "see the forest through the trees" when you're blogging and creating YouTube content, especially at first. Creating content for the sake of creating content (to up your traffic, increase views, grow your audience) is fine at first, but at some point, you have to have a plan for all that traffic!
This is a toughy for me because I am a YouTuber, not just a blogger & course creator. Sometimes YouTube is about creating content to get the views/subscribers to grow your channel and reach more people.
But when you're trying to monetize through selling a digital course… you need to create content that attracts the exact right person, helps them solve a problem or learn something new, then gets them "on board" for more great content from you… maybe more free content, possibly some paid content (i.e. a digital course).
How Did BBD Help Me?
Now, as far as what BBD helped me with, I joined back in April 2017, so I have had the program for years now and I still keep referring to it and learning new things. I think James and his team have added more and more content to it every single year. It just keeps improving.
The biggest thing that BBD helped me do was to see exactly how to make sales (course, membership, etc.) in my business. I was focusing a lot on passive income, like ad revenue on YouTube and here on my blog, plus affiliate revenue.
But I wanted to create and sell digital products like my 30 Days to a Thriving YouTube channel course, or my membership, the Thriving Creators Society. I wanted to create those things, but I knew nothing about sales. I actually didn't think I needed to know anything about sales, which was wrong. That was the first really big game-changer for me.
Over time, once I got the sales thing down, I was able to focus on what I really wanted to do with my business. I know what I wanted to accomplish, who I really wanted to help, who I was really here to serve, why my business exists, to begin with. So, I was able to implement even more processes for becoming a Digital CEO, as James calls it. And also developing a team so that I can do more in my business and help more people.
That's how Business by Design helped my business grow, but there's this whole other side of BBD that, to be honest, I was not expecting when I first enrolled. That's the whole mindset side of starting or having an online business, doing these weird things like talking to a camera, creating YouTube videos.
The amount of mindset shifting that has occurred for me in the last three years around business, around life, around relationships, around money, has really been… I don't have a word for it other than just absolutely extraordinary.
How Much Does Business By Design Cost?
Curious about the price of Business By Design? The price of BBD has increased in the last few years since it was launched by James Wedmore.
First of all, I don't think it would be fair to tell you the exact price until Business By Design opens again (because it could always change). The pricing is only available on the sales page when the doors open for the Business By Design. The best possible price (and bonuses) are always on cart open day so make sure to hop on the waitlist so you get notified right away.
However, the last time BBD was open for enrollment the price was $2997. It may sound extremely pricey for an online course, but what I can tell you is that when I joined Business By Design and implemented the launch strategies I learned, I recovered my investment in 9 months.
If you simply do the math, if you launch a $300 digital course (like my "30 Days to a Thriving YouTube Channel" course), you'd only need to make 10 sales to make your money back!
Not only have I expanded my business revenue by launching digital products which I learned the launch processes from James, but I also create a rinse-and-repeat- system for launching without all the headaches!
💰 The best price for Business By Design is usually the day it launches next (to make sure you get the bonuses) so get your buns on the waitlist NOW so you don't forget and miss out! The waitlist is here: vidpromom.com/bbd (just put in your email)
Is Business By Design For You?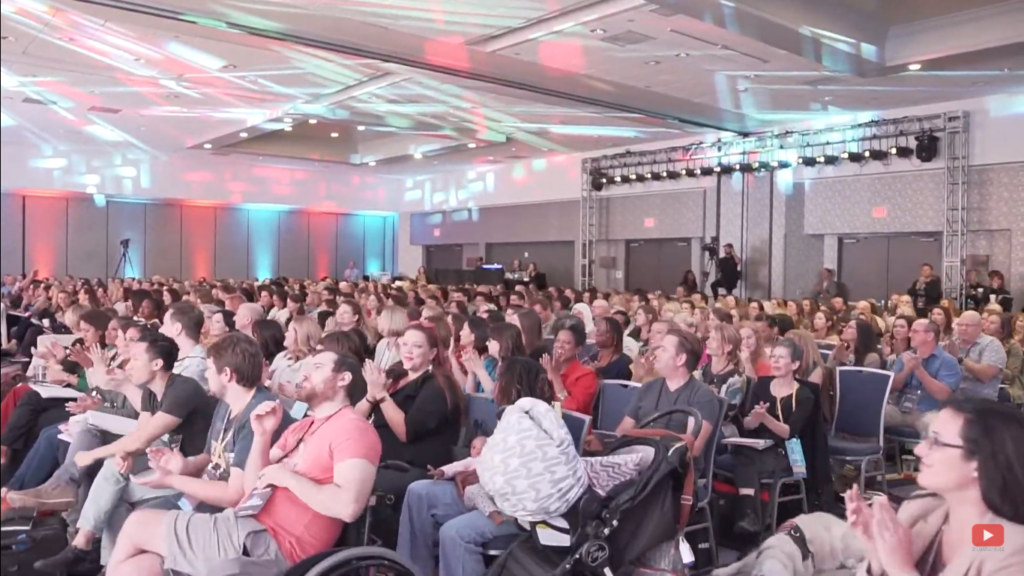 Also, with BBD, you get a ticket to BBD Live, which is a live (in person) event happening in December 2023.
With a course like Business by Design, I think it's really important to look at the case studies and the people who have participated in BBD, and really ask yourself, "Is that me?" Or, "Could that be me? Is that the type of person that I would want to be like? Is that the type of business that I want to have?"
Because those are the people that you're going to be surrounded with, right? So who is Business by Design really for? This is a tricky question. If you look at some of the case studies from BBD, there are all different kinds of people, businesses, and niches.
Of course, when I joined, I was a YouTube creator and a blogger. So, I definitely feel like it was for me as a content creator who wanted to create and sell online courses and digital products. I knew that that was something I wanted to do, and I knew I needed to learn that sales piece. So it was perfect for me.
It is really great for a content creator. But there are also service-based businesses, so graphic designers, social media managers, people who are using their online business and online platform to sell a service or to productize their service so that they can scale. There are coaches. There are teachers who have set up these whole online businesses around the things that they teach, helping other teachers.
Who is the Person Behind BBD?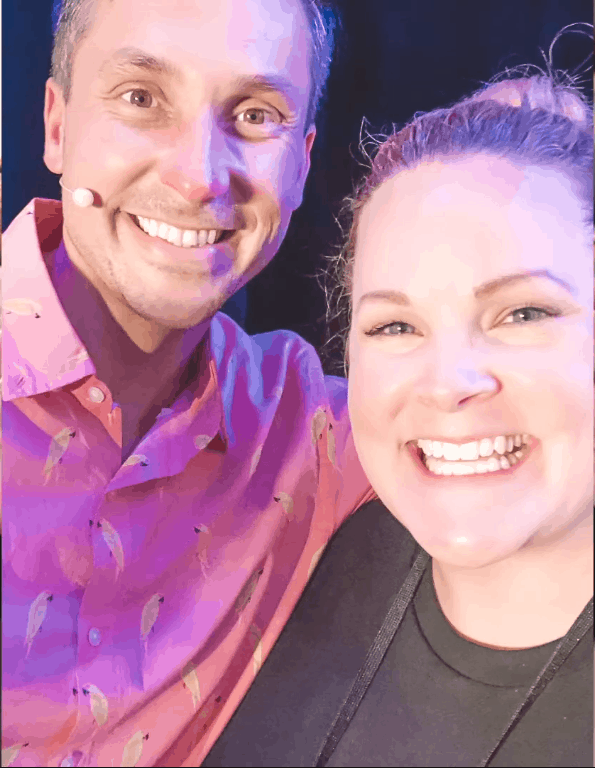 So, who's behind Business by Design? Well, it was created by James Wedmore, as I already mentioned. James is a YouTube creator who turned into a $9 million a year entrepreneur, and he is a fantastic coach on helping you get clarity on your niche and to know what to do next in your business.
Also, he has a team of coaches that he trained. So they're in the Business by Design Facebook group, answering questions, helping you get clarity, and helping you figure out how to move forward.
When is BBD available?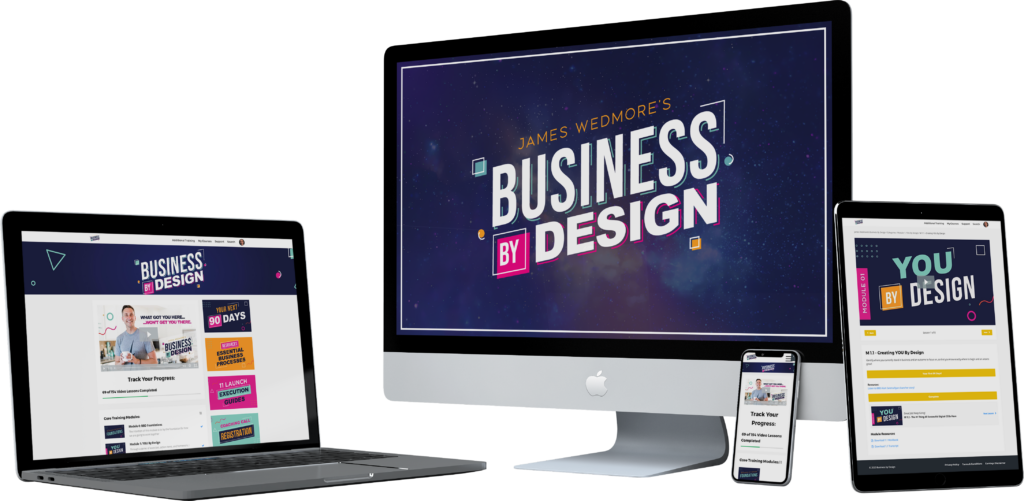 Business by Design usually opens about once a year in June. If you use this link to get on the waitlist for The Rise of the Digital CEO series, then you'll also be on the waitlist, and they'll let you know when the course is actually open.
Some of the things that are included in the course are the 6 BBD Core Training Modules, the plug-and-play launch maps, and execution guides. That's the system and the strategy on how to implement doing a webinar, doing a five-day challenge, and doing an email launch. There are so many different types of launches. I have lost track of them all. But they're all in there.
There are also marketing templates. He does live coaching sessions with him and some of his other coaches. There are always different bonuses, so I don't know exactly what all the bonuses will be and what will be included in this next round when the doors are open. I also don't know exactly what the price will be because there's usually more than one tier.
📈 Business By Design is what helped me STOP treating my content creation business like a side hustle, and start building a REAL online business. Get on the waitlist here: http://vidpromom.com/bbd
Pros and Cons of Business by Design
Now, I want to get to the pros and cons and be really, really honest with you here. First of all, the pros, Business by Design is a very in-depth resource. I like to think I sort of have a Ph.D. in online business after going through Business by Design.
There's so much in there, which is a great thing because there's something for wherever you're at in your business, even if you're just starting out, even if you don't know what you're doing.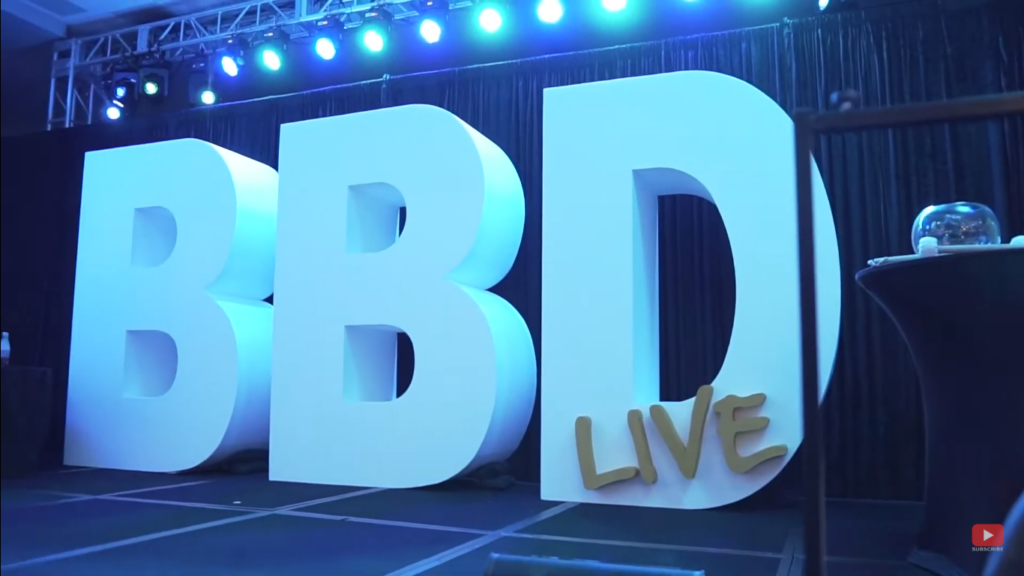 You also have lifetime access to Business by Design when you join. It's not a membership. You don't have to renew to stay in the group or anything like that. Just make that investment. You make that purchase, you go through it, and every time it gets updated or content gets added to it, which James does pretty much every year, you get all of that. So it's a lifetime access type of thing.
You also get a ticket to Business by Design Live, or BBD Live, which is a three or four day in-person conference. It's a conference like no other. It's so different and it's a lot of fun, it's really informative, you get to connect with a lot of people, and make amazing friends.
One of the cons of BBD Live is that it's on the West Coast, and I'm on the East Coast. And when you have a family, just the cost and the time and everything of going to another coast, it can be kind of a pain in the butt.
But it's always been worth it. I've been there twice. It's definitely something that I would pay to go to, but when you join Business by Design, you get a free ticket.
Another con is that as a content creator, I focus a lot on organic content. I'm on YouTube. I'm showing up in your subscription feed, or I'm showing up as a search result or something. And inside of BBD, there's a pretty heavy presence of people using Facebook ads instead of creating organic content.
I have nothing against Facebook ads, but they cost money, of course. Nothing against spending money to grow your business, but they also cost money to learn what not to do.
There tends to be a pretty heavy emphasis on using Facebook ads to grow your email list, to fuel the launch of your course or your product. Nothing wrong with it, though. I just like organic content.
I also wish there were more resources in BBD for on-going, evergreen launching rather than doing big webinars and video series. However, doing live launches makes honing your messaging so much easier, then you can "evergreen" later.
Also, there are A LOT of people in the BBD Facebook group and in James' coaching calls on Zoom. This can be a great thing, but it can also be overwhelming. James has several BBD coaches in the group to answer questions (in addition to himself) so you can always get your questions answered.
Manage your Expectations
The other thing, too, and this is not so much a con of BBD, but a con of online business and creating and launching digital products in general. That is that it's real easy to look at the success that people are having and assume that you're going to have that same success when you launch your course, or when you do your next launch.
It may not necessarily be the case because everybody's audience is different, their offer is different, the products are different, everyone is different. So, it can be a little bit disappointing when you see people with their six-figure launches and stuff, and then, I've never had a six-figure launch. I don't know if I ever will. And so, you have to kind of manage your expectations there. Everybody's on this different journey. But like I said, that's not really a BBD con, just something to keep in mind.
In a Nutshell…
Overall, there are way more pros than cons, and as I've said, if you are at all interested in figuring out if BBD is right for you, the best thing you can do is watch or get on the waitlist for the next BBD launch. You can use this link to hop on there so you're the first to know about it.
Don't just take my word for it… get on the BBD Waitlist NOW so you get the info about this year's Business By Design as soon as it's available! Waitlist is here: http://vidpromom.com/bbd (just enter your email).