Canon M50 Mark ii Review – Honest Opinion after 12 Months
The Canon M50 is often labeled as the "best camera for Youtube." That's why I preordered the Canon m50 Mark ii as soon as it was announced in 2020. I've had this Canon m50 Mark ii for a year now, and I LOVE it. In this blog post, I will give you an honest Canon m50 Mark ii review.
Some product links in this post are affiliate links, and I will be compensated when you purchase by clicking our links. Read my disclosure policy here.
Canon M50 Mark ii Review
It has been 12 months since I made the decision to pre-order my Canon m50 Mark ii. At first, I really liked this camera, but now, I LOVE it and I want to tell you why. If you are in the market for a new camera for YouTube videos this is for you! Here is my honest review and why this may be the perfect camera for you.
First of all, lets' start with the size and weight. The Canon m50 Mark ii is small and lightweight, which makes it easy to carry around or slip into your bag. This mirrorless camera also has all the expected functions for a camera these days as well. You have manual shooting settings, face detection, and a fully-articulating touch screen! One of the best parts is that the touch screen has a record button directly on it. And with audio levels on the screen as well, you always know if your mic is working properly! There is also a wifi button to transfer footage from the camera to your computer, phone, or iPad really easily.
What more could you ask for in an affordable camera that can make quick and easy YouTube videos? Especially a camera that will make you look legit in your videos without a film crew or $4000 worth of camera gear! As long as you're shooting 1080p videos, don't need 4k, and you're not using it for professional photography, this camera is great for you.
If you are recording vertical content for TikTok, Reels, or Shorts, you don't need to rotate the video when you are editing it. Just have your camera face vertical as you're recording and the video file will save vertically. You can use the Canon M50 Mark ii for Zoom calls and Livestreams pretty easily as well. Unlike the original m50, the Mark ii has clean HDMI output. Once you switch from using a grainy webcam to using a real camera… you will never go back!
Sigma 16mm Lens
Now if you're new here, you may not know that I absolutely LOVE this Sigma lens for the Canon m50 Mark ii. The Sigma lens is very affordable as far as lenses go, and it dramatically changes the way your videos look especially when you are talking directly to a camera and you are recording your video in a small space. It makes your small space look very spacious, and it gives a nice blurry background, which is common in many YouTube videos.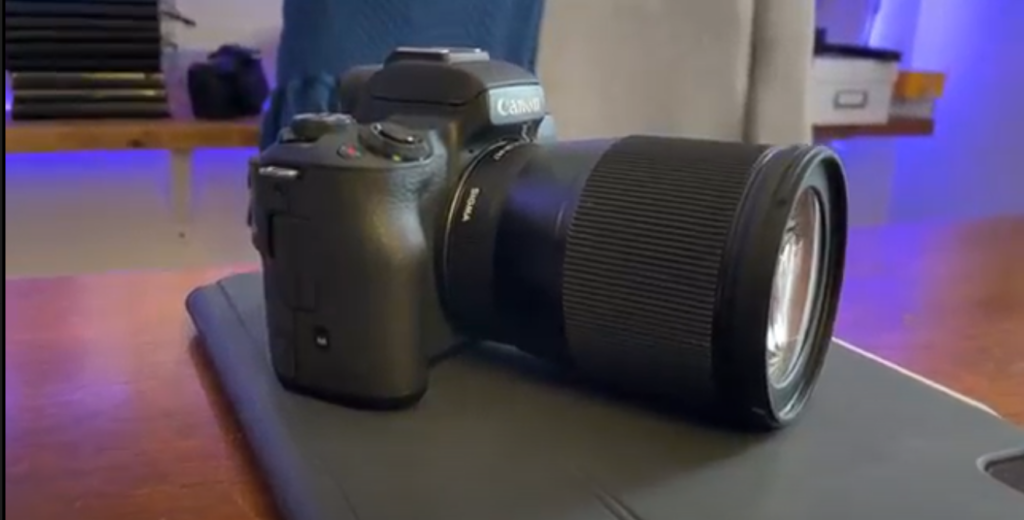 Hopefully, my Canon M50 Mark ii review gave you the push you need to go buy the camera. once you get the camera, there are some must-have and nice-to-have accessories for the Canon m50 Mark ii. Don't worry, I will talk about these in my next blog post.
VIDEO: Canon M50 Mark ii – Honest Opinion after 12 Months
Click here to subscribe to Meredith Marsh on YouTube.