Canon M50 Mark ii vs Canon M6 Mark ii
The Canon m50 Mark ii and Canon m6 Mark ii are SO close to being identical, you might be wondering… what is the actual difference? Because one of them costs a few hundred bucks more!! So what's the deal with the Canon M6 Mark ii vs Canon M50 Mark ii, specifically as it applies to creating videos for YouTube and social media?
Some product links in this post are affiliate links, and I will be compensated when you purchase by clicking our links. Read my disclosure policy here.
Canon M50 Mark ii vs Canon M6 Mark ii
The m50 mark ii and M6 Mark ii cameras have way more similarities than differences. If we were talking strictly photography, I would say the M6 Mark ii is the way to go simply because it has a bigger sensor which creates higher resolution photos that you can print huge or crop in easily.
✅ This specific camera is the most popular with my readers.

It's also highly rated on Amazon and is a best seller. If you can get it for under $699, grab it! Check availability here.
VIDEO: THE WINNER for YouTube Videos – Canon m50 Mark ii vs Canon m6 mark ii
Click here to subscribe to Meredith Marsh on YouTube.
Shooting Videos with Canon m50 Mark ii and m6 Mark ii
When we talk about videos, the Canon M50 Mark ii and Canon M6 Mark ii have the same lenses, the M-series lenses. For me, I use my Sigma 16mm lens, which I LOVE, on either of these, and it's magical.
A notable difference to know is that M50 Mark ii can shoot 1080 at 24,30, and 60 fps or 4k at 24fps. The M6 Mark ii can shoot 1080 at 30 and 60, and 4k at 30. Let me explain: If you shoot videos at 1080, 30 frames per second like I do, either camera will work great for you. If you want to shoot a b-roll with some slow motion and a cinematic look, you can shoot it at 60 fps. This can be done with both cameras. Now, if you want to shoot your YouTube video in 4k, the M6 Mark ii and M50 Mark ii wouldn't work for you due to the low frame rates.
Everyday Use
I have had these cameras for over a year. I pre-ordered the m50 mark ii when Canon announced it, but I was a bit impatient and ordered the M6 Mark ii on Amazon Prime. For a year, I have been interchangeably using these cameras for shooting YouTube videos, using them as a webcam for Zoom calls, and for live streams.
When it comes to the quality of the videos and photos, there really is no difference. They are basically the same output as far as what I've experienced. I've used them both at the same time to get multiple camera angles for one video, and as long as the settings are the same, it's like you're using the same camera.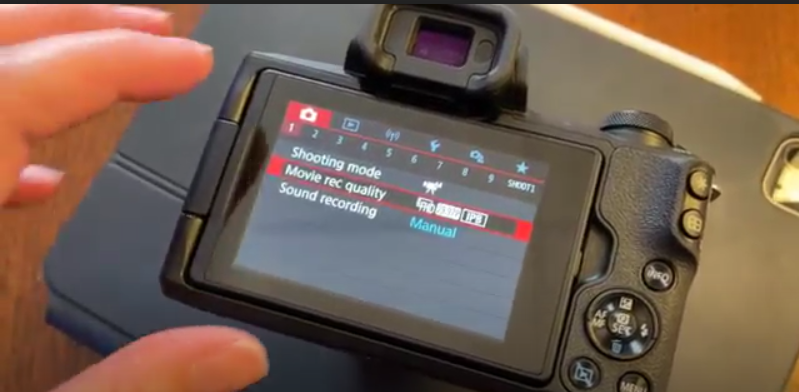 For the last 6 months or so, I've kept the m6 Mark ii setup as my webcam, with the sigma 16mm. It sits behind my monitor and it's always plugged into the dummy battery. I always set it to clean HDMI since it's feeding into the computer and not recording directly to the camera. When I'm recording a YouTube, I turn off the clean HDMI. With my Canon m50 Mark ii, it's usually sitting rogue for anything else I want to do like getting another angle or recording a b-roll.
Touch Screen And Button
When I'm recording a video where I'm talking directly to the camera, I really do prefer the fully articulating touch screen on the m50 vs the flip-up screen on the M6 which gets in the way of the mic stuff. Also, the M6 Mark ii doesn't have the record button on the screen like the M50 Mark ii.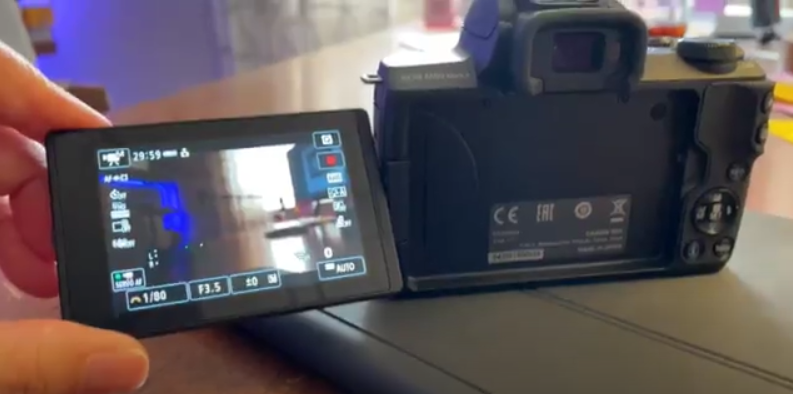 The record button on the m50 mark ii touch screen is a small detail but important detail, just like the wifi button on the side. The m50 mark ii has the wifi button, and it's so convenient for sending videos over to my phone, iPad, or computer. You can connect the M6 Mark ii to your other devices and do the same thing, but it doesn't have the handy little button.
Related: Canon M50 Mark ii- 7 Things To Know
Vertical Videos
Want to record your video vertically for TikTok, IGTV, Reels, or Shorts? I suggested you use the M50 Mark ii. It will record your video as a vertical video if you turn it sideways. If you use the M6 Mark ii to record sideways, you still have to rotate the footage when editing, whereas the vertical video out of the M50 Mark ii is already vertical.
Related: How to Edit Vertical Video-LumaFusion Tutorial
Weight, Appearance & USB Connector
The M6 Mark ii is a little bigger, heavier, and feels substantial. It also has a weird-looking attachable viewfinder, but the M50 Mark ii has the viewfinder integrated.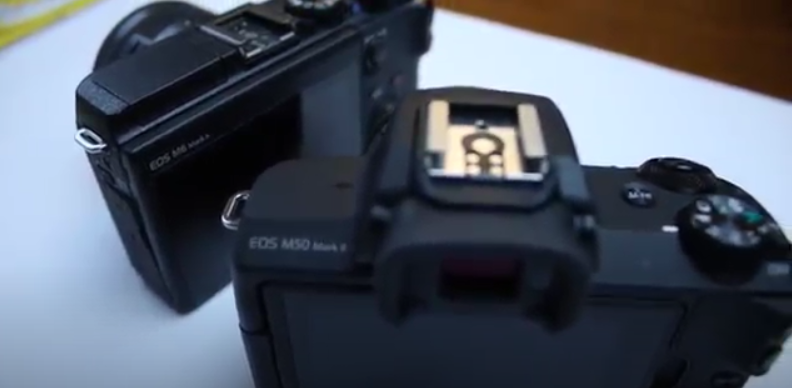 The M6 Mark ii has the USB-C output to connect to the computer, while the M50 Mark ii has the micro USB. Although this is a bit outdated, it's kinda annoying if you have devices and things all working via USB-C then to still have the micro-USB around.
Pricing
Where you're going to see the biggest difference, I think, is in the price. There is about a $400 difference between the two models. If you're creating YouTube videos, I highly recommend the Sigma 16mm lens to give you a nice blurry background and upgraded look. Plus, the Sigma is around $400. If you're looking for a camera for YouTube videos, I'd recommend the m50 Mark ii with the Sigma lens all day long. You will have a really, really great-looking video quality with that combination and still come in under the price of the M6 Mark ii alone.
If you have either of these cameras or you're thinking of buying one, you might be wondering how to set them up for shooting videos. No worry, check out my other blogs on these cameras.
Related: Canon M50 Mark ii VIdeo Settings