I've always been a little obsessed with passive income, so I'm breaking down how I plan to make money on YouTube in 2020 (I have plans to double my passive income from last year!). When I took a break from YouTube last year, I was pleasantly surprised to see that I made money on Youtube even without uploading for over 3 months. Not only did I make passive income online through YouTube, but I also earned ad revenue from my blog and affiliate marketing as well.
Some product links in this post are affiliate links, and I will be compensated when you purchase by clicking our links. Read my disclosure policy here.
Make Money on YouTube
Curious about how to make money online? I love the business side of being a content creator, online earning, and entrepreneurship. The online space is full of business ideas, whether it's affiliate marketing passive income ideas or blogging, I have some more videos you may be interested in!
Related: Passive Income Ideas
Let's Take a Look at the Numbers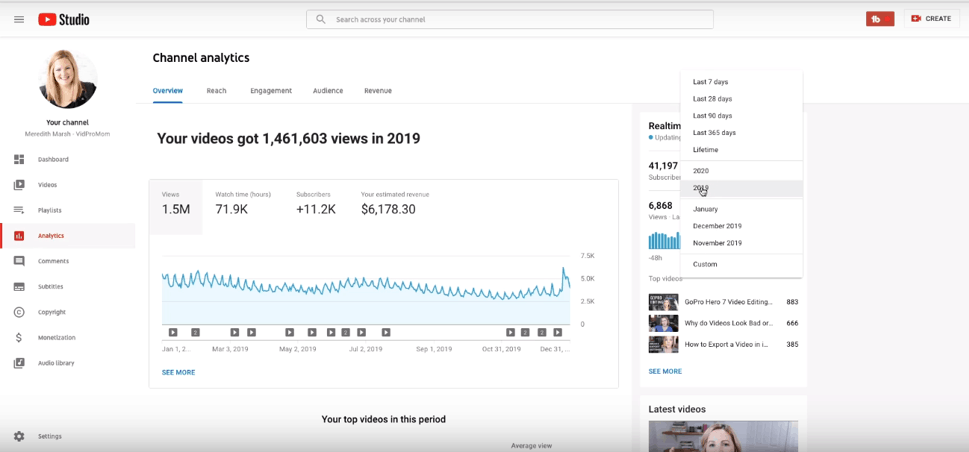 If you will look at the numbers there from my channel analytics, you will see that I gained 1.5M views on my channel for 2019. That is amazing because I only published 18 videos, and that is far from being a consistent weekly content creator on YouTube. Also, you will see a huge gap in my uploads. It was around July 20th through November 8th—we're talking about 3 ½ months. If you remember, I also talked about how much money I make on YouTube for 5M views.
Related: How To Turn Your BIG VISION Into a Content Strategy
I have always been a little bit obsessed with passive income, and yes, content creation is not completely passive income, but the fact that I went 3 ½ months without creating a YouTube video and YouTube still paid me, you cannot tell me that's not passive.
How Much Money Did I make on YouTube When I Stopped Uploading?
I've already mentioned my goal for YouTube growth in 2020, but I also have a big goal to make money on YouTube through passive income revenue in 2020. My goal would be to hit $33,000 in completely recurring passive revenue; that doubles my passive income from 2019.
Related: YouTube for Beginners
During the time that I created 0 content, I earned about just under $2,000 in that span of 3.5 months without uploading any content on YouTube. In addition, I also earned through my blog ad revenue and affiliate revenue which gives me a total of $5,724 of revenue while I was not making any content at all on YouTube and my blog. If you're wondering how I did that, the answer is just Search Engine Optimization. This will totally help content creators, especially the new ones, generate views on their channels even if you don't create any new content.
How Will I Increase my Recurring Passive Income for 2020?
Utilize Amazon Influencer Program
In case you didn't know, I am an Amazon associate, so I use Amazon affiliate links in my YouTube description and blogs. Also, I am a part of their influencer program, but I haven't really utilized my influencer page to my best ability.

One tactic that I could do is to categorize lots of different things like my YouTube gears, how I plan my videos, my bullet journals, what pens should I use, planning category, and so on. This is why I want to definitely utilize my Amazon influencer list stuff more effectively this year.

More Strategic With Affiliate Marketing
Rather than spraying affiliate links everywhere, I want to be more strategic when it comes to constantly recommend the same things again and again. For instance, I created a video about the best lights for your home studio, rather than shifting to another product on my next video, I could create a content about how to improve your lighting, how to set up your lighting, and the likes.

So, instead of bouncing over different products, I can create like a series of contents where I will just focus on recommending a certain product so that my audience would exactly get what I am recommending.

Evergreen Sales of a Digital Product
My third goal to make more money on YouTube is to create an Evergreen sales system. Like I mentioned in one of my previous videos on YouTube, I wasn't able to create much content in 2019 because I was trying to focus my time and energy on my signature programs.

Currently, I have 3 signature programs, but none of them are actually on kind of evergreen and you can't just join them instantly. However, I have some kind of idea in my head for a digital course, but I am yet to put all the pieces of that puzzle together yet. Which is why I'll work on that and create that evergreen sales machine using YouTube as the main platform.
Of course, there are many things that I can share to you like what's working for me and what's not, but no matter what your goal is, what matters is that you stick to a certain routine action.
Related: 10 Things I Wish Bloggers Knew About YouTube
VIDEO: Did I Make Money on YouTube When I Stopped Uploading
Click here to subscribe to Meredith Marsh on YouTube.