Video Editing for Beginners
Video Editing for Beginners (Start Here)
Video editing is a fun but it can be a little overwhelming at first! Don't worry, though… I have lots of resources on Video Editing for Beginners. There are a few basic skills you need to know to start with, in addition to video editing software. (Note: The links in this post are affiliate links, and we will be compensated when you make a purchase by clicking our links. Read our disclosure policy here.)
Basically, all you're doing when you're editing a video is:
import your video clips to your video editor
pick out the parts you want to keep and the parts you want to get rid of
trim and split your clips, rearrange if needed
add music, and maybe even some titles
Related: Are you Trying to Choose the perfect YouTube Channel Name? Try one of these YouTube Name Generators!
Video Editing Software (Free)
The premise of creating great home movies is editing clips into a watchable video. It's not as hard as it sounds, I promise! To do the editing, you will need some software. Luckily, there are many options at varying levels of complexity and cost. This page contains affiliate links.
The free video editing software you may want to start with are:
Windows Movie Maker for PC – this is a great, simple, editing software for PC users. It's likely you already have it on your computer. If not, just download it right here.
iMovie for Mac – iMovie is really powerful, and one of my favorite editing platforms for beginners. I use it often to do basic video editing. Depending on your Mac, you may already have iMovie installed. In some cases, you may have to pay $15 to download the software. I highly recommend iMovie for getting started with home movies. Download here.
Davinci Resolve – Davinci has becoming extremely popular in the last few years among film markers and YouTube creators! It's an extremely robust editing platform. DaVinci Resolve is a comprehensive software solution that stands out as the only tool in the world that merges editing, color correction, visual effects, motion graphics, and audio post-production into one. Its sleek and modern interface is both user-friendly and powerful, with features suitable for both beginners and professionals. With DaVinci Resolve, users can work with speed and quality since they no longer need to learn and switch between multiple apps. This software allows you to maintain camera original quality images throughout the entire post-production process, offering a complete post-production studio experience in one app. Moreover, mastering DaVinci Resolve means mastering the exact same tools used by Hollywood professionals. So, it's the perfect software for all your post-production needs. Download here.
Video Editing Software (Not Free)
Descript – (Mac & PC) free to paid
Descript is a revolutionary video editor that operates as smoothly as a document. Its artificial intelligence (AI)-powered features and user-friendly interface have contributed to the success of top YouTube and TikTok channels, leading podcasts, and companies that use video for marketing, sales, internal training, and collaboration. The objective of Descript is to establish video as a fundamental tool in every communicator's toolkit, alongside documents and slides. With its advanced capabilities and accessibility, Descript aims to streamline the video editing process and enhance communication across various industries.
Adobe Premiere Elements – (Mac & PC) $99.99
From the world-class graphics editing company, Adobe, you can expect Adobe Premiere Elements to be a top of the line, home movie editing package. Premiere elements offers "automated options, special effects, and in-app guidance to turn your video clips into entertaining movies that will wow family and friends." Sounds good to me!
Adobe Premiere Pro – (Mac & PC) starting at $19.99/month
As part of the Adobe Creative Cloud platform, Adobe Premiere Pro only comes through the monthly plan. This program is not for everybody–and definitely not for first-time home movie editors. I use this program for my work-related editing, and sometimes for home movies. It really depends on my mood. If you're looking for a professional-grade video editing software, I recommend it. You can try it out, and stop your monthly charge if you decide it's not for you. Buy it here.
Filmora – (Mac & PC) $30
Wondershare Filmora is a fun piece of software that's available for Mac and PC, and it's very affordable. It's perfect for any level of editing, especially beginners, and it has a bunch of really neat features and effects and stuff that are perfect for editing GoPro videos and family movies, which is what I was working on this week. Buy it here.
Final Cut Pro – (Mac) $299
Final Cut Pro (owned by Apple) is the cool kids video editing software. I confess that I've never used it. I'd love to, don't get me wrong. But since I pay for Adobe Creative Cloud (and use other Adobe Programs), I can't justify spending the money on it when Premiere Pro is at my disposal. That said, Final Cut Pro is for hard core video editors. If that's you, do give it a try (there is a free trial available as well).
Background Music
Questions about background music always arise among video editing beginners. Videos are the best when there is music in the background to set the mood, aren't they? Music enhances the entire experience for the viewer, so it's an important part of the video editing process.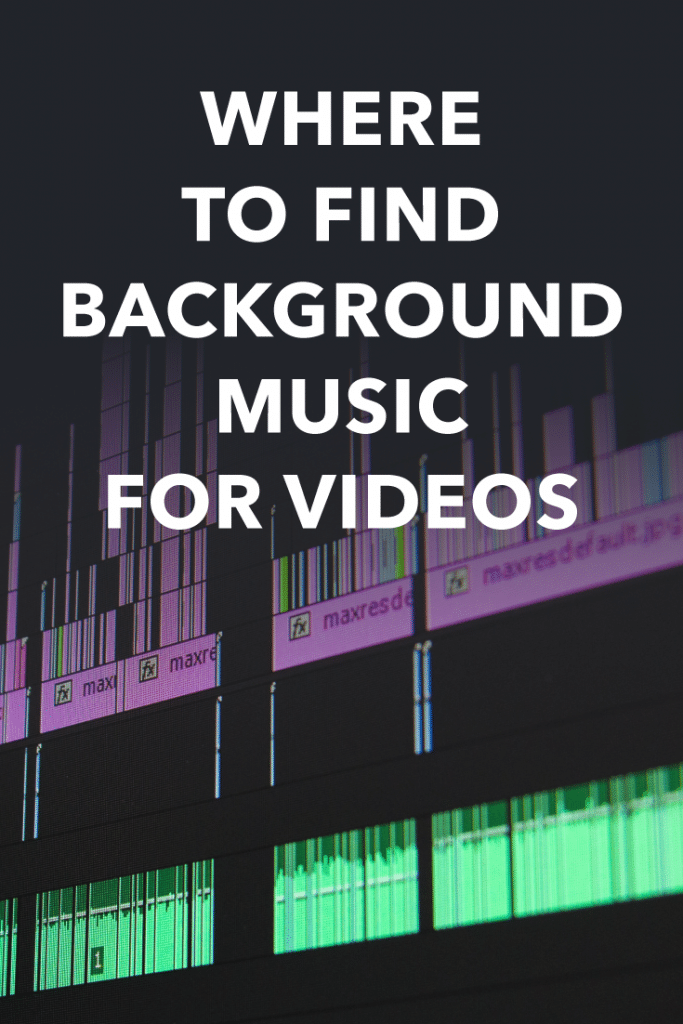 There are two common ways to find and use music in your videos: free music that requires permission and attribution from the creator, or royalty-free music.
It is generally against the law to use music from your iTunes library (see the section below about YouTube's Ad-supported music for the exception). Even though you paid for your iTunes songs, you didn't pay for the right to use the music in your own work. Copyright is a big deal, and as a video creator, you should take it seriously when it comes to choosing music.
There are TONS of music creators online who create music for video creators to use in their videos for free. They usually require that you attribute the music in some way, so always check to make sure you're following the licensing rules they create. Attribution means crediting the creator of the music either by including a credit in the video, or in the description, or both. All music creators have different licensing for their music, so make sure you check before you publish your video.
When you purchase royalty-free music, it means that you are purchasing the right to use the song in your video. It doesn't mean that the music isn't protected by copyright–it still is. It just means that the owner or creator of the music has licensed it to you to use in your videos.
Free Background Music
One of the best resources for free background music is incompetech.com. Kevin MacLeod creates his own music and puts it here on his website, where it is easy to search and find all different styles and types of music. For free! The caveat is a simple one. Just let people know where you got the music from by using the proper attribution. Here are some of my favorites from Incompetech:
YouTube actually has an audio library where you can download and use music for free. Search my genre, mood, instrument and you can even save your own favorites for later use. Just like Incompetech, there are all kinds of different styles and you can even find some classics like Brahms Lullaby or William Tell Overture.
In YouTube's Ad-supported music tab of YouTube's Audio Library, you will find common music you'd hear on the radio or in your own music collection. Follow the policy that goes along with each song. You can't download it there on YouTube, you have to own it already or buy it.
Royalty-Free Background Music
My favorite place to find royalty-free music is Audio Jungle. It's not free, but I find that the library is easy to browse and search to find the sound I'm looking for. Here are some of my favorites from Audio Jungle: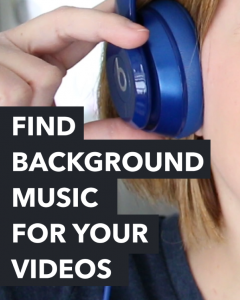 For more on other places to find background music for videos, be sure to check out my video and post with tons of examples and links.
Video Ideas & Examples
Here are some examples of family movies I've created, all from my Family Videos YouTube Channel.