How I Run My Membership Site
I launched my membership site and program back in 2018 and it's been going ever since but I don't talk about it much here on YouTube so, in this blog, I want to share with you how I run the Video Pursuit Society.
Some product links in this post are affiliate links, and I will be compensated when you purchase by clicking our links. Read my disclosure policy here.
How I Run My Membership Site
Some of you may or may not know that I have been running a membership site called the Video Pursuit Society for over 3 years. I want to share with you how I keep this membership site running from the business model to the tech I use and how I get people to join my membership.
Let's go back to 2016 when I create my business and had an idea to create a membership community program. For me, the one thing I felt that was missing as a content creator was a community of other content creators that was committed, dedicated, and excited about growing an online business using content and YouTube.
Let's be honest bouncing off ideas to your spouse, parents, friends, and family that may not understand content creation or have experience is not that helpful. What's more helpful is to put your head together with people that are in the same arena so to speak.
Related: How I Run My Online Business in 5 Hours A Day
The Video Pursuit Society Business Model
The ultimate vision for the Video Pursuit Society was a community membership of content creators that don't cost an arm and leg. The Video Pursuit Society is a membership site with a monthly fee or annual fee, which gives you access to the Facebook group, monthly q&a calls, and many lessons plan on different topics. My membership site is divided into three parts:
1. Education
There are dozen of lesson plans on different topics like affiliate marketing, email marketing, understanding metrics, etc. I even invite professionals or experts to teach my members. For example, I brought an expert to talk about how to nail your thumbnail to increase growth. My main course, Spiderweb Strategy, helps you start and grow your profitable YouTube channel from scratch step by step even if you have a full-time job and a busy family.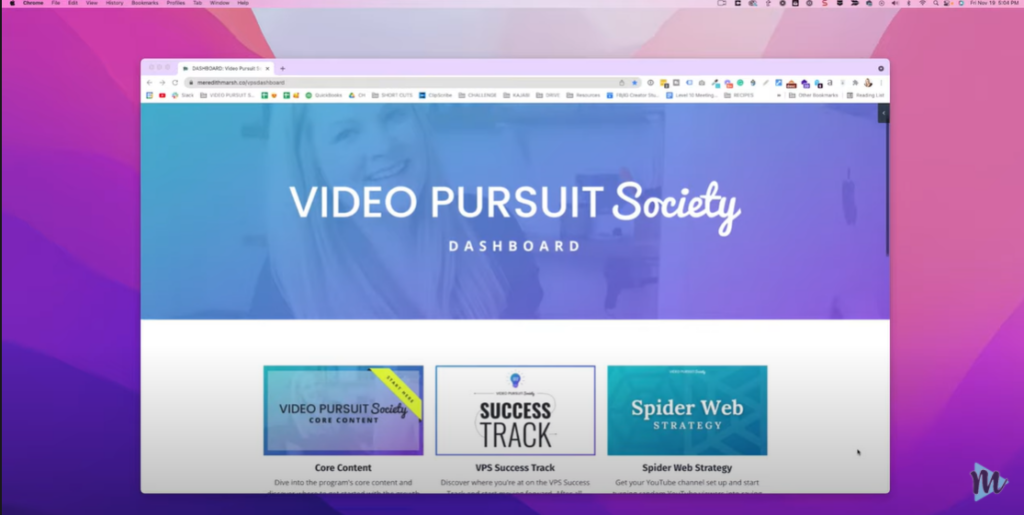 2. Success Track
The Video Pursuit Success Track is for members to figure out where they are on their YouTube journey and overall online business growth journey. When people are coming into the Video Pursuit Society, they are all in different stages. Some haven't set up their channel or maybe they have started, but don't know where to go from there, this is where the success track into play. It helps you determine where you are based on how many videos you have, how many views how many subscribers, what you have sort of set up so far, and then tells you what your next milestones are and how to achieve those milestones.
In the builder phase, it's where you start to build out the spiderweb strategy that you created. When you enter the activator phase, this is where you apply your spiderweb strategy by uploading and creating video, optimizing SEO, and learning to use YouTube features.
3. Community
This is probably my favorite part of my membership. My membership program is not huge, but it is amazing and full of people in different niches with different levels of content creation experience. Everyone is so helpful and encourages each other in the Facebook group. Within our community, we have our monthly zoom calls, where I answer questions and provide help. I also help them figure out their next steps, do some keyword research, and optimize SEO with a video they're working on. In my opinion, it's exactly the way an online community membership program should be.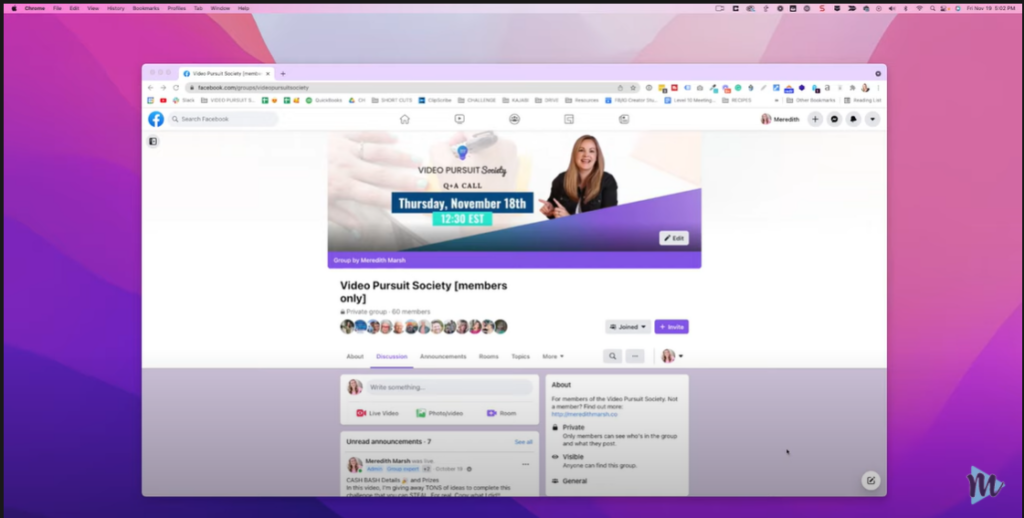 How I Run My Membership Portal Using Kajabi
So, that's how I run the site and the group as a whole. From a website and tax standpoint, I host my membership portal on Kajabi, a great platform for hosting online courses and memberships for any kind of heavy digital product. They are also known as an all-in-one platform that includes landing pages, websites for your courses/programs, email marketing, and a checkout system for your products. I believe that Kajabi is a really good course hosting platform. However, I still use Convert Kit for my email marketing and communicate with my paid members. Recently, this year I switched my checkout system to Thrive Cart. There's nothing wrong with Kajabi's checkout system and email marketing platforms. I wanted a little bit of a more robust and visually easy-to-use interface to manage those things, and I find that Convert Kit and Thrive Cart works well for me.
Related: The Truth About Launching Online Courses and Programs
Growing My Membership
Growing my membership over time has been one of the biggest challenges in my business. Partly because I really like the small group that we have. We are tight-knit, but at the same time, when somebody new joins the membership they are welcomed and encouraged. With the current and past members, I like them and feel connected to them. Also, I get excited about the niches that they're in and their mission for having their business, to begin with. I like the small group that I have because it allows me to put my energy into providing value within the group than trying to get new people into the group.
Usually, people join the Video Pursuit Society when they hear the doors are open, which usually happens after one of my free five-day challenges or a workshop like I have coming up on November 30. Here is the link to join us live or watch the replay if available. If the doors to the Video Pursuit Society aren't open, I have a waitlist available. At some point, people get an offer to come and join us. Due to my email marketing, blog, and YouTube channel, people tend to naturally find their way to me and my courses such as Video Pursuit Society and Social Video Pro. Other than my five-day challenges, I don't do big launches with Facebook ads. I like the organic traffic that attracts people to what I have to offer. Like I said "your vibe attracts your tribe," so I attract only the best.
That's how I run my membership site, the Video Pursuit Society. If you have any questions about anything I mentioned, drop them in the comments below. I might do a video to follow up and answer your questions. If you are curious about what we do inside of the Video Pursuit Society then definitely get on the waitlist or join us for the Build Your Profitable YouTube Channel workshop coming up on November 30.
VIDEO: How I Run My Membership Site
Click here to subscribe to Meredith Marsh on YouTube.