YouTube Studio Setup at Home for 2022
For the 4 years, I have lived in my current house, my office has undergone many changes. Creating a YouTube Studio Setup can be tricky, so I will show you how I decided to set up my YouTube Studio at home for 2022.
Some product links in this post are affiliate links, and I will be compensated when you purchase by clicking our links. Read my disclosure policy here.
YouTube Studio Setup at Home for 2022
Who doesn't love a YouTube Studio Setup update? Especially for those of us with a YouTube Studio setup at home!! A home YouTube Studio can be tricky, and I will admit that having a dedicated spare bedroom (in the basement!) gives me an advantage because I can try different YouTube studio setup ideas without re-arranging my living space. I think I have the perfect home studio setup now, though, and it'll probably be this way long after 2022…
Create A YouTube Shooting Cubicle… Like A YouTubicle
In my small office, I have my desk floating in the middle of the room. Typically when you have a room like a bedroom, you put your furniture against a wall. However, when you make your desk float in the middle of your room, you can use the space in front of the desk for your lights, tripod, wall calendar, and anything else you need access to. Having my desk in this position seems like I'm working in a cubicle, hence the name YouTubicle.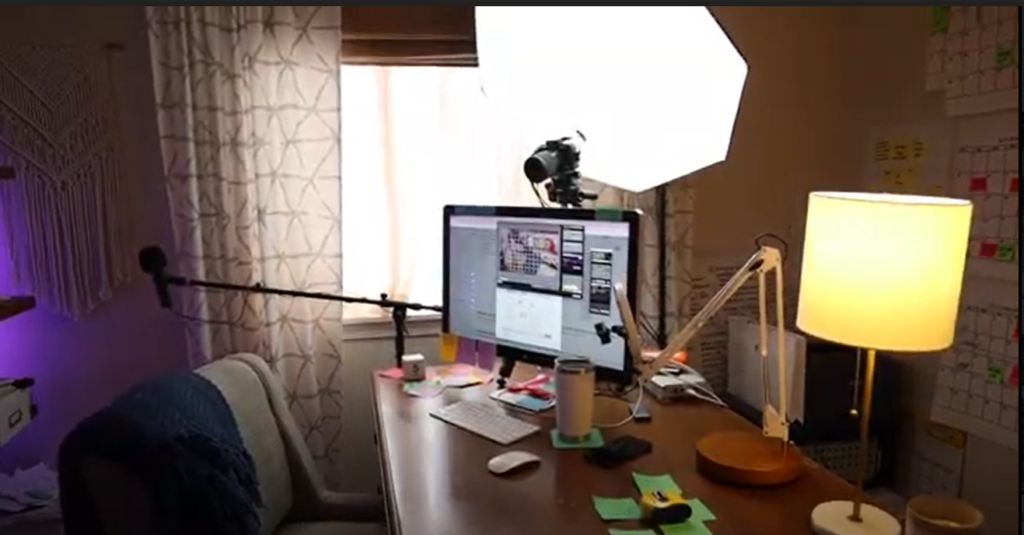 Behind my desk, I have shelves mounted on the wall with some brackets. These shelves are functional and not there for aesthetics. I use these shelves for my books, camera, flashlight, and a bunch of empty boxes. If you noticed in my videos, you may see some lights behind the shelves. Those are strip lights that I added to give my YouTube videos a little bit of vibe.
I also have a closet in my office for storage. In my little alcove, I made an area for charging anything I need. This is where I charge my camera, batteries, and microphone on the power strip in the basket. This is great because I'm not taking up a bunch of outlets in my office, and I know where to find my batteries.
Camera & Lighting Setup
I have two cameras and lighting setups, stationary and movable. The stationary setup is set up behind my ancient Apple Thunderbolt 21 inch display. I have a box light that is directly behind my camera and angled at me. The camera behind my monitor is the Canon M6 Mark II, which is always plugged into my computer for Zoom calls, live streams, and recording YouTube videos. For my moveable setup, I have the Canon M50 Mark II sitting on my desk for taking quick pictures or filming a B-roll. I also have a second tripod and box light. This setup is very useful when I want to shoot at a different angle.
Having a stationary setup makes it quick and easy for me to hit the record button for my YouTube videos, which is something to think about when you are setting your YouTube studio setup especially if you are recording at home. I know for myself, I would be less motivated to film a YouTube video if I had to get out my lights and camera, hook up the lens, plug it in, find the batteries, etc. A stationary setup saves time and helps me to be consistent at creating my YouTube content.
Microphone Setup
For my microphone, I am using the Rode Wireless Go. Currently, I'm using the original version, but there is a new version I recommend. With this wireless microphone, I can move around and change angles if I wanted to. When I'm recording a screencast, a podcast, on a zoom call, or a live stream, I use the Audio Technica ATR 20 100x. I love this microphone because it sounds great. I got it for an affordable price of $100. The microphone is placed on a regular mic stand, and I can just move it out of my way and bring it back when I need it.
Wall Calendar & Gear Accesory
About a year ago, I posted a video on how I created a giant wall-sized calendar. I've used it for the entire year. I love having a giant calendar on the wall that I can just look up and see anything that I put on there. I can see the date, the date of seven Sundays from now, and I can see it right from my desk. Since it's big, I don't have to strain my eyes to figure out what's on there. It's like a calendar in my brain projected onto the wall. I'm going to recreate this for 2022.
Related: HUGE Calendar Wall – Plan With Me 2021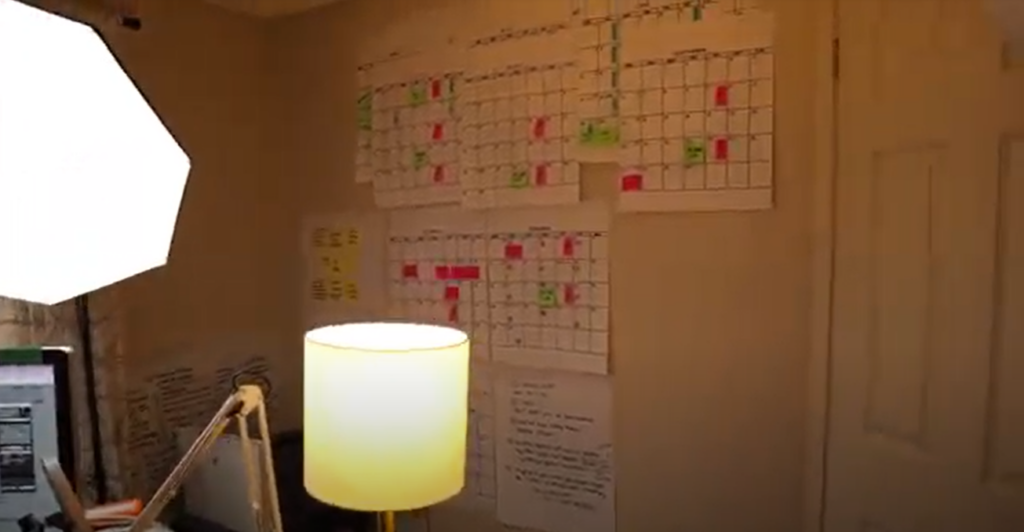 The last thing I want to mention is one of my favorite gear accessory upgrades I made this year. It is a light arm cell phone holder contraption made by a company called Canvas. I found this through an Instagram Ad. The phone holder has a nice little lamp base with a scissor boom arm, a small ring light, and a phone holder. This makes it easy to record an overhead video, Instagram stories, Tick Tocks, or anything hands-free. For me, I have used it for Zoom calls and making Instagram Stories.
That's all for my YouTube Video Setup! I may have to do any update of this every year because I tend to change my YouTube studio often. I hope this blog gives you some inspiration in creating and finding a Youtube Video Setup that works for you at home.
VIDEO: YouTube Studio Setup at Home for 2022
Click here to subscribe to Meredith Marsh on YouTube.