Planning out YouTube Videos
I promised a video about planning out youtube videos, and my youtube video planning workflow and here it is!
Some product links in this post are affiliate links, and I will be compensated when you purchase by clicking our links. Read my disclosure policy here.
https://vidpromom.com/clickup – excellent content calendar! https://vidpromom.com/tubebuddy – try TubeBuddy for Free!
http://notion.so – great for notes and scripts
Why you Should Create a Workflow
Planning out YouTube videos is kind of a personal process for most content creators. It seems like there's a lot of different ways to organize your workflow and content calendar. I have already shared my video editing workflow and now I'm going to show you how I plan out my YouTube videos, create my content calendar, keyword research, create my scripts, and so on.
Related: How to Create Custom Thumbnails
It's pretty much a common knowledge that if you're going to start being a content creator on YouTube, you need to have some planning about the videos that you are going to create, your script for that, and the clips that you're going to shoot. You have to be clear what your videos are all about, the titles, and how you're going to optimize it. Failing to plan out YouTube videos will make your contents mixed up. YouTube won't clearly get what your channel is about, and basically won't help your channel grow.
Remember:
It's also possible that some content creators spend so much time planning out their videos that they actually fail to create any videos, and that also won't help your channel. I hope that by sharing my workflow, you will avoid becoming a stagnant content creator and help you grow your channel moving forward.
How do I Plan out YouTube Videos?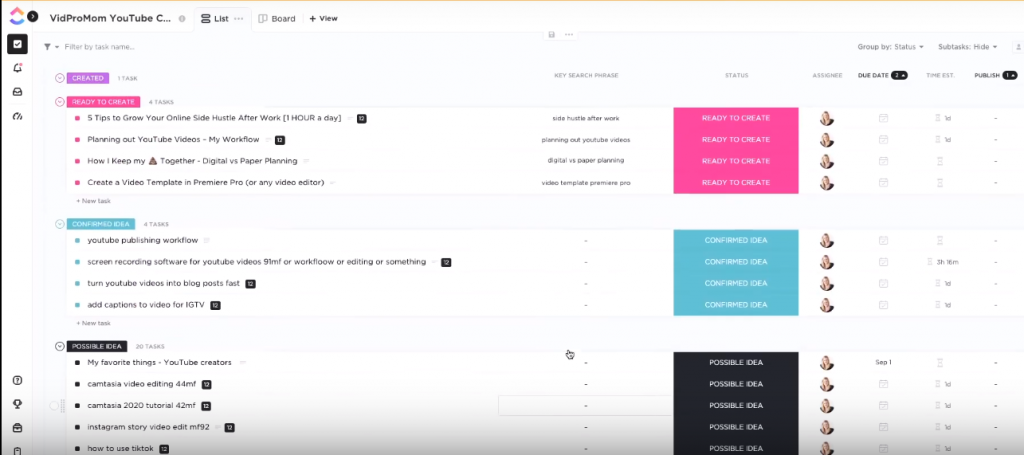 Content Calendar in ClickUp
First of all, I keep my content calendar in a platform named ClickUp. It is actually free, and I just started using this a few months ago. One of its features that I love is that I can use it on my phone and desktop. If you want to check it out, you can find the link here.

Basically, I create a list of all the ideas for YouTube videos and I'll first put it under the "Possible Idea" status whenever there's an idea that pops up into my head or when someone asked me to create a video about something. If a certain idea gets honed, I will proceed into making an outline, conduct research about it, and integrate some ideas that will surely help me move forward with that content idea. With that, the status of that idea will be changed from "Possible Idea" to "Confirmed Idea".

Then, it moves forward to "Ready to Create" once I started doing keyword research about that idea. Also, the numbers that you see beside each item pertains to the number of subtasks under that certain item. You can add as many subtasks as you want under a certain item in ClickUp, so you can be guided step-by-step on a certain task and you can mark it when a task/subtask is done.
Related: My Video Editing Workflow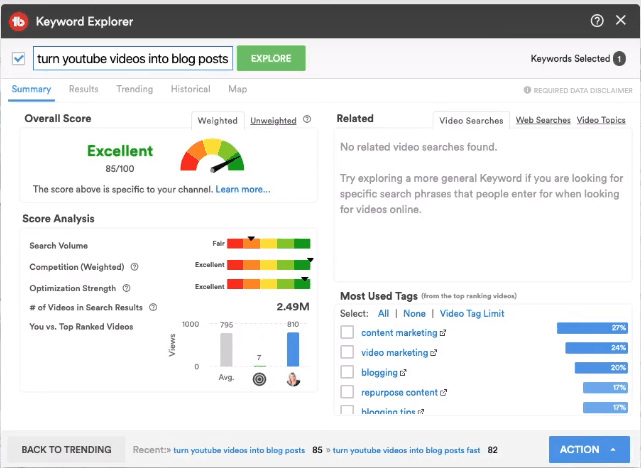 Keyword Research with TubeBuddy & Morningfame
Before starting to write the script and create the content, I should first research the best key search phrase for that topic. For keyword research, I use TubeBuddy. That is also where I optimize my content so that I can draw more audience to my channel. I am using the paid version of this app, and it's so amazing because it offers so many features. The free version works great as well, and if you want to try it out, just click here.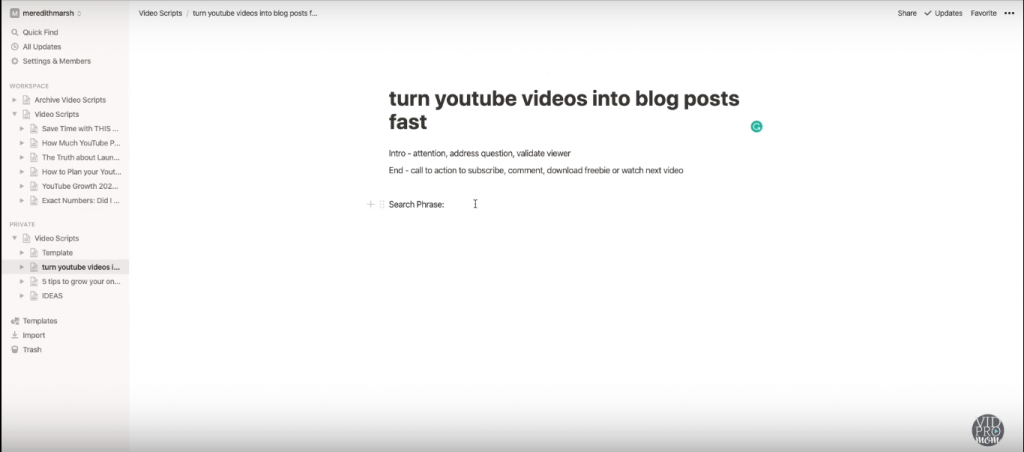 Create an Outline and Script via Notion
After optimizing my content, I start to create my script in a platform called Notion. In there, I also create my outline, I put the title of my video and the key search phrase. Personally, I find it handy to make a bullet point of all the topics that I need to cover in my video. In addition, I can also put there if there is any story that I would like to tell, any b-roll that I might record, thumbnail ideas, jot down notes, and so on, I can put them all in Notion.
Once I'm finished recording the content, edited it, and basically done with the video, I mark the task as "Created" in ClickUp. It's not yet marked as "Done" because I haven't created the blog post for it yet. So that is basically my workflow of how I plan out my YouTube videos. Of course, we all have our differences in terms of planning, but I hope this helped you improve and become more efficient.
Related: How to Create a Pro-Looking YouTube Channel
Plan out Youtube Videos
Click here to subscribe to Meredith Marsh on YouTube.