Background Music For Social Media
Background music for social media videos and YouTube is one of my favorite topics because there are so many confusing options for royalty-free music!
MOST people think what they're looking for is free background music, and trust me, I get it–but if everyone keeps using the same free songs over and over, how do your videos stand out and establish you and your brand as the go-to authority and influencer in your niche?
That's why most successful content creators on YouTube and social media, including myself, are using affordable background music options instead…
Click here to subscribe to Meredith Marsh on YouTube.
Some product links in this post are affiliate links, and I will be compensated when you purchase by clicking our links. Read my disclosure policy here.
Background Music for Social Media
In this post, I'm going to divulge all the gory details of using songs and background music in your videos for YouTube and social media… we're talking free background music sources, inexpensive (and affordable) sources of background music, plus how to license popular music in your videos (legally)
Basically… how to not break the bank or break the law when using background music in your video content.
I want to start right off by letting you know that for this post, I've partnered with one of my all-time favorite sources of background music, Epidemic Sound!
If you're not familiar with Epidemic Sound, you may not know that they have a 30-day free trial with you use my affiliate link: https://vidpromom.com/epidemicsound
And in this post, we're going to talk about what that means and what you can do with that free trial, too because there are some common misconceptions about how Epidemic Sound works. So if you've ever been interested in using Epidemic Sound for your background music for social media, if you're totally new to the concept of using royalty-free background music, or you're wondering where to even FIND background music for your videos, then keep reading!.
Royalty-Free Background Music for Videos
Finding royalty-free music for videos can be confusing, but the important thing to remember is that getting a license (permission) to use music is the legal way to use music in YouTube videos and social media videos. Here are my best sources of royalty-free background music!
Royalty-Free Background Music
Now, I mention the term "royalty-free background music" what does that mean? Royalty-free music is music you can acquire the right to use. It could be free to acquire that right, or it could cost money.
That's basically the gist of it!
Related: Video Editing for Beginners
Music creators are artists, just like authors, painters, designers, and video creators. So when artists create something, they own the copyright–that is, the right to copy that media and make decisions about how it is used.
And royalty-free music is music that you're paying the copyright holder in exchange for their permission to use the music in your videos.
I'm not an attorney, so, this is not legal advice. It's just common sense and human decency.
Free Background Music
Now, many people are looking for free background music. And I get that, no one wants to spend money if they don't have to… But the thing is, if you're creating videos for YouTube and social media as a means to build your personal brand, your business, and your authority (even if creating videos is just a hobby)… I think it makes a lot of sense to invest in certain places, and if videos are your main medium, then background music is one of those places where it's smart to invest in something.
If you are still interested in free background music, my two favorite sources are the YouTube Audio Library and Incompetech.com and if you browse these libraries you will very likely start to hear music that you've heard before.
Related: How to make Professional Videos for YouTube (by yourself!)
The free music is all over YouTube so keep that in mind as you're selecting songs. You can also spend a TON of time going down the music hunting rabbit hole waste a lot of time searching for the right song, changing your mind, and it can really be a big time-suck!
Can you use popular music on YouTube?
A lot of people wonder, "what about popular music on YouTube?"
"Can I use music that I purchased from Apple, iTunes, Google play or whatever… "
Many people are SHOCKED that the $1.29 they paid for a popular song doesn't give them the exclusive rights to be able to do whatever they want with that song!
Your $1.29 provided you the license–permission–to listen to that song, on your devices. If you want to perform the song, broadcast the song, or use the song in a YouTube video, you have to pay for that type of license. When it comes to YouTube videos and social media, what you're looking for is royalty-free background music. That means you're paying for the right, the license to use the song in a specific way, such as a YouTube video.
To license popular music for YouTube videos, check out http://songfreedom.com.
Related: Best Computers for Video Editing
Background Music Subscription Services
Luckily, there is a happy medium between free, overused background songs, and expensive licenses, and that is where my pals over at Epidemic Sound come in!
For a low monthly subscription, you get access to their entire library of songs–all genres, all types, even sound effects–there's like over 30,000 tracks! You can use any of them that you want, in your video content on YouTube, Facebook, and Instagram, and whether you get their usual (and still quite generous) 30-day free trial, or you hop into this black Friday deal for a 3-month free trial.
All of the music that you use and publish to social media during that trial is covered with your license, even if you never pay them a dime.
So, let's say you sign up for the free trial today, and you publish a video tomorrow, and next week, and even the week after that (or any time within your free trial)… if you decide not to pay for a subscription to epidemic sound, you're still good with the music you used during your free trial. There are no copyright strikes, you don't have to de-monetize your videos or take them down. 
And if you want to continue using their music moving forward when you publish new videos, their subscription right now is $15 a month. So, it's kind of a no-brainer to at least give it a try.
Get your 30-day free trial to Epidemic Sound at vidpromom.com/epidemicsound
More options for affordable royalty-free background music include:
Add Background Music to Videos
I keep a collection of some of my favorites from Epidemic Sound, under browse, and then under My Favorites. So when I'm looking for songs, I'll some times just add as many as I can find to "my favorites" so I can come back to them later, even if I don't use them for the video I'm working on.
But usually, I will use the songs I already like and hit the little "find similar" button which takes me to songs that might be by the same artist, be in the same genre, and they sound similar. And that keeps me from going all over the place hoping to find something I like because I can stick to the similar sounds that I already know I kinda like.
Once I download the song to my computer, I keep the music organized on my external hard drive in a folder of background music, then I import it into my Premiere Pro project.
I use the same Premiere Pro project file and I have an Assets folder here with logos, graphics, and background music, by dragging it into the music folder. Then I can drag it down to the music track in my timeline.
Usually, it's a little loud for my taste, so I bring the volume down and adjust the keyframes. This is different for every video because it really depends on my intro but usually, I try to bring the volume up a little bit for a quick B-roll montage, then bring it back down when I start talking.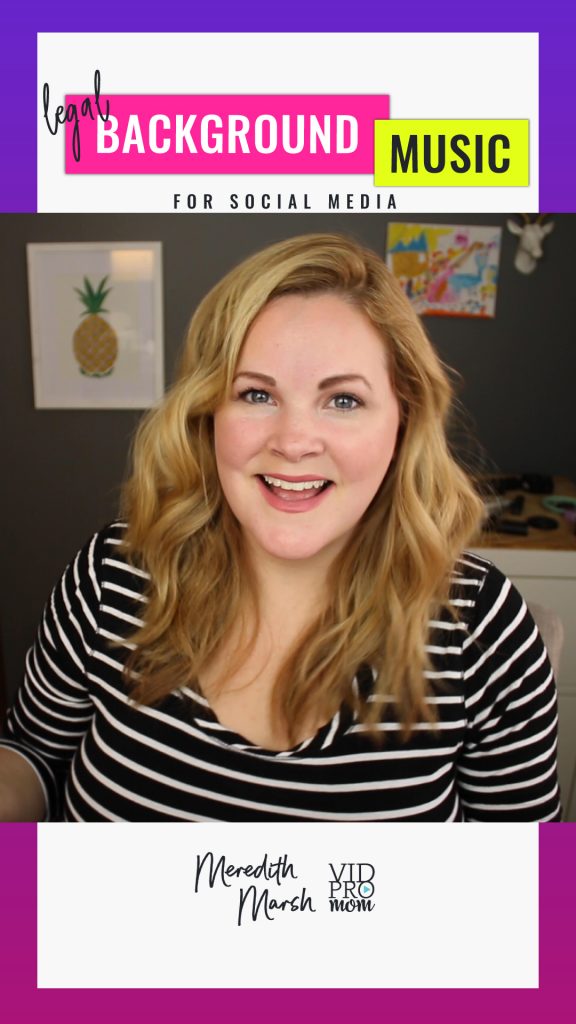 Be sure to subscribe to the VidProMom YouTube Channel so you don't miss fresh new videos from Meredith! Click here to subscribe now.