Canon M50 Mark ii Video Settings
I've got my Canon m50 Mark ii video settings tweaked for my YouTube studio space in my home, and after using the m50 Mark 2 for a while now, I'm really loving it! So I wanted to share my m50 Mark 2 video settings with you so you can copy them for yourself or tweak them for your own space.
Some product links in this post are affiliate links, and I will be compensated when you purchase by clicking our links. Read my disclosure policy here.
Canon m50 Mark ii Video Settings
If you have a brand new Canon m50 Mark 2 or you're looking to get your hands on one and you're ready to shoot some YouTube videos, you have come to the right place. In this blog, I'm going to walk you through how I set up my Canon m50 Mark 2, so you can copy exactly what my settings are or tweak them.
To give you some context on how I'm using my Canon m50 Mark 2, I shoot my videos where I'm usually sitting or standing in one spot, sometimes, it would be hand held facing me or hand held when I'm shooting b-roll or something.
Movie Record Mode
When you turn on your Canon, make sure your mode dial is on movie mode, which is a movie camera icon.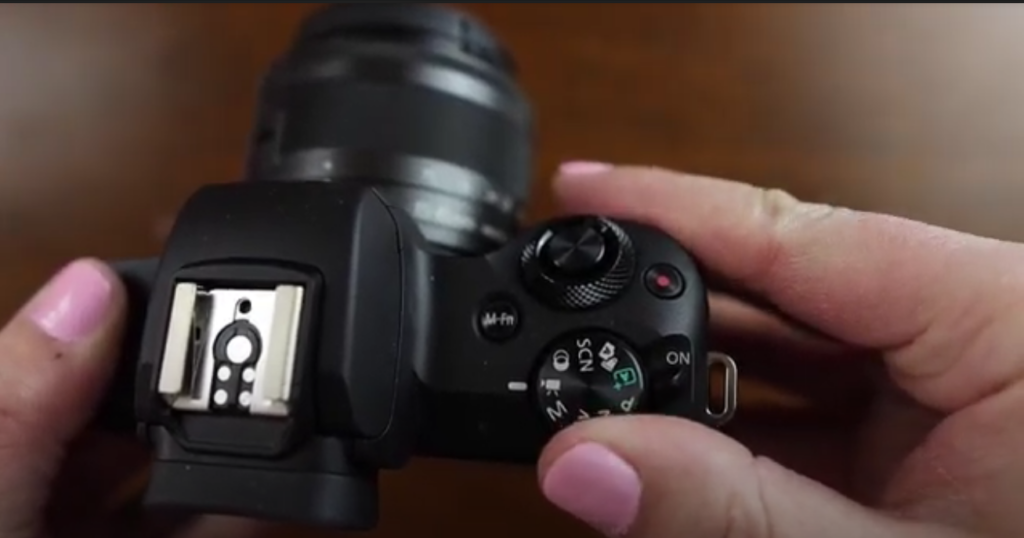 Once you have done that, you will go to the first menu item of the setting, which is the one with the camera icon on the top.
On the 1st page, select the shooting mode. You can set it to either manual mode or auto mode. For me, I set it to manual mode to have control over the manual settings when I am shooting my videos.
M50 Mark ii Video Resolution and Frame Rate
Go to the 1st page, select movie record quality, and then movie record size. This is where you can choose whether you're going to shoot in 4k,1080, 30 frames per second, or 60 frames per second. I choose 1080 that's FHD 29.97, which is 1080/30 frames per second. This is a pretty standard setting.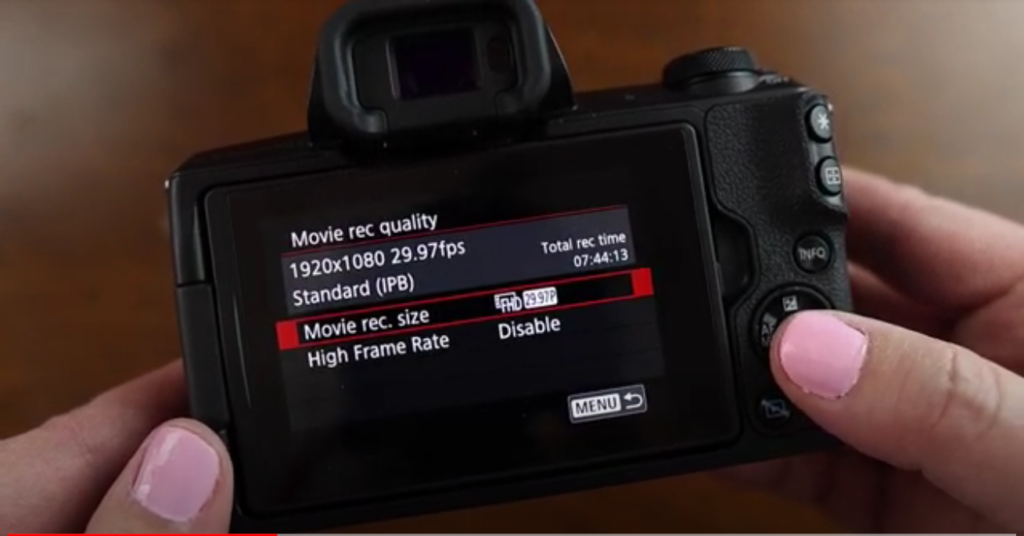 M50 Mark ii Audio Settings
Return to the 1st page and select sound recording. I have mine set to manual because I am using an external microphone, the Rode Wireless Go, to have control over my audio.
With this, you will have to play around and test to find the right audio level for you. As you are setting your audio, you do not want to peak, which is where the zero is. You want it to touch the green or the 12.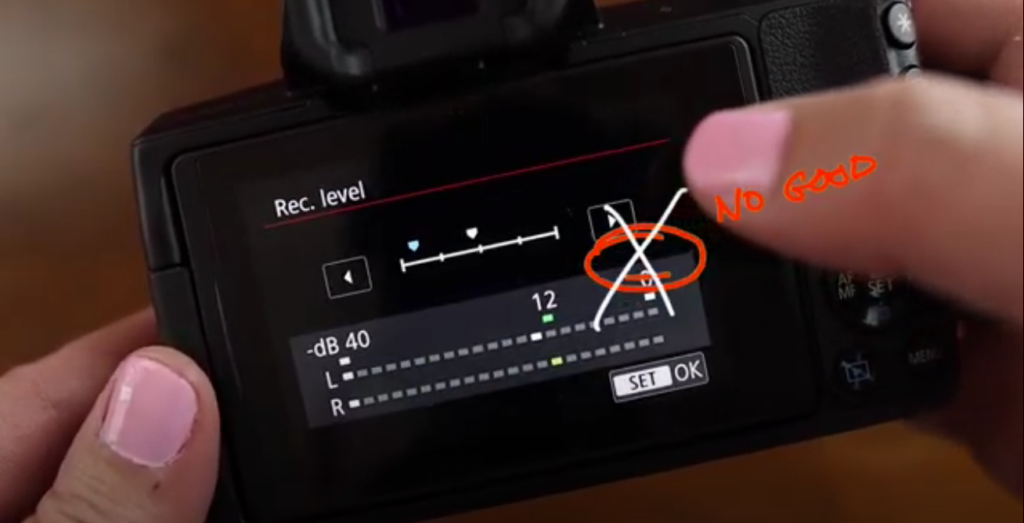 It depends on how your recording setup is. Therefore, you want to make sure you test your audio several times by taking different shots at different levels and locations with your microphone and see how it sounds on the computer when you are actually viewing your video files.
As I mentioned above, I use the Rode Wireless Go as my external microphone due to the simplicity and affordable price. I plan on releasing a video soon about how to get the best audio quality by using an external microphone like Rode Wireless Go, so be on the lookout for it.
Other M50 Mark ii Video Settings
Moving over to page 3, select the white balance section. I have been using auto white balance, which is okay for me. I haven't played much with the picture style, so I kept it to auto.
Coming to page 5, the autofocus method is set to face plus tracking. On page 8, I have image stabilizer mode disabled because I mostly shoot on a tripod. However, this is something you'd want to experiment with for your own videos especially if you are vlogging and moving around a lot.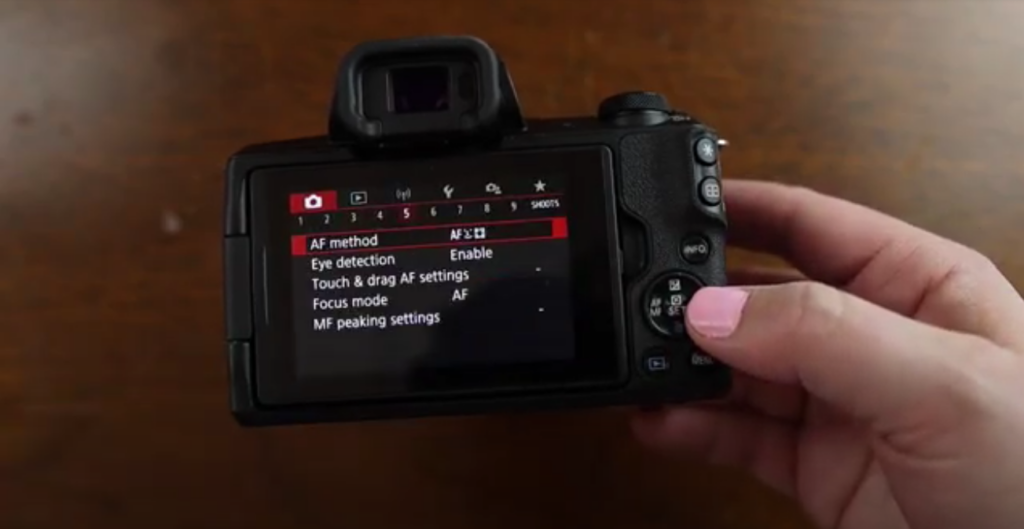 On page 9, I have the HDMI info display set to with info. The reason I point this out is you can use this camera with clean HDMI output for live streaming and Zoom calls with an HDMI capture card. So if you are like me that switch between cameras for Zoom calls and live streams and wonder why it's not working, it could be you need to switch your HDMI info display.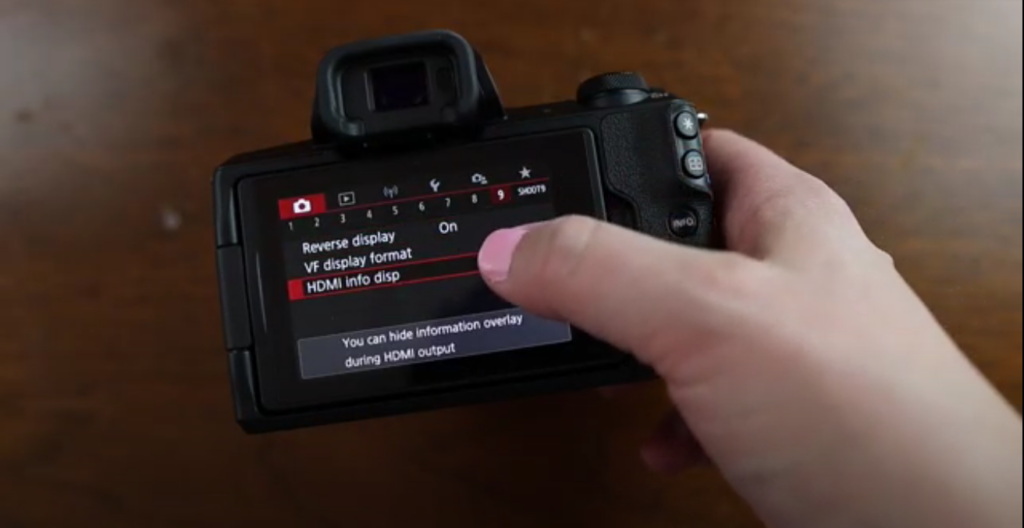 Canon m50 Mark ii Shooting Settings
When it comes to the Canon m50 Mark ii shooting settings, your mode dial should be on the movie mode, the movie camera icon. If it's not, you won't see all of these available settings!
Canon m50 Mark ii Aperture and F-stop
If I use my Sigma 16mm 1.4 lens, my F stop is usually around 1.8 or 2. If I go down to the lowest F stop on this lens, I start to worry that my nose will be in focus, but my hair won't be in focus. I want to have a little more depth when I shoot my videos. When I use my kit lens, I put it at the lowest F stop which is 3.5.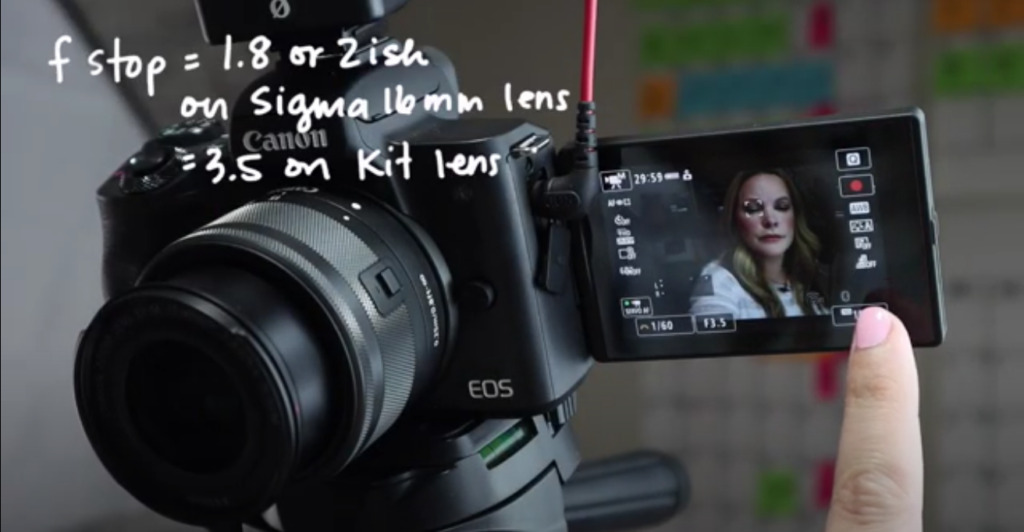 No matter which lens I use, generally I go with the lowest F stop I can while fully being in focus. This gives a better image quality overall since you are letting more light come into the lens. If you are using the kit lens on the m50 Mark 2 and you do not see 3.5 as the lowest aperture you can go, just make sure that your focal length is set to 15.
Canon m50 Mark ii ISO
For my ISO, I want it to be where ever I need it to be. The exposure slider is usually in the middle or slightly above the middle. I usually set my ISO between 100 and 500. Depending on how much light is coming in through the window, how much light you have come at you with the lights you set up, or where you're actually shooting, the ISO will always change.
I love the Sigma 16 mm 1.4 lens, and I highly recommend it. It's a great way to upgrade your Canon m50 Mark 2, which is an affordable entry-level, enthusiast-level camera, and great for YouTube videos. When you add the Sigma lens to the camera, it produces a really professional look that you'd expect from a much higher-end camera.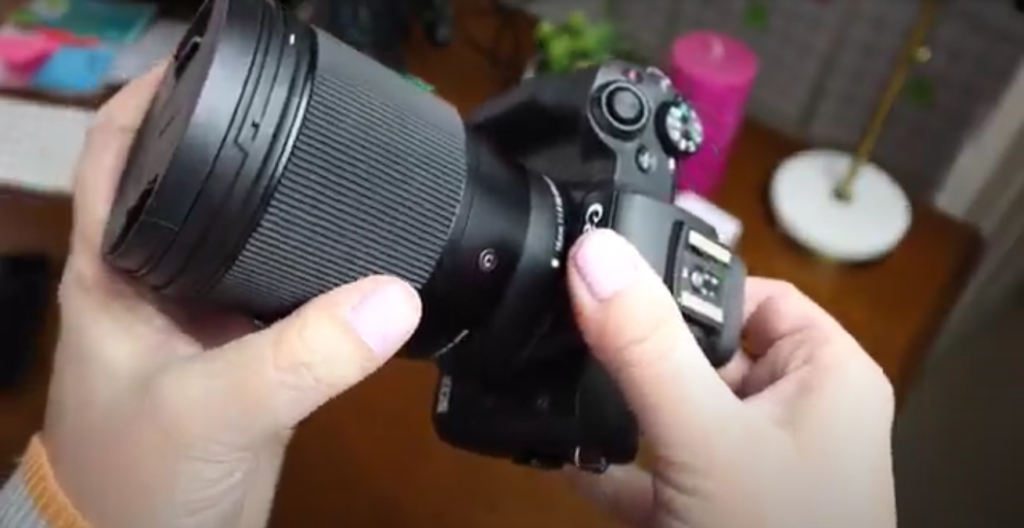 If I switch out the Sigma for the kit lens that came with the M50 Mark 2, this is a 15-45mm cute little thing. For this, I use the same frame rate, the lowest F-stop which is 3.5 and bumps up my ISO where it needs to be.
Related: YouTube Creator Gear: 5 Upgrades for 2021
VIDEO: Canon m50 Mark ii-Simple Video Settings
Links Mentioned:
Canon m50 Mark ii
Sigma 16mm Lens
Canon m6 Mark ii​
Rode Wireless Go
Click here to subscribe to Meredith Marsh on YouTube.