In celebration of my YouTube channel rolling over 1000 subscribers, I have devoted blog posts and videos to how to get your GoPro videos (or any kind of video) found and watched on YouTube. This is part two! And we're talking custom thumbnails, plus annotations (huh?) and YouTube cards (double huh?).
Come on, it's going to be funnnnn!
Custom Thumbnails
What is that?
When you upload a video to YouTube, YouTube will magically guess which frame of the video would look great as a thumbnail. So anywhere on the internet your photo shows up–in search results, on your blog, on social media, etc.–that's the image that will show up for your video.
The thumbnails are the little rectangle images in the screenshot below: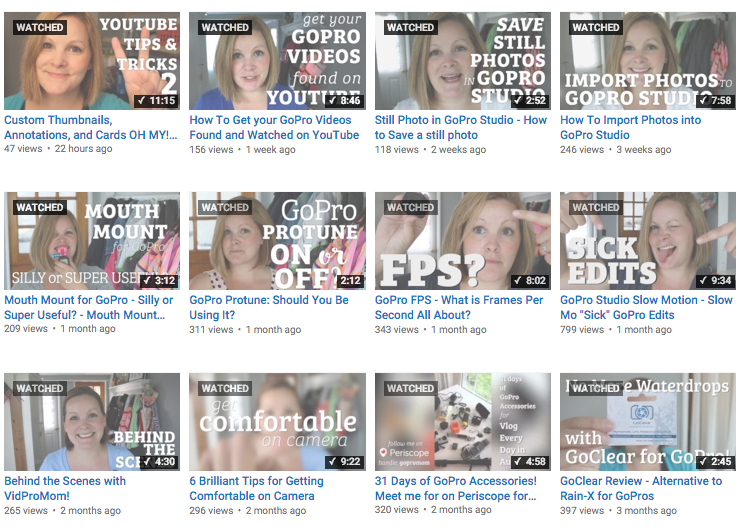 So what then are custom thumbnails? Well, they're images I created and uploaded so that I didn't have to rely on YouTube magically selecting the best frame of my video for me. I can choose it myself in my editing program (I use Adobe Premiere Pro for editing, but remember how to save a still photo in GoPro Studio?), and use a design software or Canva to add text.
Then when I upload my video (or anytime after it's uploaded), I can upload the custom thumbnail. By the way, this applies not only to YouTube, but also Facebook videos, and probably any other place you upload videos for the world to see.
YouTube Cards & Annotations
This is relevent to you if you have a website or blog or Etsy store or anything like that that you want to link to from your video. I'm not talking about in your description here – I'm talking IN your video, as an annotation or card.
This is best explained in the video above (or here on YouTube). Annotations and cards are things that you set to kind of appear on the screen as the video is playing. You set them up in YouTube after you've uploaded your video.
YouTube cards are a fairly recent development by YouTube and they're great because they're mobile friendly (annotations don't work on all mobile devices) and they just look better.
Get Videos FOUND on YouTube
One of the things about uploading videos to YouTube is that typically, you want people to actually FIND and WATCH them. Right? Last week's post was aaaaaall about that. If you missed it, you can find it right here.
Are you on Pinterest? Pin my post!