How to Plan Your YouTube Videos (Starting from Scratch!)
If you're starting a YouTube channel from scratch, you may be wondering how to plan your YouTube videos! It can be tricky when you're just starting out, so in this video, I'm going to show you exactly what I'm doing to plan YouTube videos for a brand new channel.
Click here to subscribe to Meredith Marsh on YouTube.
Some product links in this post are affiliate links, and I will be compensated when you purchase by clicking our links. Read my disclosure policy here.
How to Plan Your YouTube Videos
It's not uncommon to get advice from established YouTubers on what they would do if they were going to start a channel or to give you advice if you're starting from scratch but this is a little bit different because I actually am starting a channel from scratch and taking you along with me!
I remember when I had first created a list of video topics and blog topics I wanted to do, and I was just like "ok… here's what I'm doing." I could envision this list of topics and ideas as real videos on my channel, but how did I get from here to there, from the list to the actual videos. That's what you're going to learn in this video, and I'm going to share my plan for the next 2-3 months on my new YouTube channel.
To stay up to date with my progress, please be sure to subscribe to the VidProMom YouTube channel!
Step #1 – List 100 Video Topic Ideas
Start by making a list of 100 video topic ideas that you feel you could create videos about. Be super specific… each video topic should answer one question, or solve one problem.
For example, "How to replace the steering wheel on a 1973 ford mustang." (that is not my niche, but let's pretend that we're planning a channel about restoring old cars).
Super specific about each of your 100 topics, and just off the top of your head. Don't worry about keyword research or SEO or anything like that. We'll get to that in a second.
This is an exercise to see if you have enough energy, passion, and interest in your niche to really create a channel full of content. This shouldn't take you long, and you won't necessarily end up creating a video from every idea on your list. It's just a brainstorm at this point.
AND an opportunity to change your mind, because if you can't make a massive list of ideas, there's a good chance that soon after starting your channel, you will get bored, run out of ideas, lose inspiration and quit. So if you get bored after listing 10 ideas, abort this mission and choose another niche.
Related: Best Computers for Video Editing
Step #2 – Find Your Umbrella Categories
Look for categories or similar topics that you can group together into buckets (I like to think of them as umbrellas).
So for example, say you're starting a channel about restoring vintage cars (again, not my new niche, just using it as an example)!
You may have umbrella categories about exterior restoration, interior restoration, engine restoration, and maybe one where you talk about the tools, products, and your workshop setup.
These umbrellas give you some broad boundaries so that as you plan your video content, you're really filling out your channel and keeping it in your niche.
It may even be easier if you want to think about the umbrellas as lanes… we're planning videos that stay in their own lane. The fewer lanes you have when you're just starting out, the easier it will be for you to plan your content and get traction when you first start uploading.
Related: Video Editing for Beginners
Step #3 – Decide on your Kickoff Content
Next, I'm going to tell you exactly what I teach inside of my YouTube Triggers course for launching a channel from scratch. Start with a series of 5 videos in a super niche topic within one of your lanes. I'll explain why starting with a series is so powerful in just a moment.
So for our (pretend) car restoration channel, let's say we have a car in our garage, and we're going to start restoring it. What are the first 5 important things you'd need to do, and you need to show your viewers how to do, before you start on a car restoration project? Drain the gas? Drain all the fluids? Remove the trim? Remove the seats? Can you tell I just googled "first steps to restoring a car?"
This would make a great series to start out with because 1) you need to do them anyway and 2) a series gives people a reason to keep coming back.
You use a series to attract your ideal audience: people who want to learn or who are interested in restoring old cars, and you give them a reason to hit that subscribe button and binge-watch your videos.
Step #4 – Keyword Research
I'm going to share another secret I teach inside of YouTube Triggers. I call this the Search & Rescue Strategy and this is how you gain traction when you are starting a brand new channel (when no one has heard about you before and no one knows your channel exists).
You want your videos to show up as a search result for your ideal audience so that you become the Hero in your niche and viewers keep coming back for more.
How do you show up as a search result?
You need to know the exact terms and phrases people are using around each of your topics, and you need to optimize each video's information to align with what people are searching for. These are two phases of the 5-Tier Filter that's part of the Search and Rescue Strategy.
I have a Getting Started Guide that covers all 5 phases of the 5-Tier Filter at vidpromom.com/start.
Step #5 – Create Your first 5 Videos
The last step is to actually record and create your videos!
Now that you've planned out the 5 topics you're going to launch with, how you can script each video, record them, and edit each one so that you have 5 videos ready to go to get your channel off to a running start.
This is called batching, and I highly recommend you do it when you first launch because by the time you've planned, recorded, edited, and published 5 videos, you won't be so deep in the "I don't know what I'm doing phase." The quicker you get out there, the better off you'll be!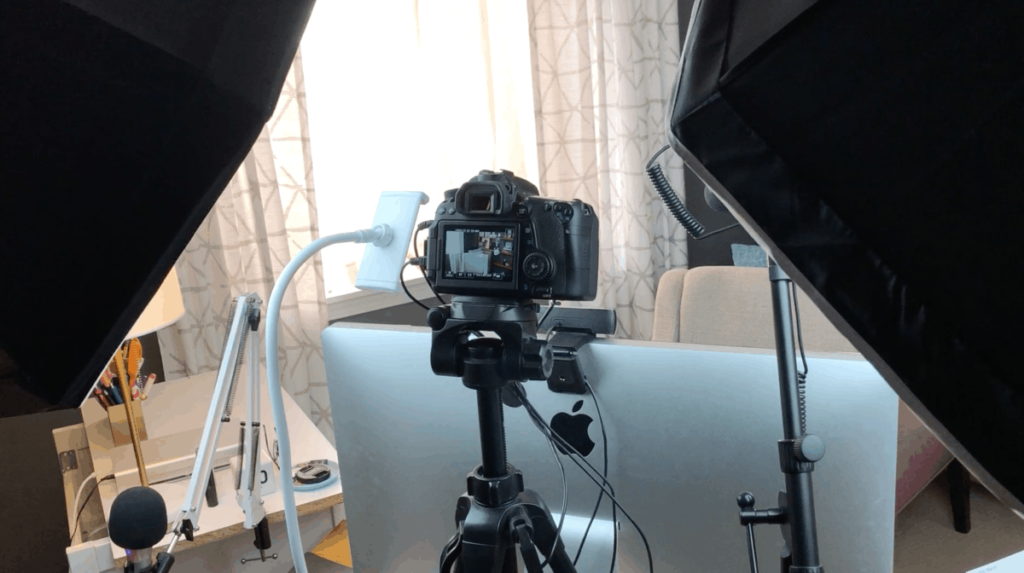 Here is a fantastic walkthrough of how to create pro-looking YouTube videos by yourself (without fancy gear!).
Be sure to subscribe to the VidProMom YouTube Channel so you don't miss fresh new videos from Meredith! Click here to subscribe now.