Wondering how to create the perfect YouTube Banner or Channel Art? The Channel Art Sizes and template options can be tricky to get perfect, so in this YouTube Banner tutorial for 2020 I'm sharing all my top tips including an each channel art template!
Click here to subscribe to Meredith Marsh on YouTube.
Some product links in this post are affiliate links, and I will be compensated when you purchase by clicking our links. Read my disclosure policy here.
YouTube Banner Tutorial
This YouTube banner tutorial is sponsored by Placeit, my favorite source for mockups, graphics, and templates!!
Placeit: https://vidpromom.com/placeit
Placeit's Logo Maker: https://vidpromom.com/logomaker
Placeit's YouTube Banner Templates: https://vidpromom.com/youtubebanners
Download Channel Art Template here: https://vidpromom.com/channelart
How to Make an Amazing YouTube Channel Art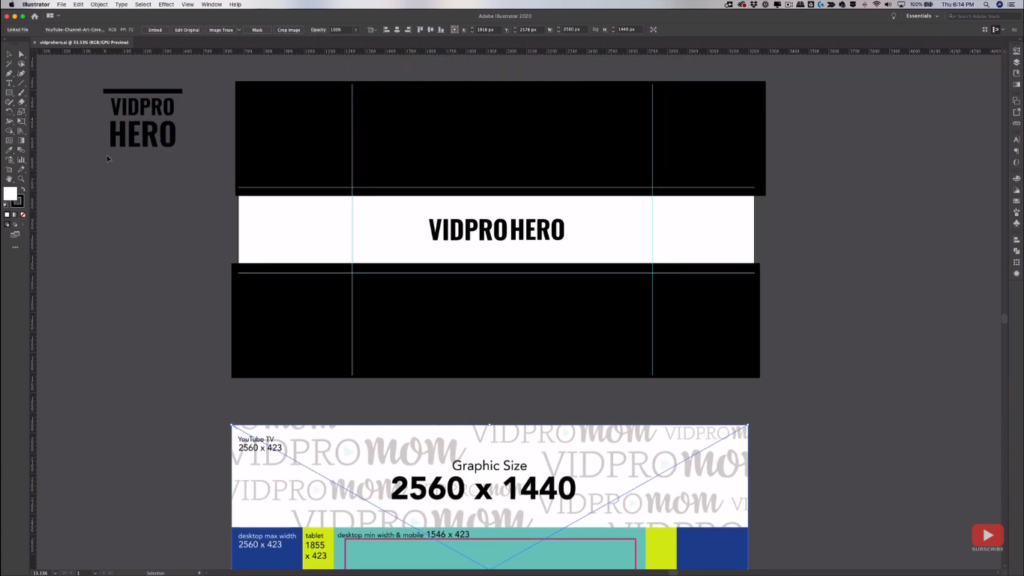 If you've been following my videos lately, you might already be aware that I used my channel art template to create my very boring channel art and logo, but it doesn't really look that great, so we're going to spruce it up a little bit in this YouTube banner tutorial.
For me, I prefer to use Adobe Illustrator when using this template, or I can also use Photoshop if you want to create your own template. You can download my template here.
Related: Should You Start A YouTube Channel For Your Blog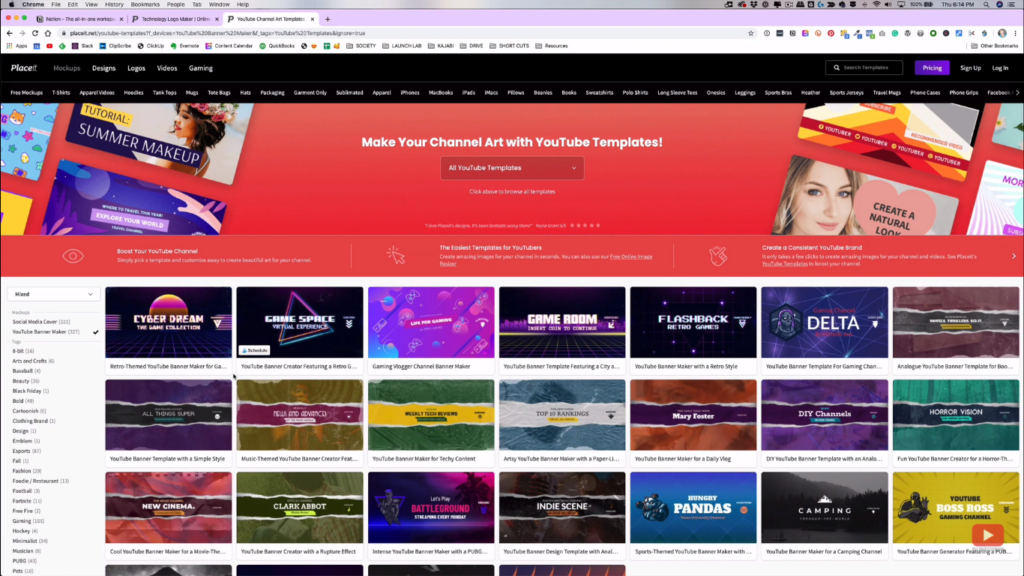 What I really want to show you is this YouTube Banner Maker over at Placeit. I've already been Placeit's customer for years, and I've partnered with them to bring you this tutorial.
I've already made hundreds of mockups using placeit. They have so many predesigned YouTube banner templates, end screens, and many more.
Create Your Logo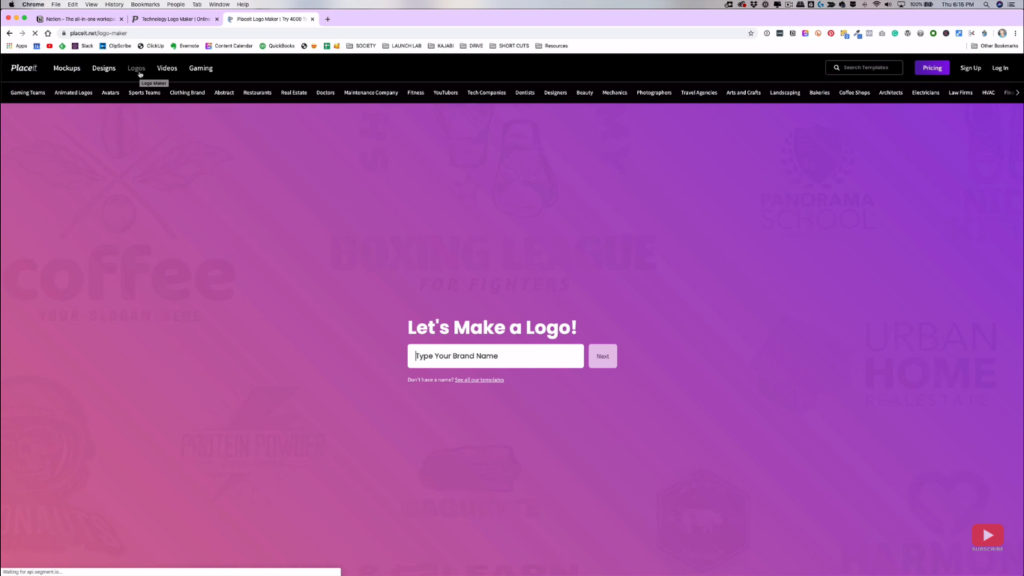 Since I'm not yet satisfied with my logo, I'm going to create a new logo for my business using Placeit. Just enter the name of your brand, and pick an industry. Those will be the basis for the recommendations that will be shown to you.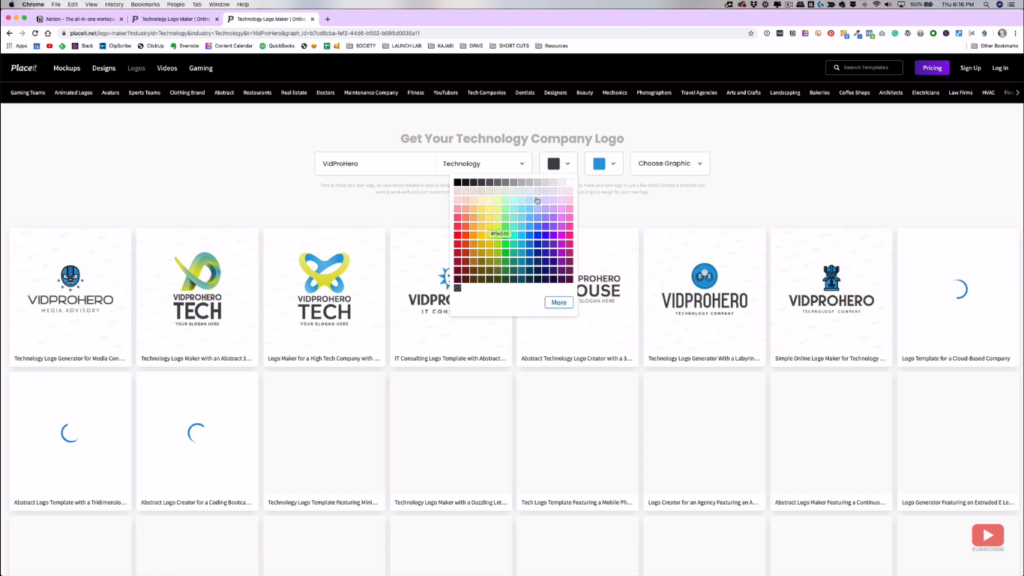 You can still change your brand name, your industry, customize the colors for your branding using the palette or hex code. Personally, I want to pop some extra colors to make the logo more appealing.
Choose a Template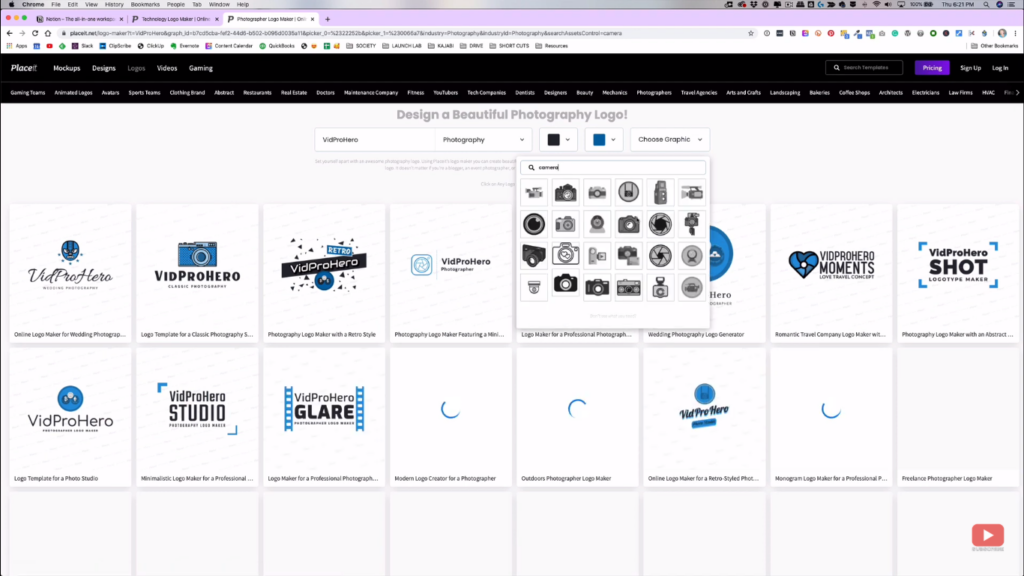 If you can't find anything good in the suggestions, you can try changing your selected industry. Try to select some other industries that can be related to your branding. If still nothing, just click on "Choose Graphic" and type in some words.
Customize the Template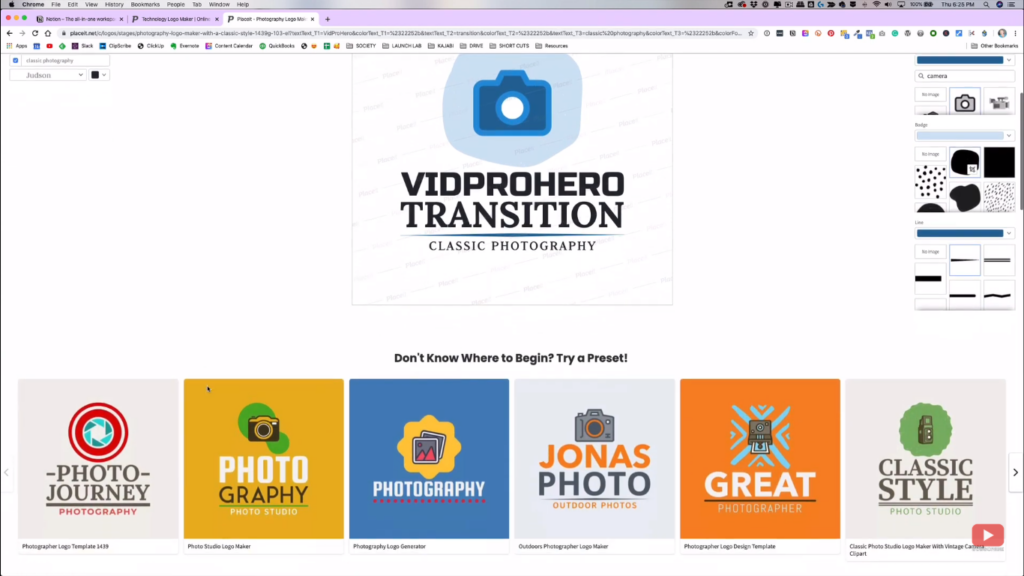 Once you've already chosen a template, you can still customize it and even apply some presets that you might like. You can start editing the texts, customize the colors, font style and size, add/remove some graphics, and so on.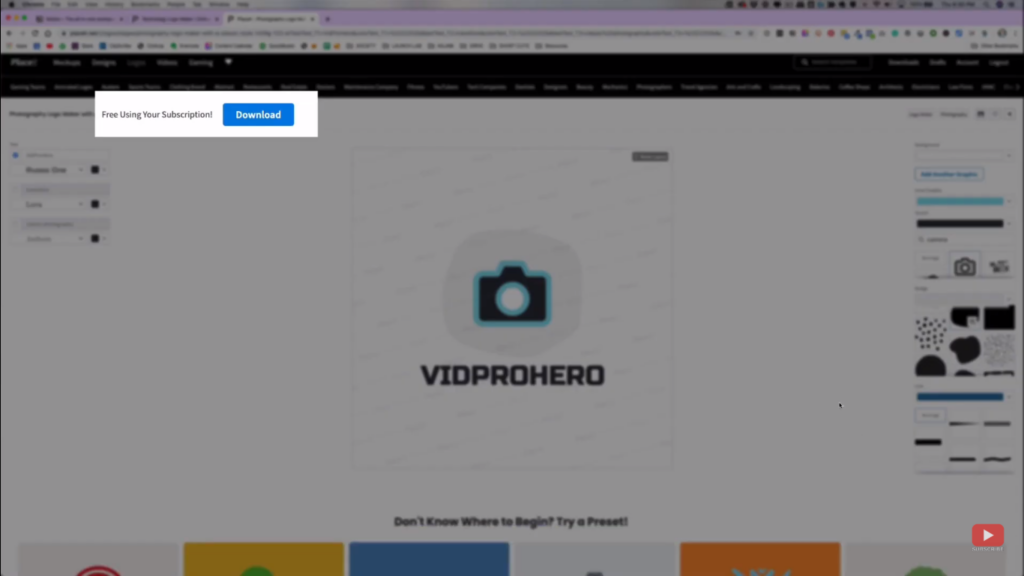 Another good thing with Placeit is that you can download your logo as many times as you want as long as you have your subscription. You don't need to purchase the graphics everytime.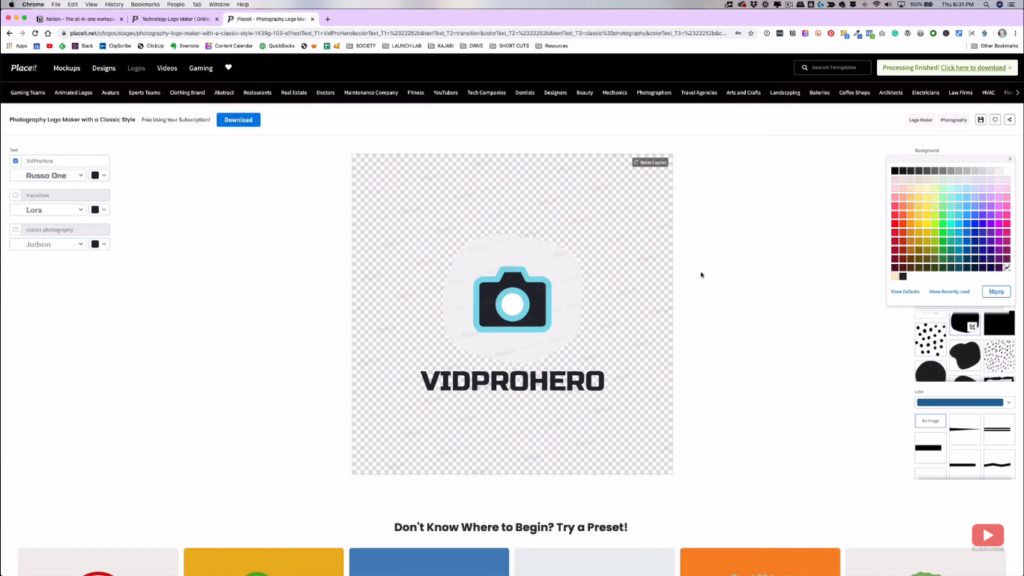 Then, it will notify you once the processing is already done and it is now ready to download. Also, I've downloaded 2 versions of my logo: The first one has a transparent background and the other one with a white background.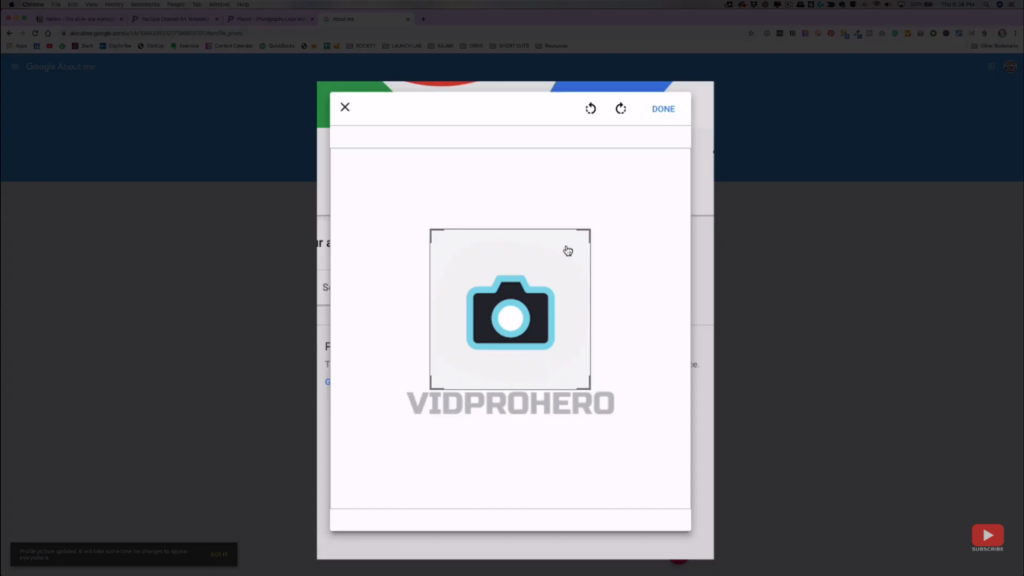 Once you've taken care of the logo, you can now go back to your YouTube page and update your channel icon. For this, I used the one with a transparent background, and I also cropped out the name for my icon.
Create a YouTube Banner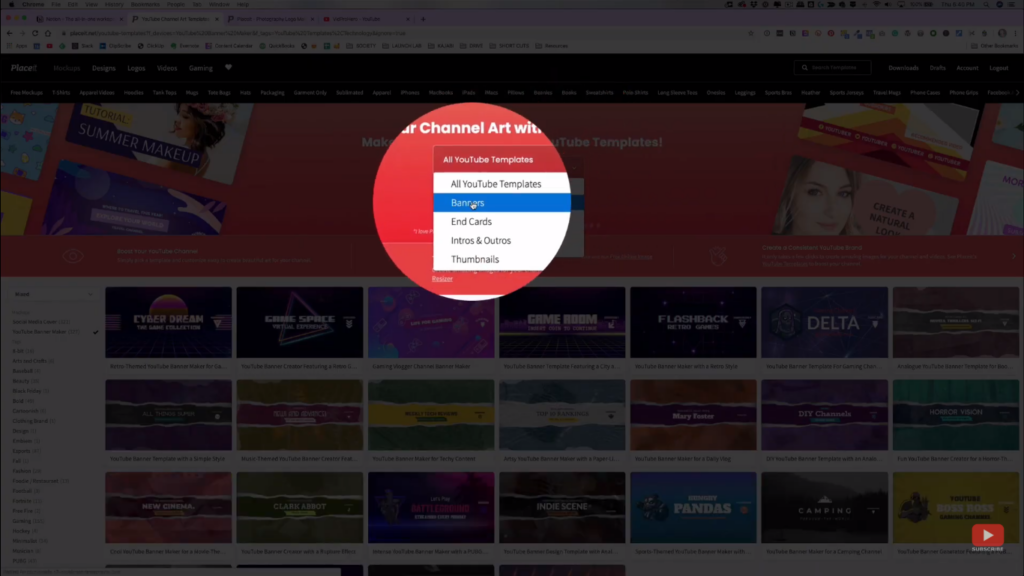 Next, we now go to creating our YouTube banner art. Go back to Placeit, under "Designs", then "YouTube Templates", click the drop-down menu and select "Banners". This will show you just the banner templates and not the end-screen templates.
From there, just look for anything that you think is great for your channel. If you hover your mouse over the templates, it will show you the different versions of that template. Then, you can now start editing that template.
Customize the Template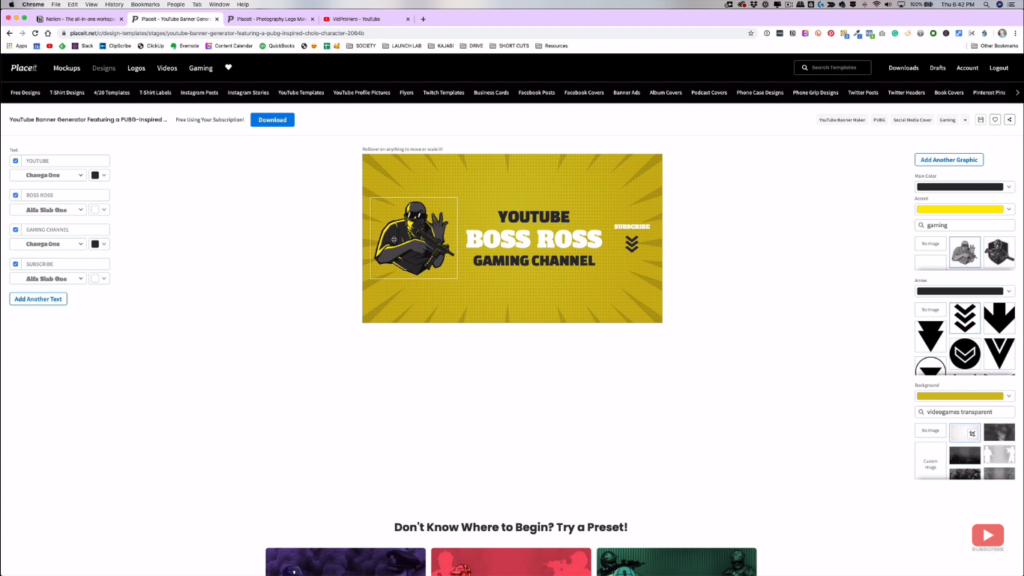 As you edit the template, there are just a few things that you need to change first—the default logo and name. Just click the image and then select "No Image" on the right-hand side of the screen. Then, click "Add another graphic" on the same side, and look for "Custom image" on the left-hand side of the screen so you can upload the logo that you want.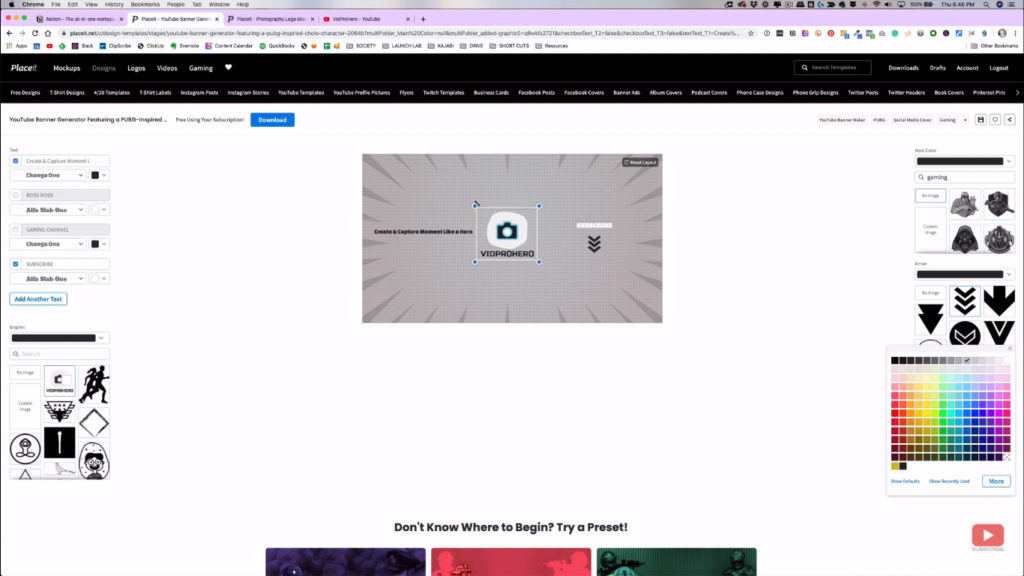 Once you're done repositioning and editing your banner, you might also want to add something that will make your people know why they should subscribe. It could be your tagline, topics that you cover, or how often you upload. Also, make sure to reposition and resize your elements carefully so that YouTube won't crop it out.
Look for Similar Templates and Presets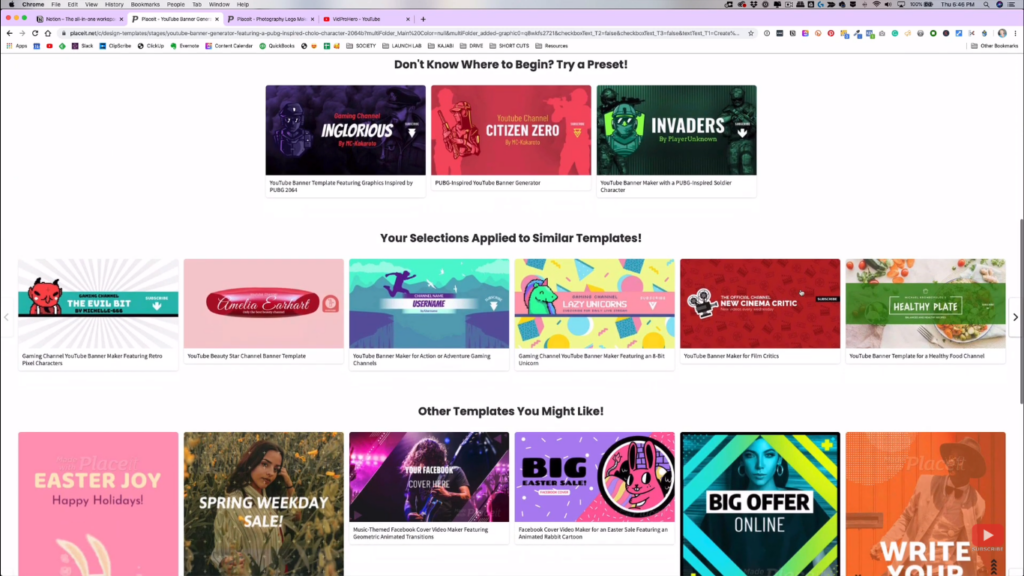 If you scroll down below the editor, you will also see some ideas that you might like, so you can also check it out. It doesn't hurt to see what might actually work great for you.
But, if you're already all set and done, you can now proceed to download the banner. Once it's done, you can now upload it and update your YouTube channel's banner art.
Check Your Channel Banner Art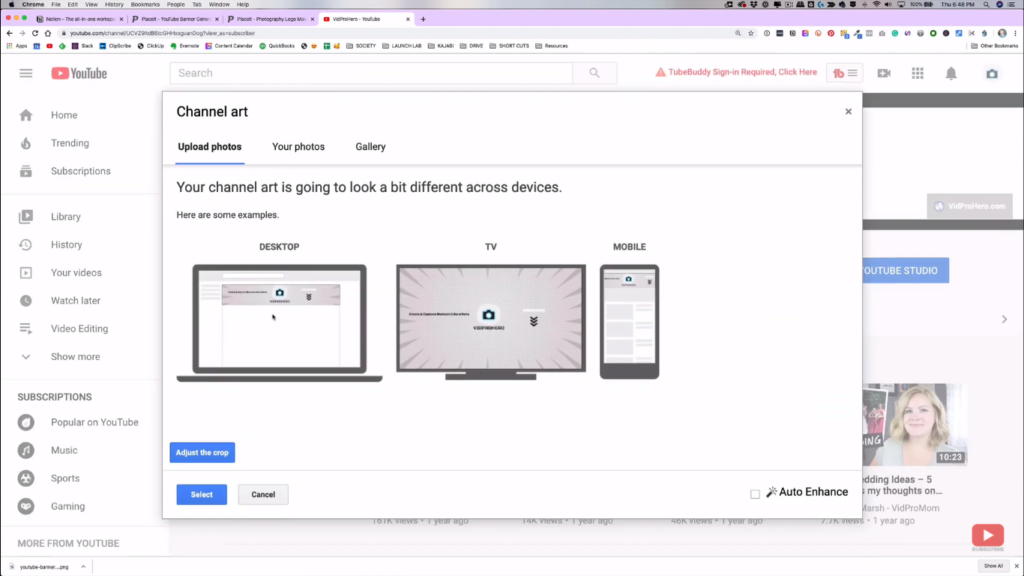 As you upload the channel art, this is where most people have some problems. YouTube will crop your banner for their different platforms, but it will give you some clue on how it would look like.
After you hit "Select", it will update your channel banner art. Then, you might want to double-check if you want to edit some things. If there are any, you can just edit it and re-download it inside of Placeit.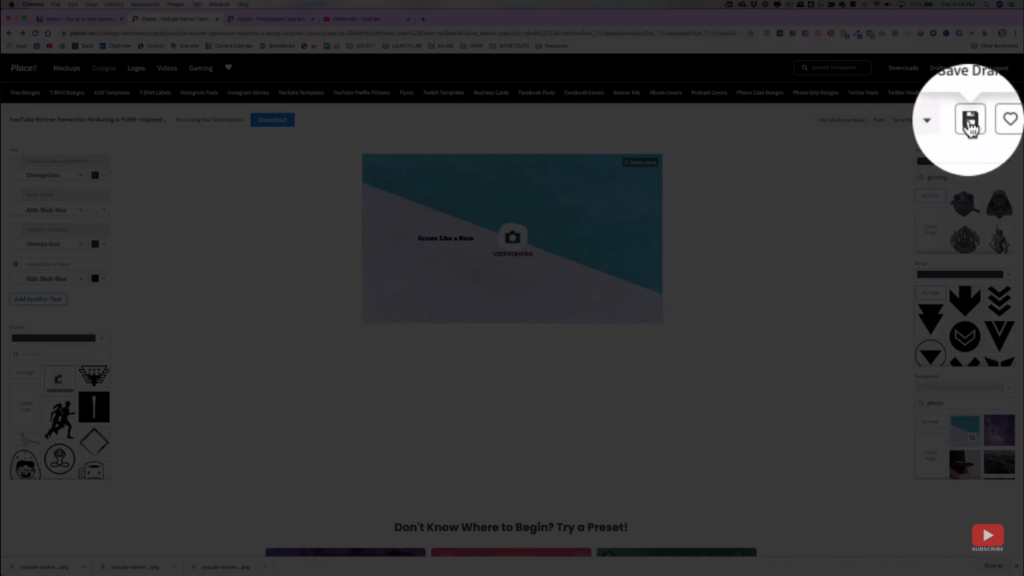 Again, this is one of the things why the Placeit subscription is worth the purchase, you don't have any limits with the number of downloads and you are free to edit and download anytime until you are fully satisfied.
Moreover, make sure to always save your draft so that you can still improve your template and make some changes with your logo and banner over time.
Give it a Try
Now, if you want to take Placeit for a spin and explore it, you can use this link, this one, and this. It's just so handy and I can't say enough about it. So, check it out now and start creating your logo, banner art, and let me know how did it go for you in the comment section of my YouTube banner tutorial video here.
Related: How to Create a YouTube Channel (2020)
Be sure to subscribe to the VidProMom YouTube Channel so you don't miss fresh new videos from Meredith! Click here to subscribe now.