It's been a while since I gave you a tour of my YouTube studio setup at home! I think the last YouTube studio tour I did was a collab with Trena Little, but my YouTube studio setup for 2019 is totally different! One of the best things about my setup is it's actually a super cheap YouTube setup. No professional gear at all, and it's a great DIY YouTube studio setup too.
I wasn't sure how this setup would work with tripods, studio lighting, and a microphone stand, but it's turned out to be the best YouTube studio setup for me so far, and it works great for my small spare bedroom in the basement.
Be sure to watch the whole YouTube studio setup tour here.
I know some of you have been wondering about my gear and the camera I use, and so in addition to my setup, stick around because I will also show you exactly what gear I have because it's SO non-professional grade gear and I think you'll like that.
Click here to subscribe to Meredith Marsh on YouTube.
Some product links in this post are affiliate links, and I will be compensated when you purchase by clicking our links. Read my disclosure policy here.
YouTube Studio Setup
If you shoot videos in your home, or you'd like to start it can be tricky to know what gear you need, how to set up, and how to make it all work in your space. So I'm going to show you what I have going on here in this very small basement bedroom.
Related: Best Computers for Video Editing
I have re-arranged my studio every which way, and the way I have it set up now is something totally out of the box that I wish I had thought of sooner.
So here's my office/studio… it's really small. There is a weird weird little nook, a super tiny closet, and one window.
I tried every configuration of my office with my desk on every wall, facing every direction, until I landed on this.
I have my desk and drawers in the middle of my room, and the desk is angled so that my bookshelf is behind me at an angle. I think this creates some depth and I see this often on other channels and I like the idea of having shelves where you can change and move stuff around back here, and it's functional but it's still part of a set, essentially.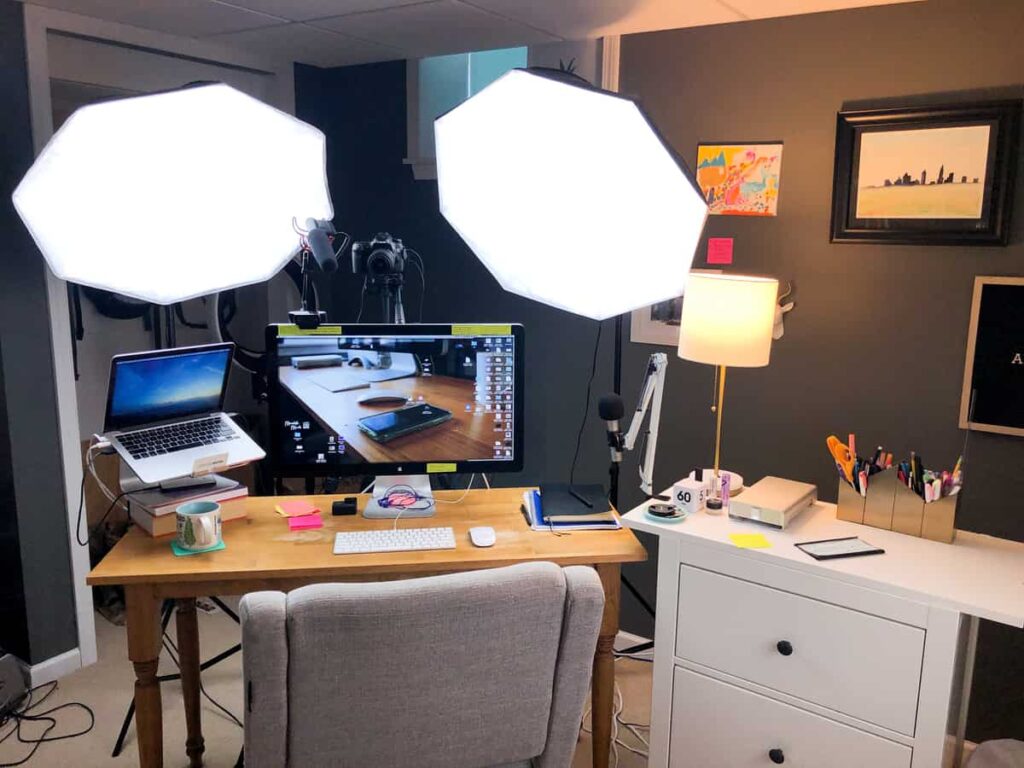 And to make room for my lights, tripod, mic stand, and cords, I just have everything moved a couple of feet away from the wall.
It seemed strange at first because it's such a small space and I was making it feel even smaller, but now it makes total sense. I'm not tripping over cords and it doesn't feel like my tripod and lights are always in the way because they're not. They are literally always OUT of the way while also being UP and ready to record at any time.
The YouTube Camera I Use
I shoot all of my YouTube videos with a Canon 70D. It's a great camera for photos and videos, and I've had it since before I started my channel. I this lens.
YouTube Lighting
For my YouTube lighting, I have these two big softbox lights.
These lights are angled at me from above my head and angled down. So my camera goes right in between them.
Related: YouTube Gear for Beginners
More YouTube Studio Setup Tips
My microphone is a Rode video mic that plugs into my camera, and it sits on a mic stand.
I plug my camera into my computer, and then using Canon's software I can change the settings and start recording, stop recording, etc. right from my computer! So this is a HUGE benefit of setting up your studio so that your computer is right in front of you.
And because of the way my YouTube studio setup is, my script is right in front of me too.
Related: Video Editing for Beginners
Be sure to subscribe to the VidProMom YouTube Channel so you don't miss fresh new videos from Meredith! Click here to subscribe now.