Canon M50 Mark ii – 7 Things to Know
I kinda love the Canon m50 Mark ii, so I want to share my quick review of the new Canon m50. There are a lot of opinions on how the Canon m50 Mark ii compares to the original m50, but I'm going to be fair in my review for this new version and not fall into the comparison trap!
Some product links in this post are affiliate links, and I will be compensated when you purchase by clicking our links. Read my disclosure policy here.
Canon M50 Mark ii – 7 Things to Know
If you are trying to decide to buy the Canon m50 Mark ii or you picked up the camera and don't know much about it, then you have come to the right place. I have been using the Canon m50 Mark ii for several months now. Actually, it's one of the upgrades I made in 2021. So far, I'm completely in love with this camera. I don't really understand why people are giving hate to this precious camera.
Related: YouTube Creator Gear: 5 Upgrades for 2021
Here is a short review of what you should know about the Canon m50 Mark ii.
1. Affordable Price
The Canon m50 Mark ii is about $700 with the kit lens which's a 15-45mm lens. It's cute and lightweight. Also, it's great for vlogging, talking head videos, or following your family around.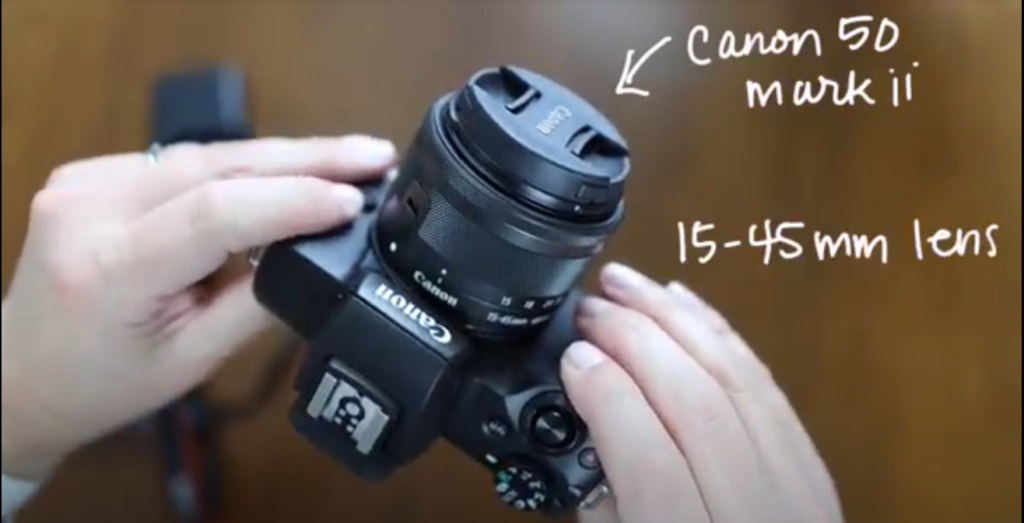 2. Fully Articulating Touch Screen
The Canon m50 Mark ii has a fully articulating touch screen. If you put it into a camera bag, you want to protect the screen by tucking it in.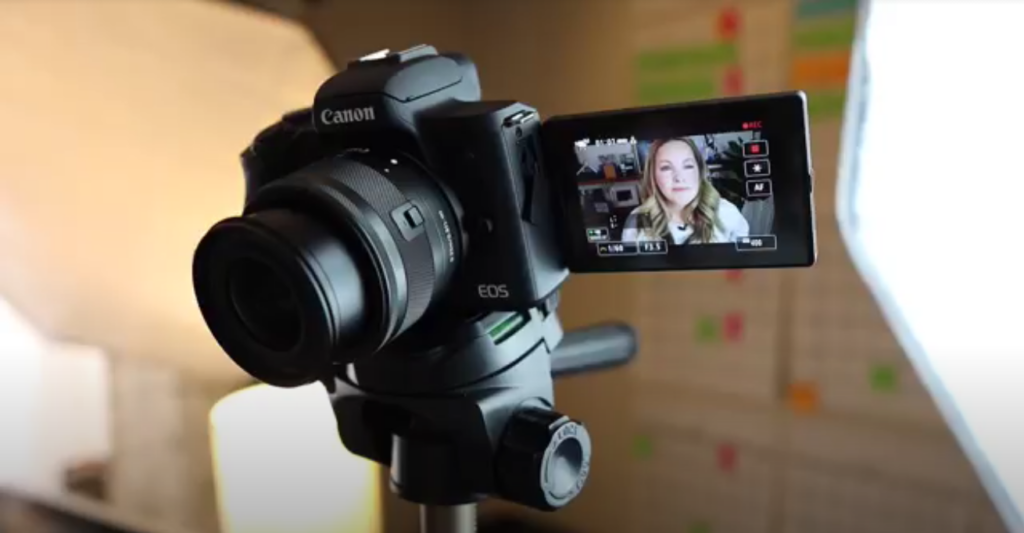 Personally, I do prefer this fold-out screen vs the flip-up screen on the m6 mark ii, but I said we weren't doing the comparison thing, so I'll zip it.
3. External Ports & Wifi Button
On the right side of the camera, we have a mic input to plug in your external mic if you don't want to use the in-built camera microphone. If you got your nails done, I highly suggest you don't try to take the mic cover off or you will be left with some chip nail polish. Use a paperclip to open the mic cover and your nails will thank you.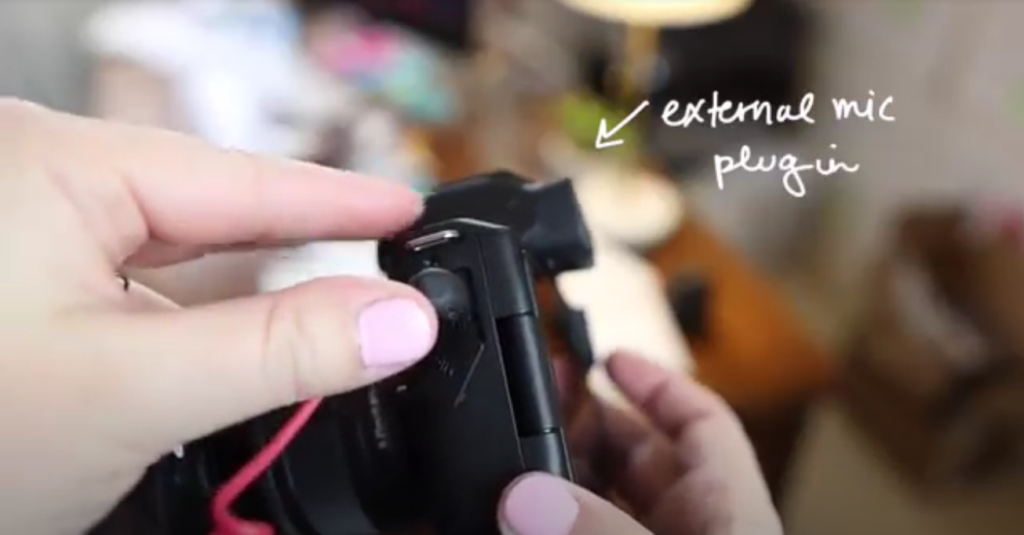 On the left side of the camera, we also have a micro HDMI and micro USB ports so you can connect your camera to your computer for live streaming, Zoom calls, transferring media, etc.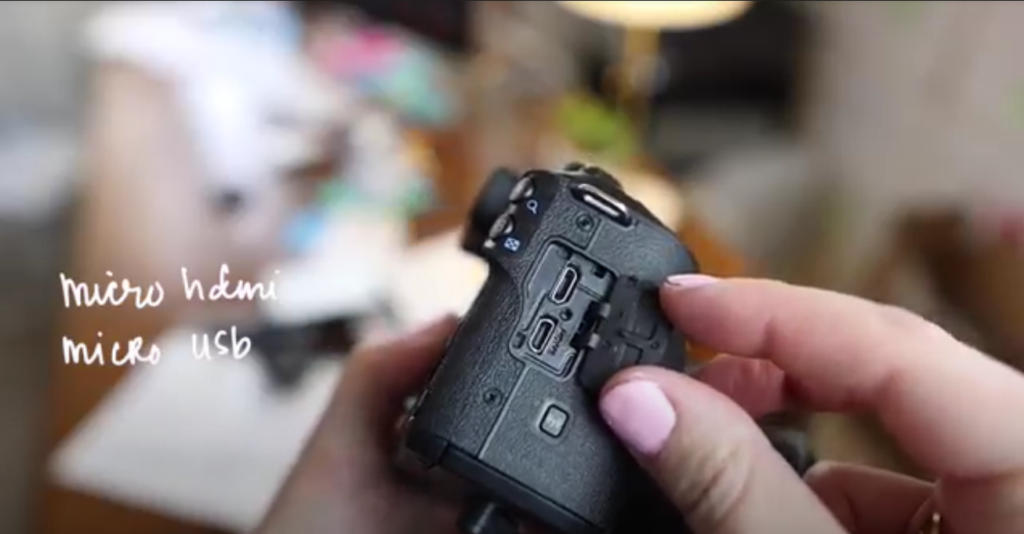 I love it has a WiFi button on the side, which is under the ports. You can turn on the WiFi and connect to your computer, iPad, or phone. This makes it easy to pull off images, video clips and start editing them on the fly. Although you can go to the menu options to turn on and off the Wifi, the button makes it really convenient.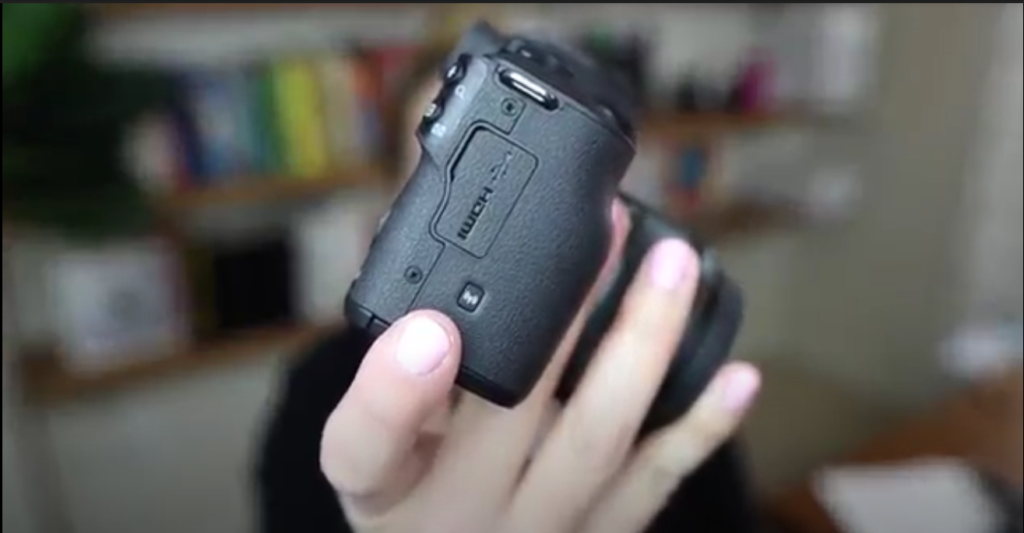 4. Battery Life and 30 Minute Time Limit
You'll probably want to get either an extra couple of batteries or an AC adapter like this one. With the AC adapter, insert it into the battery slot, and close the slot. Plug the cable in the hole of the slot cover and into your wall. Now, you have power your m50.
The AC adapter is great if you plan to stay in one place to record your videos.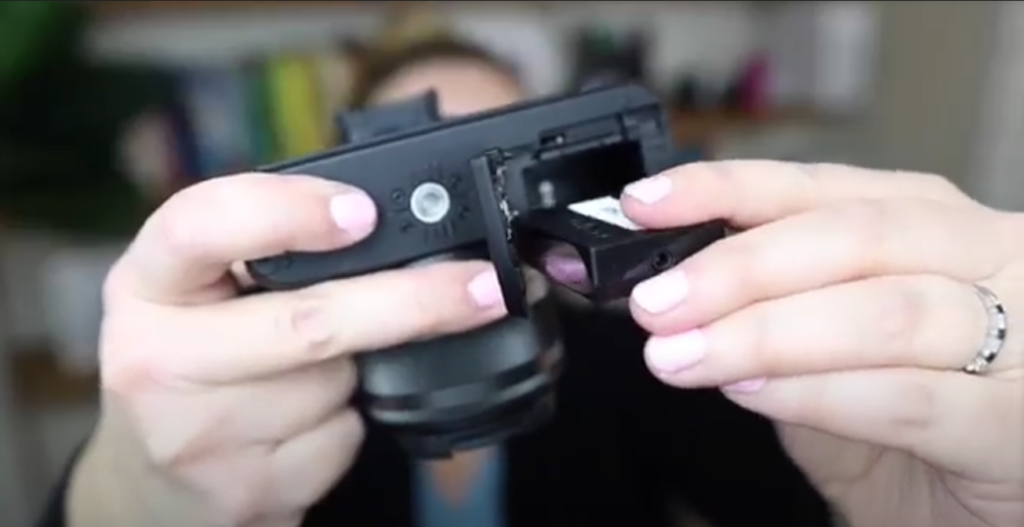 There is a 30 minute video recording time limit on the Canon m50 Mark ii. That means it will stop recording after 30 minutes of continuous recording, but you can just hit record again to keep going.
If you're live streaming or on a Zoom call, it doesn't have the 30 minutes limit. Depending on how much you record and how you record, this could work in your favor or not. Personally, I don't keep rolling for more than 30 minutes, so I'm fine with it.
5. Great Camera for Zoom Calls
One of the main reasons I upgraded my camera last year was to easily connect a real camera to my computer for Zoom calls and meetings. I want to show up on Zoom with the same kind of quality as I do for my YouTube videos!
The Canon m50 Mark ii made it possible because of 2 things. It has a setting for clean HDMI out which allows you to stream like a regular webcam with autofocus on.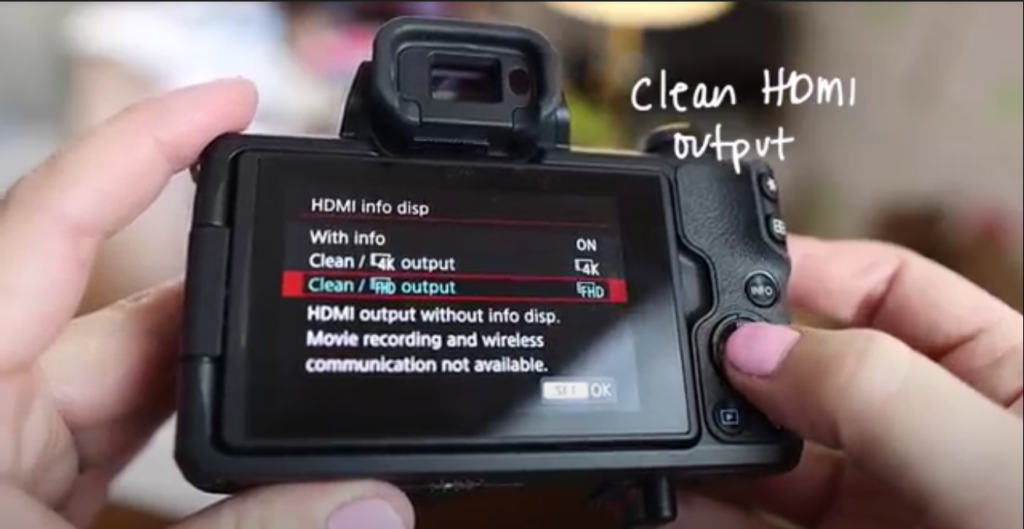 I can use this HDMI capture card. Canon came out with software for easy connection of your Canon m50 Mark ii with Zoom. However, on the Mac, that software is still in beta, and I wasn't able to get it to work with either of my two computers, which is why I am using the HDMI capture card.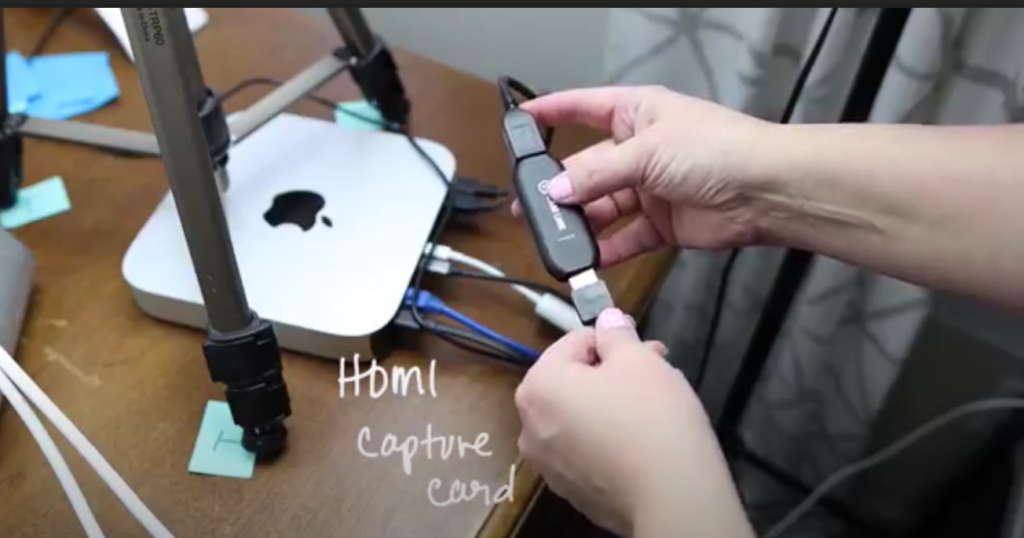 I recently published a video on how to look GOOD on a webcam for Zoom calls and live streams whether you are using the Canon m50 Mark ii or a regular webcam. This is something worth looking at if you want to upgrade how you look on Zoom.
Related: Look GOOD with Webcam, Zoom calls, and Livestreams
6. Frame Rate
I shoot in 1080, 30 frames per second pretty much all the time. I'm just a basic girl like that! While the m50 Mark ii does have 4k, it's only 24 fps and it crops way in with the kit lens.
I feel like if you want to be playing in the 4K sandbox, the m50 Mark ii probably isn't the camera for you. There are better camera options out there for now.
Related: Canon m50 Mark ii Video Settings
7. Record button and Audio Level on Touch Screen
One thing that I REALLY appreciate with this camera is there is a record button on the touch screen; you don't have to feel around for it on the back of the camera when you're shooting a talking head or vlogging.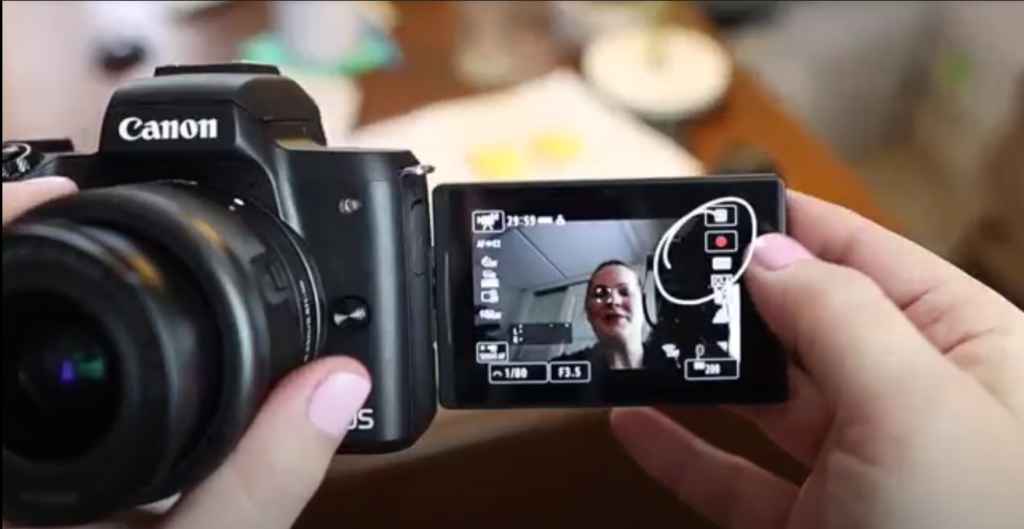 Another thing I REALLY appreciate is seeing my audio level as I am recording my video. If you cycle through the settings using the info button, you can get your audio levels to actually show up on the screen.
This can save a ton of headaches because you see that your audio is working and going into the camera. Also, you know if your mic is on and connected properly. I mean there's nothing more frustrating than recording a video only to find out that your audio kind of sucks!!
Related: Rode Wireless Go Setup – 7 Tips for Better Audio
This was a short review of my experience with the Canon m50 Mark ii. I hope this will help you in making your decision to buy the Canon m50 Mark ii or give you a brief overview on how to use it if you have already bought it.
Best Lens for the Canon m50 Mark ii: Sigma 16mm
For more details on how to adjust your audio settings and video settings, be sure to check out my YouTube video here and here.
VIDEO: Canon M50 Mark ii – 7 Things to Know
Click here to subscribe to Meredith Marsh on YouTube.