ScreenFlow 10 – New Features For 2021!
ScreenFlow 10 – it's here! With increased performance, animated titles, background removal and so much more. In this blog, I'll highlight the features with the biggest impact and give you my thoughts on whether it's worth the upgrade. You may already know that ScreenFlow is my screen recording secret weapon, and these new features are going to save us some time while creating screencast videos for YouTube.
Some product links in this post are affiliate links, and I will be compensated when you purchase by clicking our links. Read my disclosure policy here.
ScreenFlow 10- New Features For 2021
In my own opinion, ScreenFlow 10 is the way to go for Mac users. ScreenFlow 10 added some new features and updates for 2021. I love when software update because of the increase in performance and new features to play around with. ScreenFlow 10 came out with a lot of new features and improvements to make your experience better and efficient. I will highlight the main features you should check out and if the upgrade is worth it.
Related: BEST Screen Recording Software for Mac
Recording Multiple Camera, Screens, and Mics
One of the biggest and best improvements by far with this version of ScreenFlow is recording multiple cameras, screens, devices, or microphones at the same time. With previous versions of ScreenFlow, you could record things at the same time, but not multiple things. If you wanted to record a two or three point camera angle or have more than one person in your video with multiple mic inputs, it's totally doable with the ScreenFlow 10 version.
Animated Titles in ScreenFlow 10
Before the update in ScreenFlow, you had to manually add transitions to your titles to create an animated title, and it just wasn't half as snazzy as what you see here. With the new update, you have the option to animate your titles without doing those unnecessary work, making it more efficient and time-saving for you. Isn't this really cool? It's a great addition to your screen recordings for a professional branded look. You can change the fonts, colors and find an animation that works for you.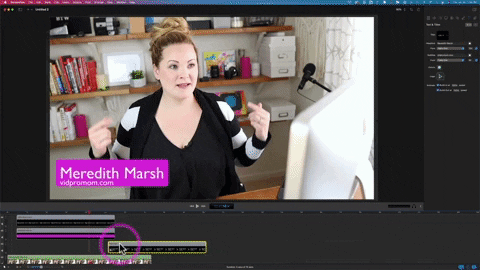 Related: Animated Titles and Text in Premiere Pro
ScreenFlow 10 Free Trial
A big tip for you: If you don't have ScreenFlow, download it through Telestream to get a free trial. Don't go through the Mac App Store on your desktop because it will not give you a free trial. Go through Telestream to get your free trial for ScreenFlow. Also, it makes it easier to upgrade for future versions when they come out.
To help you navigate ScreenFlow easily, I created a ScreenFlow Cheat Sheet. It includes all the major commands keyboard shortcuts, and a checklist summary of this video and blog. You can access it by clicking the CTA image or this link. Make sure you grab it!!!!
Background Removal in ScreenFlow 10
When I saw this feature, I was like "Oh, that's gonna be good." It took me a few minutes to find the feature within the app. Select the video you want to use the background removal on. With the video, you selected, go to the video settings pane and select filters and effects. In the filter and effect section, you have the background removal option. You can choose either automatic or chroma key. You would want to choose automatic and hit Add. This will remove the background of the video you selected. You want to play around with the background removal with your lighting, background, and chair to see what works for you.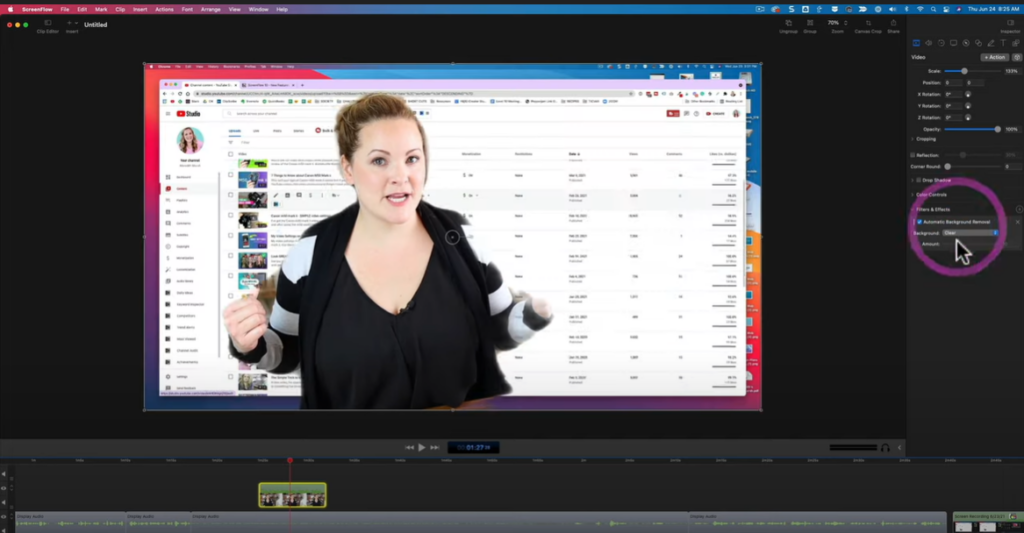 Mute Notification Sounds in ScreenFlow 10
Has it ever happened where you're recording your screen, you get a ding or ring or some notification? It completely messes up what you're recording because you know the sound will come through in the final edit. Well, good news, that is no longer a problem with ScreenFlow 10. Because of the updated audio drivers, it's actually recording multiple tracks from the different apps on your computer; you can mute that notification ping and not let it ruin your recording. That is so cool. All you have to do is remove the reminders track and that ding is gone. You no longer have to restart your screen recordings.
Customize Toolbar in ScreenFlow 10
The user interface got a little bit of a facelift which is very unnoticeable. There is a really handy feature hiding in the toolbar. If you right-click on the toolbar at the top, you can customize your toolbar. This gives me some Premiere Pro vibes with the ability to customize my toolbar. You can put any tools you desire and choose the layout, such as showing text/icons only or icons and text. You can group and ungroup. For example, I can group my elements and ungroup them when I'm editing.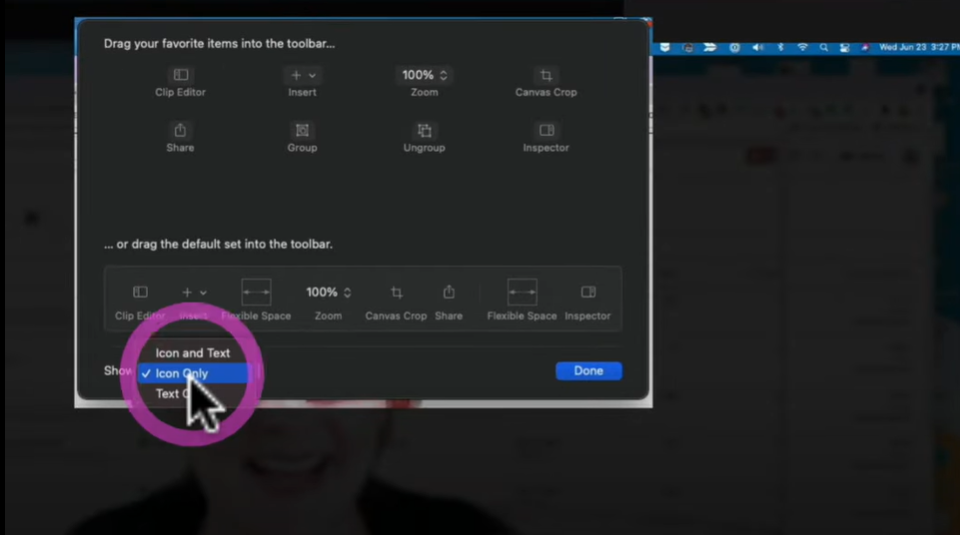 Upgrade or Not???
Okay, the magic question, should you upgrade? I always upgrade ScreenFlow whenever a new version comes out because they have fixed some bugs and made performance improvements. When it comes to the features, I think having multiple inputs like the ability to do multiple cameras, devices, and audio is going to be really, really great. However, the most useful thing to me is the animated titles and lower thirds. It easily gives a little bit of branding and a professional look to my screen recordings. I think it's worth the upgrade. Go to the Telestream website so you can check out ScreenFlow 10 new features for yourself.
As far as learning how to use ScreenFlow, there is a lot to cover for beginners. That's why I put everything in these two blogs, ScreenFlow Editing Tutorial (for Beginners) and Complete ScreenFlow Tutorial- ScreenFlow 9 for Beginners. These blogs are full of tips and features that you may not have even known existed even if you are a seasoned ScreenFlow user.
VIDEO: ScreenFlow 10- New Features for 2021!
Click here to subscribe to Meredith Marsh on YouTube.