Where to Buy a Domain Name for Your Blog
Are you finally starting a blog? Yay! First things first… where to buy a domain name for your blog?! In this post, you will learn how to find a domain name –like yourname .com. We'll cover where to buy it, how much a domain name costs, and how to register your blog's domain name.
Buy a Domain Name for your Blog
Click here to subscribe to Meredith Marsh on YouTube.
Some product links in this post are affiliate links, and I will be compensated when you purchase by clicking our links. Read my disclosure policy here.
If you have some ideas for starting a blog and getting your content out there, it can be easier to start a blog than a YouTube channel. Plus, you can always turn your blog posts into videos later.
If you have videos on a channel already, you can always turn those into blog posts really easily.
So in this post and the accompanying video, we're going to start with step number one, which is to find and purchase a domain name.
Related: How to Get More Subscribers on YouTube Through Your Blog
What is a domain name?
A domain name is like an address… for example, vidpromom.com or meredithmarsh.co. It's the URL or address that people can type into a search bar to find your website or blog. And it's really easy to find one for yourself. In fact, they aren't even expensive!
Before we get into buying a domain name though, I want to let you know that I created a free downloadable cheat sheet for you to walk you through exactly what we're going to cover in this Step-by-step Blog Setup Series.
If you skip any steps or you miss anything down the road, you're probably going to regret it. So be sure to download that checklist.
Where to buy a domain name
Personally, I use Namecheap to buy all of my domain names. Their customer service is great, the website is easy to use, and the prices are affordable… around $8.88 for a domain name.
IMPORTANT: I would NOT recommend buying your domain name through WordPress even though we are going to be installing a WordPress website.
Throughout this Blog Setup Series, I'm going to use Namecheap to buy the domain name to set up our hosting as well (but that comes later!)
If you have an idea for a domain name, go to namecheap.com right now and see if it's available by typing it into the domain name search bar.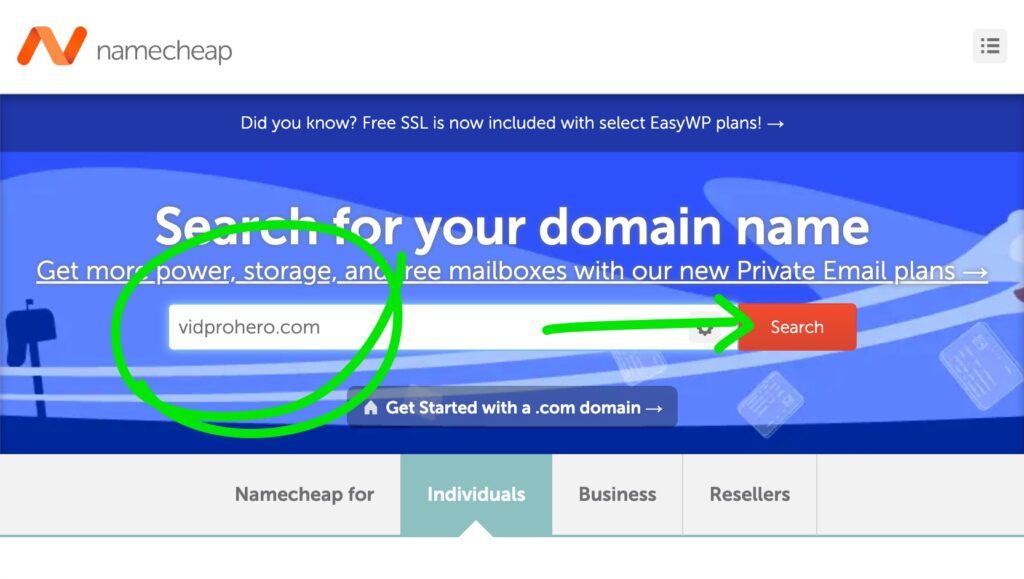 I recommend to register the ".com" of your desired name or find an alternative the at works for you with a ".com" available. Once you find a domain name that you want and it is available, you'll see the price (usually under $10). Just hit the "add to cart" button!
Once you're in your cart, you can choose how long you want to register the domain name for. I always choose one year, and you can select auto-renew if you think you might forget to come back and renew it a year from now.
What is "WhoisGuard" and Do You Need It?
WhoisGuard is Namecheap's privacy protection service that hides your personal info in the public Whois database. This keeps your data safe and helps to avoid spam. It's free when you buy your domain name through Namecheap so I always check that I want this enabled!
The who is guard is. So wave for Namecheap will kind of hide your direct contact information like your name and your contact information.
How to Register your Domain Name
Once you have gone through the checkout process on Namecheap, and completed your purchase, your domain name is officially registered.
In the next post in this series, you will learn how to setup hosting and install WordPress, so there is nothing else you need to do with your domain name at this point if you're going to be setting up a blog.
Redirect Your Domain Name to YouTube
Something you can do if you're not planning to setup a blog right away is to redirect your new domain name to your YouTube channel. By doing this, you could, for example, put your domain name in your Instagram profile or print it on a business card. Then, when someone goes to "yourdomainname .com" it will automatically redirect them to your YouTube channel.
To do that, choose "Manage" from your domain dashboard. Set the domain name and then the URL you want to redirect to.

An important thing to remember is that you can always change your mind about your domain name! You can buy a new one or transfer a blog from one domain to the other. So don't be afraid to register your new idea NOW using Namecheap! Through this post and the video, you can see just how easy it really is to start a blog in 2020 and buy a domain name.
Related: 10 Things I wish Bloggers Knew About YouTube